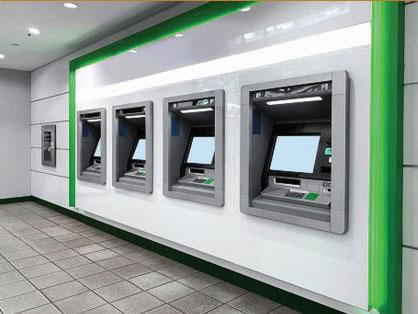 …Appeal to CBN to intervene
By Chioma Onuegbu, Uyo
Banks' customers in Akwa Ibom State have lamented the hardship they go through in order to withdraw money as most commercial banks' Automated Teller Machines, ATMs, dispense as low as N5000, and N2000 at a time only.
The customers added that a situation where banks shut down some of their ATMs, and still dispense below approved withdrawal limit of N20, 000, from just one ATM points compounds their suffering, and challenges.
They narrated their experiences yesterday when a joint team of Central Bank of Nigeria (CBN) Uyo branch, operatives of Economic and Financial Crimes Commission (EFCC) and Independent Corrupt Practices, and other related offences Commission (ICPC) monitored disbursement of redesigned notes at all the 18 Commercial banks operating in the state capital.
Speaking at one of the banks ATM terminal, an elderly man who simply identified himself as Mr Okon said : "The ATM was paying N5,000 early in the morning, but few hours later it started paying only N2000, which means before you can withdraw up to N20, 000 you will have to go for 10 times.
"And you can see the long queue. People have been here since 7:00am, struggling to get cash. In fact some Banks ATM have stopped paying for about three days now. This CBN cashless Policy is good, it is just that the commercial banks are frustrating the masses"
Also, Benson Asuquo, who spoke at the University of Uyo Teaching Hospital (UUTH), accused Deposit Money banks of deliberately making withdrawal of new notes as well as deposit of the old notes difficult,
Asuquo who spoke angrily, therefore suggested that the CBN should consider using only Super agents to carry out its Cash Swap programme super agents can help circulate the money faster"
Newsmen who monitored the situation at most of the banks within the metropolis observed that some customers, even come from different local government areas of the state to enable them to access the redesigned notes.
One Mr. Enang Bassey who came from Owot Uta village in Ibesikpo Asutan LGA expressed anger over the low amount being dispensed at ATMs, saying; "I have been coming here for the past two days, yet I am not able to access my money to take care of my bills. And the bank ATM is paying only N5,000 at a time.
"So for you to withdraw up to N20, 000, you must go and queue behind for about four times. They should allow us to exhaust our limit of N20,000 at once. CBN should warn the commercial banks to stop this cash rationing because it is not helping the poor masses.
"Let CBN do something to make the commercial banks to sit up. How can one come from a village to City to withdraw just N5000. Transportation fare is very high nowadays due to the hike in price of petrol. This is not fair"
Vanguard observed that the complaints including the persistent challenge with electronic transactions cuts across all the banks.
One Mr. Umoh, a public servant lamented,: "The electronics transfer is a big challenge. I have been here since yesterday because somebody transferred money to my mother from Union Bank to this Bank, but up till now we are yet to receive the money. It is so painful"
As usual while some banks Managers were given the excuse of shortage of the new notes, others claimed that their ATMs were faulty.
Addressing the customers during the spot checks, a Deputy Director in CBN, Mrs. Affiong Martins who led the joint exercise, assured them that the cashless policy was for their benefit, and urged them to assist in ensuring that it worked.
"I assure you that one day we will get there Let us try to use all the channels CBN has deployed for financial inclusion and everything will work", She assured them.
Affiong Martins, however, appealed to banks mangers not to wait for their cash to be exhausted before they request for more cash, adding that they must always load their ATMs with new notes to lessen sufferings of the masses.