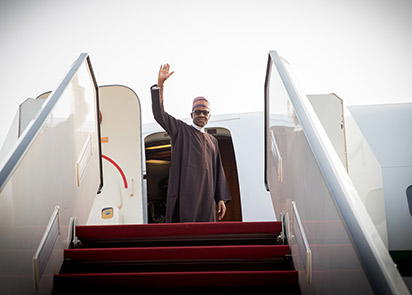 …says Nigerians must restrain themselves from acts that cause them problems overseas
…Boasts ministry has used diplomacy to attract FDI of huge monetary value between 2015 and now
Soni Daniel, Northern Region Editor
With 51 official trips so far undertaken by President Muhammadu Buhari to many countries across the globe since his inauguration in 2015, the Minister of Foreign Affairs, Mr. Geoffrey Onyeama, on Thursday, defended the numerous outings, insisting that they were not enough given the level of consultations the president needs to make with his counterparts in Nigeria's interest.
Onyeama, who was giving the scorecard of the foreign ministry under the Buhari administration from 2015 till date, stated that Buhari needed to have made more trips within the period given the high level of consultations required of his office as the number one foreign affairs leader for Nigeria.
Onyeama, while responding to a reporter's question, pointed out however that he was not surprised by the claim by some Nigerians that Buhari has travelled too frequently, saying that those who make the claim do not understand how important his trips are to Nigeria and its citizens.
The Minister said, "It is not true that Buhari's foreign trips have been too many. I would disagree with that assertion. I would say it is not even enough. You cannot imagine what he achieves with what he does with his personal interactions between him and his foreign counterparts. Buhari is Nigeria's number one foreign minister and if I had my way, I would say he should even do more trips to more countries because like I said before Buhari is the best president we have had in this country.
"I am not surprised because there is an adage that says that a prophet is never respected in his own country. If you know the affection and the respect in which Buhari is held by other world leaders, it is breathtaking when you are present and you see that and very often they insist on him coming even when he says it is not possible for him to come," Onyeama said.
The minister boasted that Buhari's interactions with foreign leaders coupled with Nigeria's diplomatic policies has attracted a lot of foreign direct investments into Nigeria, however said it was impossible for his ministry to put a monetary value to such investments as at today.
"A lot of engagement with other countries has brought in a lot of foreign investments into the country with huge monetary value. This has been possible because the president visits these leaders and speaks with them personally. We cannot necessarily quantify it. We only do the framework to facilitate those investments while the ministry of finance is best placed to handle the figures in terms of monetary value to Nigeria," he said.
On the poor treatment of Nigerians by some countries, the minister expressed regrets over the development, saying that the ministry has been frequently involved in rescuing thousands of Nigerians trapped in foreign nations due to inhuman treatment.
But the minister warned that since Nigeria cannot stop Nigerians from traveling to countries of their choices, Nigerians should learn to restrain themselves from acts that attract frequent disdain and embarrassments from foreign countries.