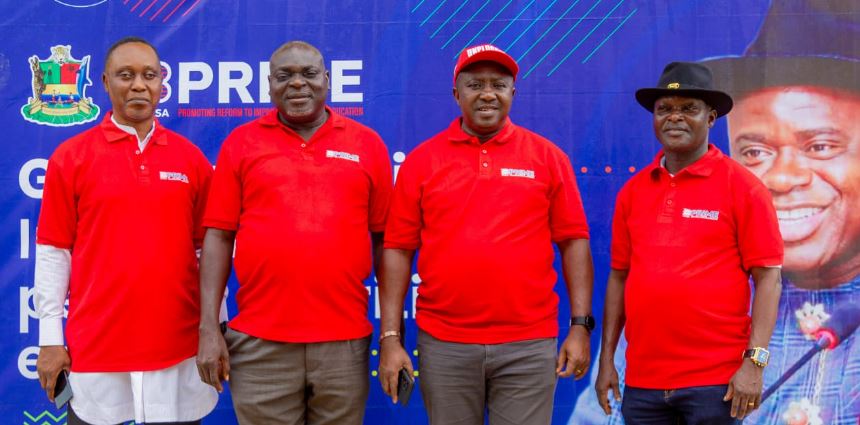 L-R: Warmate Idikio, Technical Adviser to the Hon. Commissioner for Education, Bayelsa State; Chief Ebi Matthew Goli, Bayelsa SUBEB Chairman; Dr. Gentle Emelah, Commissioner for Education, Bayelsa State. Mr. Christopher Ewhrudjakpor, Permanent Secretary, Ministry of Education, Bayelsa State; at the graduation ceremony of the BayelsaPRIME Induction Training in Yenagoa
No fewer than 2,000 teachers and headteachers drawn from four local government areas have concluded their BayelsaPRIME (Bayelsa Promoting Reform to Improve and Modernize Education) induction training.
The flagship basic education reform programme of the Governor of Bayelsa, Senator Douye Diri, is set to revolutonarise teaching and learning in Bayelsa state-owned primary schools.
The programme which is managed by the Bayelsa State Ministry of Education and the Bayelsa State Universal Basic Education Board (Bayelsa SUBEB) will use technology-based teaching methods and proven modern classroom management techniques as tools to improve pupil participation in classroom, learning outcomes and school attendance.
Speaking during the graduation ceremony, Bayelsa State commissioner for education, Gentle Emelah said: "Senator Douye Diri conceptualized this policy in response to challenges facing our educational system.
"Indeed, this is a new dawn for education in Bayelsa state. One thing is sure, our children are going to start learning better with this policy in place.
"With the implementation of this technology, we can now be sure that our teachers will be in school, and we can also know if they are teaching or not."
Also speaking at the graduation ceremony, Ms. Tsubaleifa Kiekaiesa a teacher from Government Model School Kiama thanked Governor Diri for going the extra mile to upskill Bayelsa state teachers.
"I have been a teacher for many years, but the training I got here cannot be compared with what I have received in the past. This is a 100% overhaul. With this training our classes are going to be extremely interesting for the children. I urge parents to send their children back to government schools so that they can fully benefit from this new pedagogy," she said.
Meanwhile, teachers in the four pilot local governments areas will no longer face the drudgery of preparing lesson notes as proven and effective lessons will be delivered to them through their teacher-tablets weekly. They will also receive continuous support and teacher professional development throughout the school calendar.
Additionally, all data collection processes including marking of teacher and pupil arrival in schools and recording of examination scores will be carried out through the teacher-tablets. The data will be housed in a server that will support empirical policy making going forward.
Schools across Bayelsa state resume for the second term of the 2022/2023 academic session on 1, February 2023.