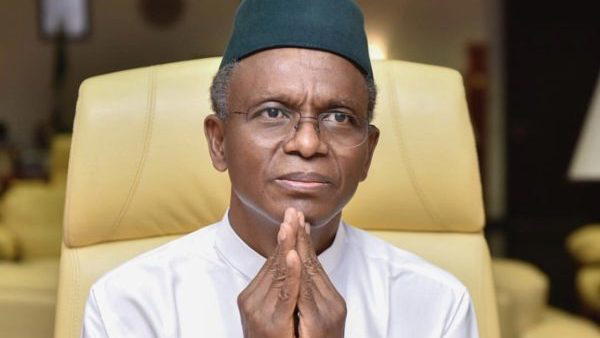 Governor Nasir El-Rufai
By Fortune Eromosele
The Arewa Progressive Youths League has condemned the Kaduna State Governor, Nasir El-Rufai's remarks against the elders of northern Nigeria, saying that they are uncomplimentary, callous, and unwarranted.
Reacting in a statement signed by its leader, Sanusi Ibrahim, in Abuja, the group recalled how El-Rufai, had disparaged many reputable Northern leaders and elders including Sardauna Sir Ahmadu Bello, Premier of the northern region and other leaders who they said toiled and paid with their lives to carve a path for the development of the north.
The Group wondered how El-Rufai would claim pity for the ordinary people.
They cautioned the northern public against "losing their guard and falling for the lies and deceptions by Elrufai who now poses as a champion of the common man."
The Group issued the caveat in reaction to Governor El-Rufai's latest outburst in the media, to the point of making blanket condemnation of reputable elders of the North, while purporting to show sympathy for ordinary Nigerian families stressed by the temporary effects of the ongoing economic and financial reforms in the country.
While accusing El-rufai of political sycophancy, and crass opportunism, the Group also warned Nigerian commoners to study his antecedent in politics and how he has constantly betrayed all his benefactors in the past.
The statement read in part: "We find it ridiculous and insulting to the collective sensibilities of the ordinary everyday Nigerians for El-Rufai, with his despotic and authoritarian tendencies as a political leader with a cruel style of leadership, to have the audacity to pose today as defender of the poor and the vulnerable.
"El-Rufai will always be remembered in Abuja for destroying the homes and lives of thousands of poor people when he was Minister of the Federal Capital Territory.
"We recall how he hid under the cover of removing illegal structures to pull down houses of the less advantaged when he was FCT Minister.
"He shamelessly described those who built those structures as 'land grabbers' despite the fact that most of them were owned by poor working people who just wanted to have a home or a shop they can call theirs while the real land grabbers are the rich bosses whom El-Rufai and his likes represent.
"As Governor of Kaduna state, he commenced demolitions as well, with residents of the houses demolished given just two weeks' notice, despite the fact that some have lived all their lives in those buildings.
"Since 2015 when he became governor, El-Rufai had behaved like an emperor; dictatorial, tyrannical, overbearing and arrogant, exemplifying all that is wrong with the Fourth Republic democracy.
"Rather than seeking to address the obvious economic, social and security decline in the state, El-Rufai went ahead and retrenched more than 70,000 public sector workers and many have not yet received their due payments.
"Kaduna State has turned into a dangerous state in Nigeria to live, work or visit in terms of the regularity of bloodshed, kidnappings and killings by bandits and ethno-religious inspired violence as a result of El-Rufai's unprecedented, cruel anti-workers' policy including repeated mass layoffs.
"The general, pervasive uncontrolled insecurity being experienced across the state is therefore, the 'harvest' or product of the El-Rufai's anti-labour policies. Over 13,000 workers labeled ghosts, were dismissed by El-Rufai.
"The following year, another 40,000 public sector workers were retrenched, half of who were teachers after El-Rufai arbitrarily pegged the pass mark for an unpopular competency test at an unprecedented 75 per cent. Many of these teachers did not receive any redundancy money.
"Since then, El-Rufai has been dismissing perhaps as many as another 17,000 workers including 6,000 local government and primary health care workers who have all received their marching orders.
"The remaining 11,000 workers from the state ministries have been listed for dismissal on account of having spent 30 years and above in service and/or being on level 14 and above.
"Pensioners who have earned pension for between 5 and 10 years and have 'refused to die' are no longer to be paid. The state government mercilessly maintained that their children should take care of them while the governor claimed that these policies are necessary due to declining revenues, which is far from the truth.
"El-Rufai believes the rich and business people have to be handsomely rewarded and incentivised to 'invest' in the state and workers have to be paid the lowest possible salaries, beaten into submission and periodically terrorised by mass sacking."
The Group said El-Rufai has an incurable obsession with lying, which they said has been proven by his own boss, Former President Olusegun Obasanjo who described him in Volume 2 of his book-"My Watch" as follows:
"Nasir's penchant for reputation-savaging is almost pathological. Why does he do it? He is brilliant and smart. I grant him that also. Very early in my interaction with him, I appreciated his talent and brilliance. At the same time, I recognized his weaknesses; the worst being his inability to be loyal to anybody or any issue consistently for long, but only to Nasir el-Rufai.
"He barefacedly lied, which he did to me against his colleagues and so-called friends. I have heard of how he ruthlessly savaged the reputation of his uncle, a man who was like, in the African setting, his foster father. I shuddered when I heard the story of what he did to his half-brother in the Air Force who is senior to him in age.
"He is on record as having betrayed Atiku Abubakar who brought him to political consciousness thereby forcing Atiku, who El-Rufai himself credits with bringing him into the Obasanjo administration, to describe him as 'a liar' and fetish person. Goodluck Jonathan, another former president of Nigeria also recorded El-Rufai as a serial liar and an inconsistent person.
"He also attempted severally to betray President Muhammadu Buhari, the man who made his occupation of the Kaduna Government House possible. El-Rufai was also exposed as a pathological liar in page 272 of 'Power, Politics and Death: A Front-row Account of Nigeria Under the Late President Umaru Musa Yar'Adua', written by former ThisDay editor and spokesman to President Yar'adua, Mr Segun Adeniyi.
"With such descriptions, no one should be surprised at El-Rufai's recent desperate attempt to mislead the public and present himself as protector of the same masses he so much despises and dreads with lies about plots to use the ongoing Economic and Financial reforms to service some powerful interests in the Aso Rock Villa."