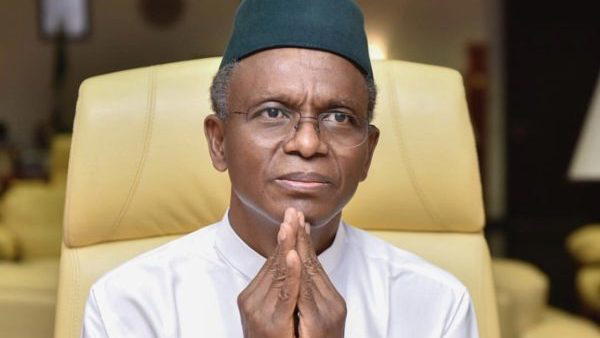 Governor Nasir El-Rufai
By Fortune Eromosele 
The Arewa Progressive Youths League, APYL, has condemned the Kaduna State Governor, Nasir el-Rufai's remarks against the elders of Northern Nigeria, saying that they are uncomplimentary, callous, unwarranted and insane.
Reacting in a statement signed by its leader, Sanusi Ibrahim, in Abuja, the group recalled how el-Rufai had disparaged many reputable Northern leaders and elders, including the Sardauna, Ahmadu Bello, the late Premier of Northern region, and other leaders who, they said, toiled and paid with their lives to carve a path for the development of the North.
They cautioned the Northern public against "losing their guard and falling for the lies and deceptions by el-Rufai, who now poses as champion of the common man."
While accusing el-Rufai of political sycophancy, crass opportunism, the group also warned Nigerian commoners to study his antecedent in politics and how he has constantly betrayed all his benefactors in the past.
The statement read in part: "We find it ridiculous and insulting to the collective sensibilities of the ordinary everyday Nigerians for El-Rufai, with his despotic and authoritarian tendencies as a political leader with a cruel style of leadership, to have the audacity to pose today as defender of the poor and the vulnerable.
"El-Rufai will always be remembered in Abuja for destroying the homes and lives of thousands of poor people when he was Minister of the Federal Capital Territory.
"We recall how he hid under the cover of removing illegal structures to pull down houses of the less advantaged when he was FCT Minister, and how the lands were then handed over to the rich and powerful, including El-Rufai, his family members and his cronies at giveaway prices.
"He shamelessly described those who built those structures as 'land grabbers' despite the fact that most of them were owned by poor working people who just wanted to have a home or a shop they can call theirs while the real land grabbers are the rich bosses whom El-Rufai and his likes represent.