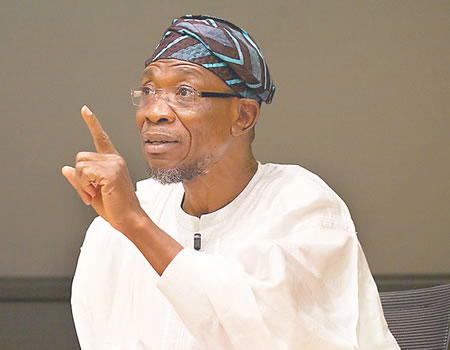 .
Omeiza Ajayi, Abuja
The Nigerian Immigration Service NIS has dismissed reports that the Minister of Interior, Ogbeni Rauf Aregbesola was concessioning some facilities of the service a few months before the expiration of President Muhammadu Buhari's administration.
Service Spokesman, DCI Tony Akuneme was reacting to allegations that Aregbesola was set to 'commercialise Nigeria's resident permit processes, others".
Akuneme said already, many services of the NIS "had long been commercialized and warehoused in very robust partnerships with internationally acclaimed professional service providers such as CONTEC, Newworks, IRIS, Greater Washington, OIS, and others".
According to him, the Minister is not concessioning residency permit processes but the process of issuing Expatriate Quotas which falls directly under his mandate.
He said the issue under reference is on concessioning of Expatriate quota and not immigration facilities.
"The NIS, under the watch of Hon Minister Ogbeni Rauf Aregbesola, has continued to reposition and rebrand itself, winning local and international accolades in the process, such as the board membership of the International Civil Aviation Organization (ICAO) for the 4th time back to back, seven times winner of the Presidential Enabling Business Environment Council Award, the Leadership newspaper Award on the Comptroller General of Immigration as the 2022 Public Service Man of the year,, to mention just these few.
"The NIS, under the purposeful supervision of the Honourable Minister, remains committed to serving Nigerians and has its doors open to do so all the time. The morale of our officers is at an all-time high, with the spate of promotions and welfare packages", he stated.