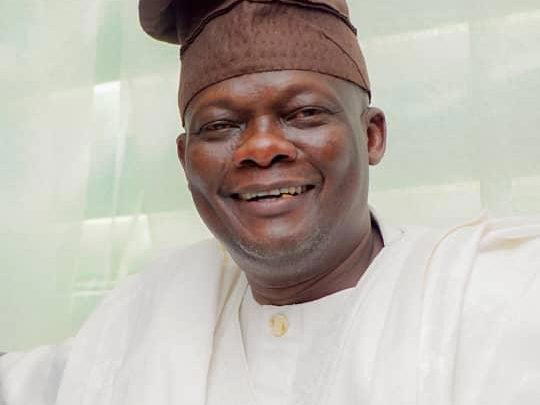 By Adeola Badru
All Progressives Congress (APC) governorship candidate for Oyo State, Teslim Folarin, has said the party and its presidential candidate, Bola Tinubu, will win 80 per cent votes in the state come February 25 and subsequent elections.
Folarin, who expressed the optimism during a special edition of the Guest Platform of Oyo State Correspondents' Chapel of the Nigeria Union of Journalists (NUJ) at Mokola, Ibadan, yesterday, described Tinubu's emergence as the icing on the cake for APC in Oyo.
While he added that with Tinubu on the ballot, the coast is clear for APC to retain power at different levels of governance, the gubernatorial candidate pointed out that there was a compelling reason for the power shift to south, adding that Tinubu would restructure the country.
He said: "It is a wise decision to market Tinubu instead of myself. If Tinubu makes it, I know it is over. His emergence is the icing on the cake. When you have him, you are going to use him."
"We know Tinubu will win. We want to maximise that. He will get 80 per cent and between 1.5 million and two million of the total votes in Oyo. Our National Assembly members will win."
On the fallout of the APC primaries, leading to the exit of Chief Adebayo Adelabu and others, Folarin said there was no primary election that people would not complain about.
He maintained that if the APC primaries or congress were held 100 times, he would still win.
Speaking on security challenges in the state, Folarin vowed to have minus zero tolerance for insecurity, promising to disband the state's Park Management System (PMS), saying the body was not known to the law.
"Security is key to developing the economy. The late Governor Abiola Ajimobi operated with zero tolerance to insecurity. We are going to operate minus zero to insecurity."
"The stage-sponsored thugs will be rid of the state. You make an ex-convict head of PMS. PMS is alien to the law. That will go," he said.
He also vowed to declare emergency in the education sector and prepare the state for post-oil Nigeria.
"I will declare a state of emergency in the education sector. It is only in Oyo that motor parks are better than schools. It is unacceptable to us," he said.
Speaking, the Chairman of the Correspondents' Chapel, Raji Adebayo, lauded the governorship candidate for honouring the invitation.