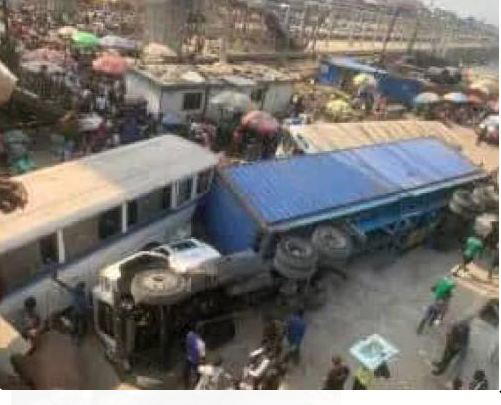 .
Khadijat Braimoh
Another container yesterday fell on some commercial buses in the densely populated Oshodi area of Lagos, barely three days after a similar tragedy in the Ojuelegba area of the state claimed nine lives.
However, no casualty was recorded in yesterday's incident.
The exact cause of the incident could not be immediately ascertained. But eyewitnesses said the driver of the truck apparently had a brake failure and in the driver's bid to control it, it rammed into some commercial buses.
Some persons were said to have sustained minor injuries in the resultant stampede to escape from being hit by the container.
One of the passengers, a trader who gave her name simply as Iya Modinat, said, " It was God that saved us.   We rushed out of the bus before the container fell off .   We are appealing  to the Lagos State Government to find a lasting solution to this reoccurrence".
 As of 7 pm, efforts were still on to remove the fallen container to allow free access to motorists.