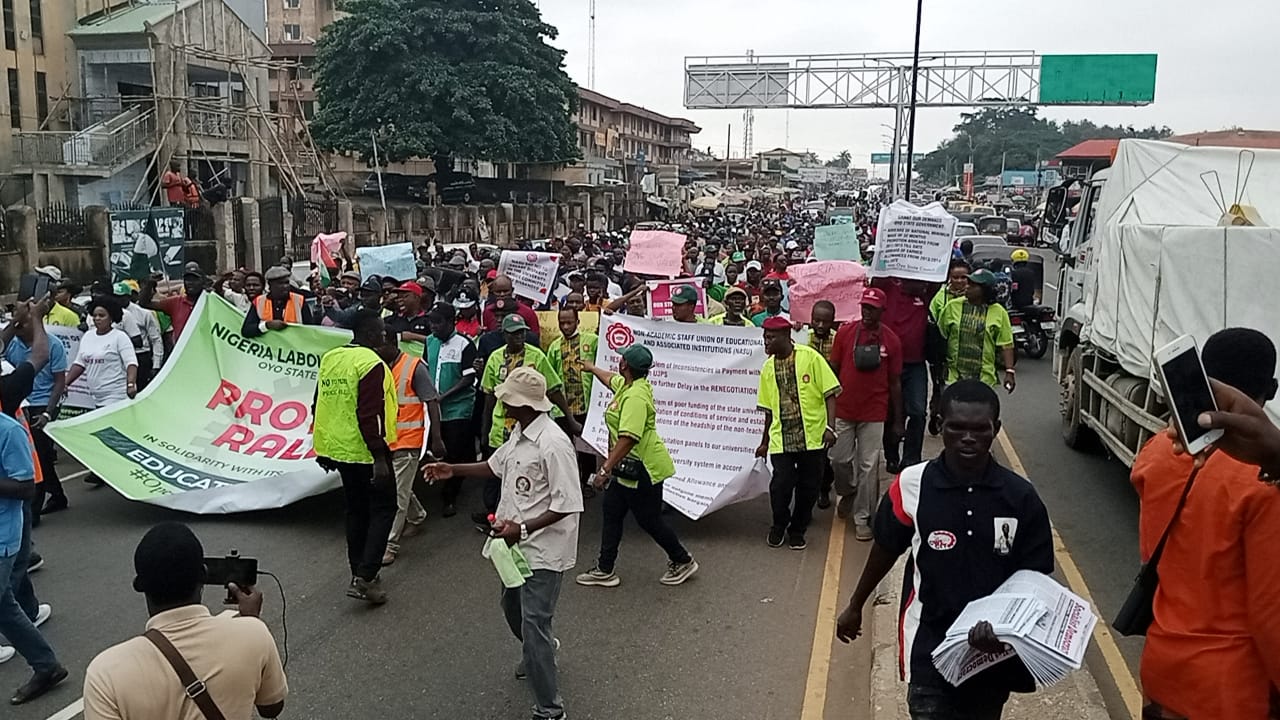 Protesters during Oyo state NLC rally
By Luminous Jannamike, Abuja
HUNDREDS of women, on Tuesday, staged a protest at the venue for the national collation of the presidential election results in Abuja to protest what they described as irregularities in the process.
They also demanded explanation why the Independent National Electoral Commission, INEC, did not transmit the results electronically from the 176,000 polling units across the country to the virtual results viewing portal as promised.
The placard-wielding women marched along Herbert Macaulay Way towards the collation centre before they were stopped by security operatives.
Some inscriptions on the placards read, 'INEC stop rigging', 'future of our children at stake', 'Mahmood give us our results', 'we are tired of injustice', 'occupy INEC now'.
The demonstrators, under the aegis of 'Angry Nigerian Women' threatened to strip naked as well as begin daily sit-out at the INEC headquarters, if their demands were not met.
Speaking to journalists, the leader of the group, Oby Elekwe, said, "They have assured us that they will come and hear us. They have given us a promise and we have assured them that if they refuse to answer us we will speak in the language of mothers. Right on this spot, we are going to go naked. Enough is enough. We are tired.
"This is our demand, we will not compromise a new Nigeria because we know it is possible not only for the elites. Not only for senators. Not only for the legislators. A new Nigeria for the masses. That's all we are demanding for.
"This is a group of angry Nigerian women who have come to take our nation by force. We have come to take it by force. We need them to answer us. Our anger is the result. We demand an IReV result. Electronically transmitted results, the ones Mahmood Yakubu promised us that mothers trooped out to cast their votes.
"He said from the polling units to wards to area councils to the states. So, that's what we demand. What we are getting is not what he promised and we are not ready to compromise this election. We will not take rigging for an answer. We need original result.
"We need results from the polling units. That is the only thing that will take us away from the road. The same way we go naked into labour room and gave birth to Mahmood Yakubu, the same way all these women you are looking at here will go naked on this road. It will happen today if they do not come and answer us."