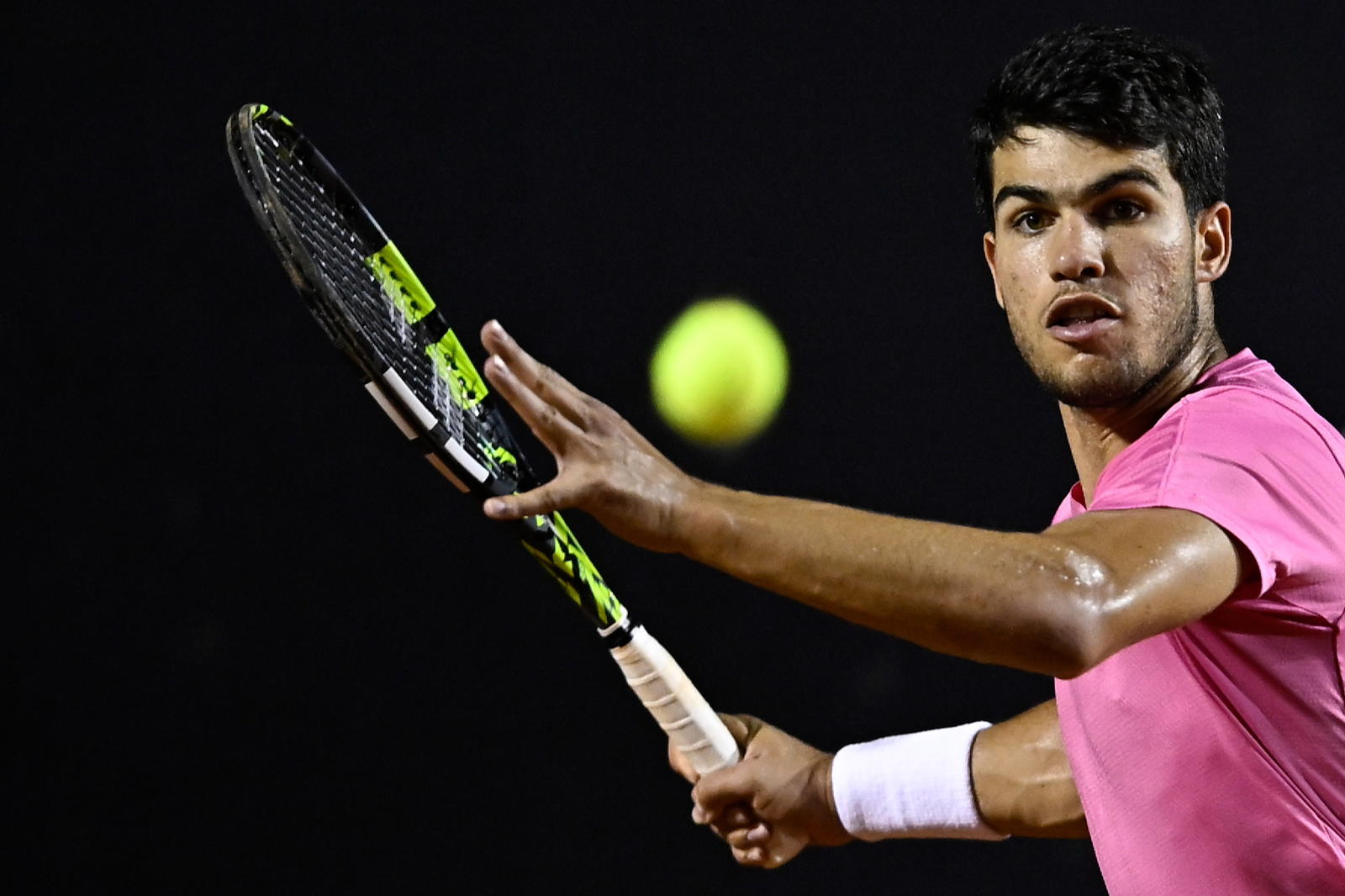 Spain's Carlos Alcaraz eyes the ball during the ATP 500 Rio Open singles tennis match against Brazil's Mateus Alves in Rio de Janeiro, Brazil, on February 21, 2023. (Photo by MAURO PIMENTEL / AFP)
World number two Carlos Alcaraz of Spain seized a 6-4, 5-3 lead over Brazilian Mateus Alves before heavy rain washed out play Tuesday at the ATP Rio Open.
Defending champion Alcaraz held serve in the eighth game of the second set to reach the brink of victory in the first-round match as he tries to defend his title on Brazilian clay.
Fresh off winning his seventh career ATP title at last week's Argentina Open, top seed Alcaraz will finish his match on Wednesday on stadium court to try and book a date in the round of 16.
The 19-year-old Spaniard, who missed four months with injuries before making his 2023 debut last week at Buenos Aires, would next face the winner between Italy's Fabio Fognini and Chile's Tomas Barrios Vera.
Fognini led 6-2, 5-2 when his match was stopped by the deluge.
Alcaraz won five titles last year, capped by a US Open crown for his first major trophy and to become the youngest-ever world number one before surrendering the spot after his injuries.
Alcaraz swatted a forehand winner past 556th-ranked Alves to break for a 4-3 edge and held twice to claim the opening set.
Alves surrendered a break in the fifth game of the second set when Alcaraz fired a backhand down the line but the Brazilian broke back to level at 3-3.
A raindrop-nagged, wind-swept 12-minute seventh game ended with Alves netting a backhand to give Alcaraz a break for a 4-3 edge and the Spaniard held to move within a game of advancing.
That's when heavy rain showers began and chased everyone off the court.