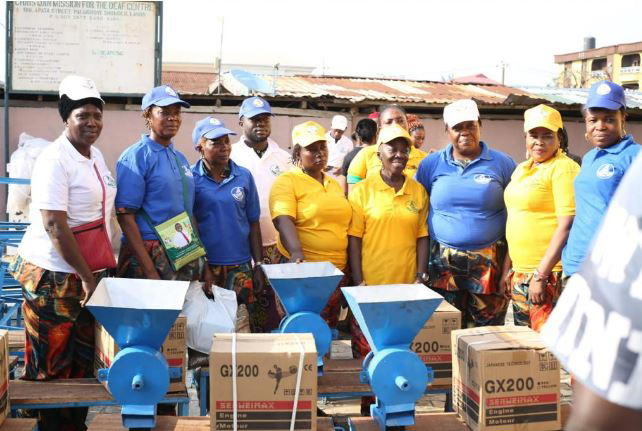 By Gabriel Olawale
The lawmaker representing Somolu Federal Constituency, Hon. Ademorin Kuye in collaboration with the National Productivity Centre, has trained and empowered market women, men and youth in Somolu constituency in Lagos State.
The exercise, which had 153 beneficiaries go home with grinding machines and deep freezers was part of the continued empowerment program of Hon. Ademorin Kuye towards alleviating the suffering of its constituents.
The resource person from Fortis Energy Services Limited, Mr. Nonso Ezeh tutored the attendees on how to use the grinding machine and deep freezer while also laying emphasis on its maintenance procedures.
The attendees were also tutored on several topics, which include precautions and safety, management of resources, among others.
Ezeh said that one of the mandates of National Productivity Centre Abuja was to increase human productivity irrespective of their areas of endeavours. The focus is to enable them to maximize the resources available to them.
"Today, we are not just giving cash grants to market people, we are also giving them items like grinding machines and deep freezers and improving their standard of living." I believe strongly in being productive because the scripture says that God will bless the work of our hands.
"If you don't have anything doing with your hands, invariably you deny yourself God's blessings. But with these items, I can only encourage beneficiaries to make good use of the things they gave them."
He said that the selection process was not based on political affiliation but rather on less privileges in the communities.
On his part, one of the facilitators, Mr. Henry Adedokun, of NAKIZ integrated Services Ltd., urged all the beneficiaries not to contemplate of selling the items given to them, saying that no amount they will sell it that will worth the return they would get if they put it to good use aimed at productivity.
"Our mothers, fathers and youths these items are to support you and improve your standard of living as entrepreneurs. I encourage you not to sell it. As you can see, Hon. Ademorin Kuye have you at heart. The best way to encourage him to do more is to put it to good use."
Also in attendance were representatives from the National Productivity Centre and from the Ministry of Special Duties, Mrs. Chinwe Okwuosa and Mr. Usman Halilu respectively. In her message from the DG, Madam Okwuosa encouraged the participants to make judicious use of the items given to them to increase and better their lives. Mr. Halilu on his part expressed satisfaction in the quality of the training and commended the resource persons for jobs well done.
The cash grants were done in partnership with and under the supervision of the Microvis
Microfinance Bank LTD to further allow for transparency and smooth operational management.
Some of the beneficiaries who spoke with Vanguard Newspaper pledged to put it to good use even as they commended Hon. Kuye for his quality representation.