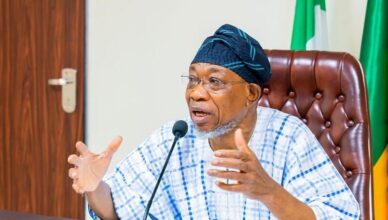 .
The Minister of Interior, Rauf Aregbesola, has urged the 2023 Advisory Committee on Nigeria Citizenship to expedite action in processing applications for Nigerian citizenship.
This is contained in a statement issued by Deputy Director Press and Public Relations in the ministry, Mr Afonja Ajibola, on Wednesday in Abuja.
The minister said during the first meeting of the committee in Abuja that it should also fast-track the procedures and recommendations of qualified applicants.
Aregbesola said the 15-year residency constitutional requirement for foreigners to be considered for Nigerian citizenship was too long.
According to him, it is a disincentive for foreigners who would have loved to become Nigerians and add value to national development.
"I am looking forward to some changes in the requirements, expedited processing of applications and timeous recommendation of qualified applicants to the President for confirmation.
"The applicants for Nigerian citizenship come from virtually all the nations of the world, many of them evidently more affluent than Nigeria.
"This shows indisputably that Nigeria has an irresistible attraction for them, in spite of her numerous challenges," Aregbesola said.
The minister added that after many years, only 286 were able to cross the hurdle to become Nigerian citizens in the exercise completed in September 2022.
He said that the country received applications on daily basis from foreigners who love Nigeria and would like to become her citizens.
"Nigeria is a very great country and is the envy of many nations, including developed ones.
"Nigerians all over the world continue to distinguish themselves in academia, the professions, sports and in entertainment.
"Just this weekend, a Nigerian singer, Tems, won laurels in the prestigious Grammy Awards in the U.S., shooting our nation to global reckoning.
"She followed a long list of Nigerians that have been so honoured at this zenith of music appreciation and reward events in past years."
The committee members are drawn from within and outside the ministry.
They include the Nigeria Intelligence Agency, the Department of State Service, the Office of the Attorney General of the Federation, the Foreign Affairs Ministry and the Nigeria Immigration Service.