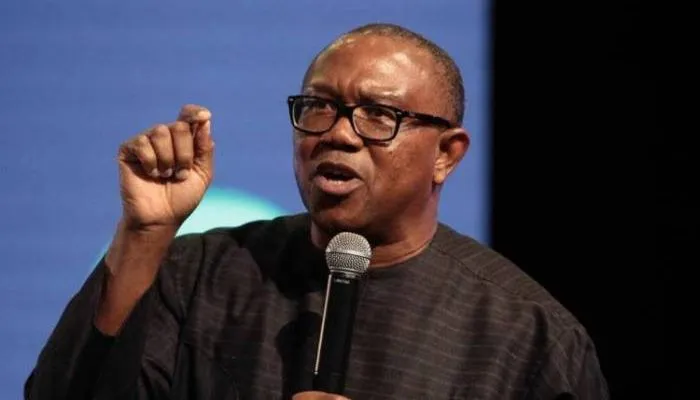 By Ezra Ukanwa, Abuja
WORRIED about the fuel shortages, scarcity of new naira notes, among other problems bedeviling the country, the Presidential Candidate of the Labour Party, LP, Peter Obi, has said 20 years after Nigeria's democracy was gotten, the country has produced poverty, out of school children, misery, among others for the Nigerian people.
Obi stated this when he played host to Nigeria National Council 2023 meeting of the Full Gospel Business Men's Fellowship International, held at the National Christian Center, NCC, on Friday, in Abuja.
Describing the 2023 general elections as existential, Obi said stories in Nigeria have never been beyond pain and suffering of the poor masses, stating that Nigeria should not get it wrong in the forthcoming elections.
He said Nigeria qualified for a failed state, explaining that with the spate of insecurity in the country, the current administration has lost control over its territory.
He said: "I believe that this year's election for Nigeria is an existential election. We have gotten to a point where we can no longer afford to do anything wrong otherwise all of us would be refugees.
"We have gotten to a point where some of us don't know what people go through. I was in Jigawa, Sokoto, Kebbi, everywhere I go you see Nigerians at ATMs to take their own hard earned money that is not even worth anything but they can't get it. I see Nigerians queuing up for fuel, when we are an oil producing country.
"You now live in a country that has qualified for a failed state. The two most important ingredients of a failed state is when you don't have control over your territory. We are no longer in control of Nigeria today. None of you can travel through Kaduna road without people checking if you've arrived successfully, you can't go by air without your family phoning your to confirm if you've arrived, you can't go by train.
"The second is when you are no longer in control of your economy. The bread we used to buy for 400, is now over 1000. Nobody knows the cost of petrol. Rice today costs about 40-50,000. So, your country has failed.
"We have over 133 million people living in multidimensional poverty. A country of 220 million has over 60 percent of the population living in poverty. We have more people living in poverty than India and China. These two countries have 2.8billion people. Our unemployment is 35 percent for a country of this size, youth unemployment is even worse at 55 per cent. Everything is headed south and in the past 20 years of our democracy, all we have produced is insecurity, poverty, out of school children, misery, pain on our people. This cumulative effect of leadership failure over the years.
"Nigeria can be secured. The enemy is no longer formidable. They are not. Anyone who says criminals are more formidable than Nigerians, that's a lie. What is lacking is leadership, what is lacking is being able to organise our security architecture. I have interviewed all the security agencies and I have found out they can do the job if they can be equipped, manned and supported.
"We have removed poverty. We have a factor endowment of every region that can make this country to be very productive but we chose to go by the sharing formula instead of the production formula. So this country needs to be moved from production to consumption. It must happen. We have borrowed money without anybody asking what the money was borrowed for.
"My dear people, get involved. This is a case where lunatics have taken over the asylum and we must rescue it from them. If not, it will consume everyone. It is good we are praying, it is good that we are going everything for the election but I think it is time for us to be righteous in dealing with people stealing public money."
He, therefore, pleaded with Nigerians across religious and ethnic boards to get involved by voting a candidate with character, completers and mental capacity to take the country to Uhuru.
He urged all political party members in APC, PDP, among others to look away party affiliation, and vote for the best candidate.
On his part, the National President of the Full Gospel Businessmen Fellowship International, Arc. Ifeanyi Odedo, while commending Peter Obi for gracing the occasion, urged the congregants to be wise during the 2023 election.