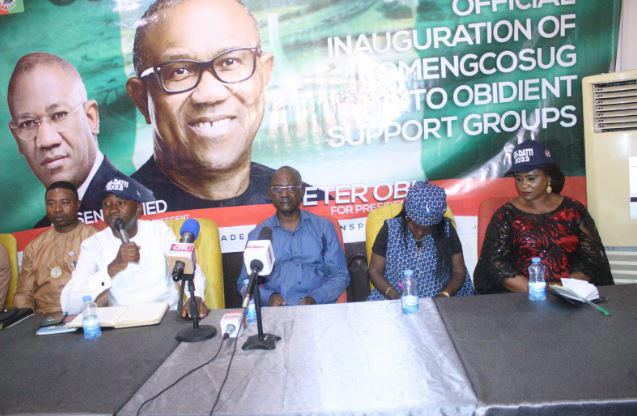 A coalition of civil society organizations, under the auspices of Coalition of Mega NGO(s) and Cooperative Support Groups, COMENGCOSUG, has promised to deliver 40 millions votes to the presidential candidate of the Labour Party, Peter Obi in the forthcoming election.
The coalition, which is the umbrella body of more than 450 NGO(s) and 300 Cooperatives respectively, made this pledge on Thursday in Abuja during its inauguration into the Obidient support groups.
Speaking at the event, the National Coordinator of the group, Pastor Alphonsus Okpeke, noted that studies revealed the personality behind the Labour Party as one who is the most credible and competent amongst all the candidates.
He said, "We have been used and dumped in previous times and this makes us hibernate ourselves to carefully study who to throw our weight behind in this fast approaching general election.
"Our studies revealed the personality behind the Labour Party as one who is the most credible and competent amongst all the candidates. After we have carefully checked the track records of Mr Peter Obi in previous time, we were able to forecast what he can do for the unity and growth of our dear Nation Nigeria.
"We are sure by God's grace he will turn Nigeria from Consumption To a Production Nation. His Resilient Fight Against Insecurities will give us the peace we are looking for. These form out strong reasons we want to give him the overwhelming support that will make him victorious in the forthcoming general election."
On how they intend to achieve the 40 million votes for Obi, Okpeke added that, "It will also interest you to know that we have structures that evenly spread across the length and breadth of this Nation (by this we have 6 Zonal leaders, 36 state facilitators plus FCT and 774 L.G.A Coordinators."
Also speaking, Chairman of the coalition, Ambassador Ezekiel Akpan, promised to mobilise members of the group to secure the needed votes for Obi's victory at the polls.
Speaking shortly after integrating the coalition into the Obi/Datti support groups, representative of the Labour Party and member of the presidential campaign council, Maj. General John Enenche (rtd), decried the worsening situation of the country under the current government.
Enenche acknowledged that Obi has the needed capacity and competence to rescue the nation from its current woes and urged Nigerians to recognise and seize the rare opportunity which the LP candidate has provided.
Other members of the party who spoke with newsmen at the event described Peter Obi as the most qualified amongst the presidential candidates judging from his good record, character, competence and age.