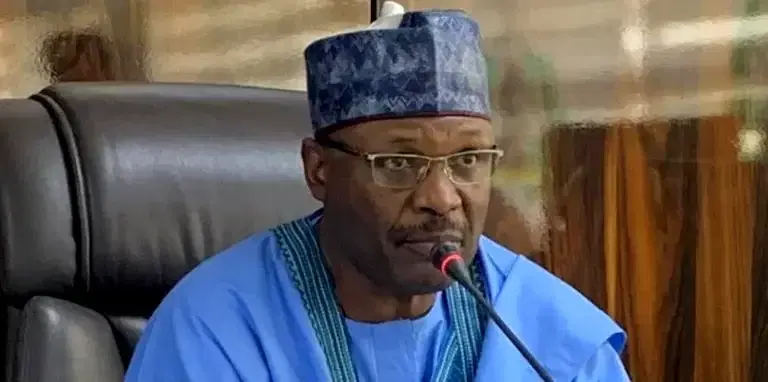 INEC Chairman, Prof Mahmood Yakubu
….the exercise is seamless despite crowd – Public Affairs Officer
By Peter Duru, Makurdi
Large crowd of prospective voters made of youths Thursday besieged the Makurdi headquarters office of the Independent National Electoral Commission, INEC, to collect their Permanent Voter Cards, PVCs, ahead of the coming 2023 polls
The youths turned out in their numbers to collect the cards at the headquaters in order to beat the deadline of Thursday January 5, 2023 after which the collection points would be moved to the Council Ward Headquarters by the electoral body.
Despite the large turn-out, officials of the commission who were on ground to attend to the crowd also ensured that the process went orderly without incidents.
Speaking on the development, the Public Affairs Officer of the Commission in Benue state, Mr. Terkaa Andyer noted that the large turn-out of young adults and youths to collect their PVCs was encouraging and a clear indication that Nigerians want to exercise their franchise in the coming elections.
He said "the large turn-out is a daily occurance and of course you know that after today, January 5, 2023 the collection point would move from our Makurdi headquarters to the Ward Headquarters. That is obviously why there is much pressure here at the office today (Thursday) but we are up to the task because we have enough personnel on ground to ensure that the exercise is seamless as you can see.
"So from Friday January 6, 2023 collections will take place at the Ward Headquarters for 10 days, that is till 15 January after which we will revert to the headquarters office from January 16 to 22, 2023 which will be the last day of the exercise.
"I must also say that the large turn out may not be unconnected to the sensitization that is being done by the commission as well as the introduction of the Bimodal Voter Accreditation System, BiVAS, by the commission which has given Nigerians confidence that their votes will count.
"So the enthusiasm being shown by Nigerians in our electoral process is certainly a thing of joy as well as a plus for the commission and the process itself."