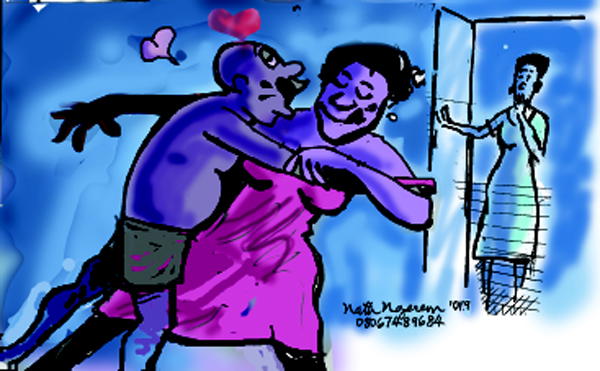 If you believe that it's only svelte women that grab all the good-looking men, leaving the unsavoury ones to fat women, you are wrong! More than ever before, women with more bounce-to-the-ounce, are being encouraged to flaunt what they have. All over the world, there have also been beauty pageants specially designed for voluptuous women.
Afterall there are lots of men that salivate over fleshy women. Like Kay, for instance. A friend of several years, he'd always been full of praises for them. "It is really exciting when a well-endowed woman gets undressed when you're in the room. The sight of very fleshy boobs tumbling free from the bra always want me to bury my head between her cleavage. Heaven! Tumbling free from the bra", he whooped, rubbing his hands with glee.
Susan doesn't joke with her food in spite of the size 24 figure. She was the brunt of cruel jibes when she was in school. "But when I entered university, I didn't really give a hoot about my figure", she told me. "By this time, I'd had a handful of boyfriends. One actually said he loved me until I was eventually dumped because, according to him, people always point and stare at you when we go out". Simply put, he thought I was an embarrassment. What a kick in the teeth! What did I do? I reverted to sweet, fattening food for comfort. And put on more weight.
"When I discovered that there were some girls fatter than me, with tons of confidence on campus, I forgot my inhibitions. So, when I met this skinny man at a party who said I was gorgeous, I didn't shrink back.
"His name was Phil and his sincere compliments won me over in an instant. It was the first of many feel-good phrases he heaped on me and I lapped it up. We became intimate almost immediately and he couldn't have enough of me. 'I like the feeling of a woman in control', he told me, 'and I love big women and their beautiful fat flesh squashing me. Skinny girls are just bony and full of themselves while you are amazing. You care about me, not selfish about your looks!"
In case you haven't noted, there is an increase in demand for big women in recent years.  And the service they offer include 'squashing'.  According to Jenny, a fat happy Londoner,  "I was seriously contemplating getting a gastric band to curb my obesity and researching the options opened to me on the internet when I noticed the BBW site.  Big Beautiful Women. 
I clicked on it and found a website with pictures of fat women posing in lovely dresses and even their undies.  And they were bigger than me.  In other words, while I'd spent my adult years cowering and lacking in confidence, the women looked happy and proud.  And male admirers were sending them adoring messages.  It was like I'd stumbled into a magical new world where obese women were goddesses, their curves worshipped.
"It was through the site that I learnt that lots of men love having a big woman sit on them. Such women are called squashers.  I'd never heard of such a thing, but I read how some men craved the feel of a big women in sexy lingerie pining down their body.  It was seen to be erotic and relaxing.  And what was more exciting was, the site explained, a lot of demands for squashers in Britain. 
As ridiculous as it sounded, I decided to give it a go.  Before I could change my mind, I put a snap of me in sexy lingerie on the site and was amazed at the response  The site explained that squashers were not prostitutes and couldn't be roped by the squashee.  And as many squashes loved eating too, I could be treated to scrumptious meals before dates.
"When I finally met a prospective squashee, I was relieved he didn't look like a pervert. As a matter of fact, he was a shy business man, slim and middle aged. Later in bed, I took off my dress and he lay on the bed, and feeling really self conscious. I lowered my big bottom unto his chest. It was a big scary putting all my weight on his skinny ribs. 'I'm not breaking any bones am I?", I teased him. He managed to shake his head while I straddled him, bending down to press my cleavage against his face. He seemed to be enjoying it.
"He told me honestly that I was gorgeous. It felt so good to be appreciated. Later, when we'd known each other a while, he confessed that, 'I feel strong and masculine because I'm bearing your weight. Yet I feel dominated too – when you sit on me. I can't even breath freely until you stand up". It was as if by being helpless, they found freedom.
A lot saw my big squashy body as motherly and comforting…"
Talk about being a lucky star shining brightly above for everyone. When I discussed Jenny's experience, with Susan she found it amusing. "I haven't had that kind of adventure yet. For now, I'm happy to be big, proud, curvy and confident I don't need to pack my bum on any man's chest to be sexually fulfilled".