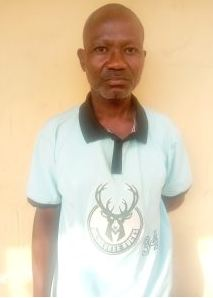 *Victim sold houses, filling station to pay the suspect
By Evelyn Usman
Fifty-five-year-old Oluwole Akande who has been masquerading as the Commissioner of Police in charge of Railway Command, Oluwole Akande, has revealed that he did it to defraud an 80-year-old businessman of N250 million naira.
The suspect contacted the businessman identified simply as Chief Ogunefo, introduced himself as CP Longe and informed him that there was a petition against him at the command.
The petition, according to him, alleged that Chief Ogunefo was involved in an illegal business and that he was a cultist. He thereafter, demanded N250 million from him to thrash the matter.
During the telephone conversation, he told the octogenarian that the money would be shared among top police officers of the ranks of Deputy Inspector-General of Police and Assistant Inspector-General of Police, AIG.
Vanguard was informed that in fear, the victim sold two of his houses to make an initial payment of N150 million. He was reportedly on the verge of selling one of his filling stations when his wife intervened.
She reportedly alerted CP Frank Mba on the blackmail by the supposed CP Railway.
A surprised Mba contacted the CP Railway Command, Yetunde Longe to confirm the allegation, only to discover that the suspect was an impostor.
Vanguard gathered that the suspect was traced to the Ojokoro area of Lagos via his telephone conversations with the victim.
During interrogation, he said, " I do not know CP Longe. I only came across her name in the papers when she was promoted to the rank of Commissioner of Police the same day with her husband.
"I impersonated her because I wanted to 'obtain' the money from Chief Ogunefo, by lying that he was implicated in the imaginary petition. I thought he would release it immediately so I called him. I told him I would drop the petition if he paid. He didn't even bargain and I didn't believe it would backfire.
"I used two sim cards to call him and I also sent him several text messages"
When contacted, CP Yetunde Longe said the suspect was arrested by detectives of the State Criminal Investigation Department. She added that the suspect was charged to court today.