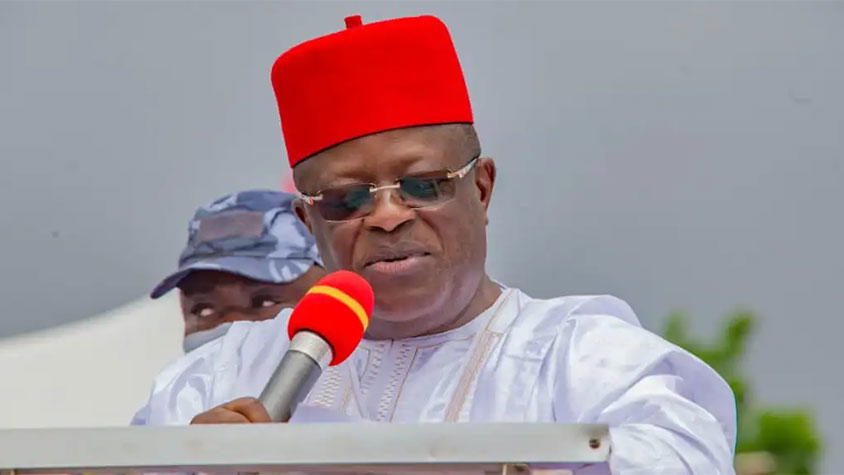 Governor David Umahi
Gov David Umahi has lifted the embargo on enthronement of traditional rulers in communities across the state.
Umahi made the announcement on Saturday, during the All Progressive Congress (APC) Local Government Rally in Isu, the Headquarters of Onicha Local Government Area in the state.
The News Agency of Nigeria (NAN) reports that the governor had suspended the traditional ruler of Isinkwo community in Onicha Local Government Area, Mr Josephat Ikengwu, over alleged ongoing killings in his domain.
The governor directed the Commissioner for Local Government, Chieftaincy matters and Rural Development, Mr Donatus Njoku, to embark on plans to ensure a seamless exercise in the state.
He warned that killings in the area must stop, adding that a curse would follow perpetrators of such crimes.
He further promised the people that he would work hard to ensure the elevation of the Federal College of Education in Isu to university level, if elected as Senator to represent the Ebonyi South senatorial zone of the state in February General Elections.
Wife of the Governor, Mrs Racheal Umahi, appealed to the people to uphold the existing equity by voting for Mr Francis Nwifuru for Governorship and other candidates of the party, during the general elections.
"In 2015, the Abakaliki people supported us, they sent their kings and queens to support us, this is the time to pay them back.
"By the crowd here, I am sure we are ready to pay them back.
"Let us not mortgage our chances in the future. The people of the South should support the Ebonyi North people so that within another 16 years, it will be our turn again," Mrs Umahi said.
The APC Governorship Flagbearer, Mr Nwifuru and Speaker of the State House of Assembly, pledged to present the people of Onicha, a pride of place, if elected as governor on March 11, governorship election in the state.
Mr Chidiebere Agwu, the Council Chairman, Prof. Okorie Ani, Mr Donatus Njoku, Prof. Chigozie Ogbu, Mrs Chinyere Nwanoke, Mr Chika Nwangele, Mrs Elizabeth Onwe, among others, pledged that the people would ensure their victory.
The candidate of the party for Ohanivo Federal Constituency, Mr Felix Igboke, while soliciting for votes of the people, assured them of positive representation at the National Assembly.
The National Treasurer of APC, Mr Matthew Uguru and the Director General of Divine Mandate Campaign Council, Mr Austin Umahi, urged people of Onicha to vote for the party's candidates in the interest of equity, justice and fairness.
The News Agency of Nigeria (NAN) reports that the rally featured blessings and adoption of the governorship candidate and the other party's candidates from the zone in the forthcoming general elections by the traditional rulers. (NAN)