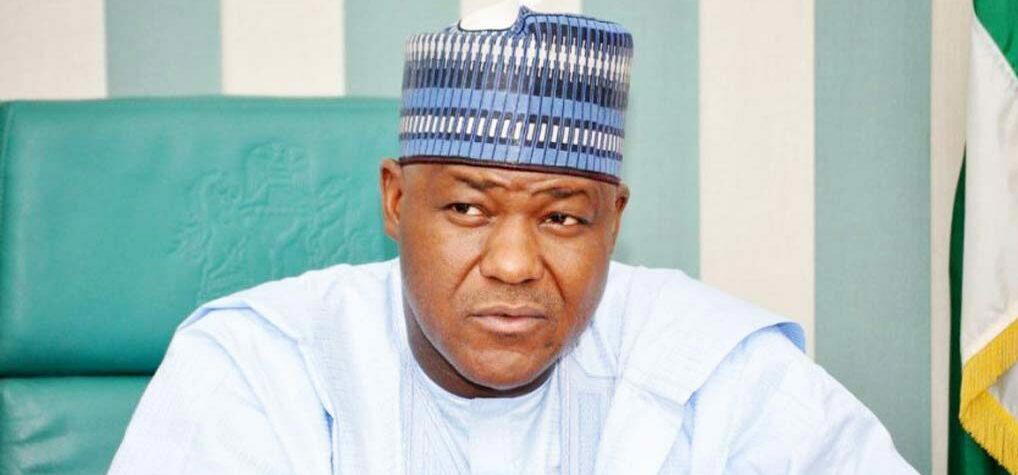 …says it 'll polarize Nigerians along religious, tribal lines
…asks Nigerians must not to support ruling party's presidential
… describes Buhari as clever man for pledging free, fair polls
…evaluates Atiku, Obi, Kwankwaso
…says competence, character must not be compromised
By Levinus Nwabughiogu-Abuja
Ahead of the February 25 and March 11 general elections, immediate past Speaker of the House of Representatives, Hon. Yakubu Dogara has said that Muslim Muslim ticket of the rulling All Progressives Congress, APC, will polarize the country along religious and tribal lines.
Dogara who was a keynote speaker during the Arewa Christian Indigenous Pastors Association, ACIPA's day of prayers, awards and book dedication/launch at Evangelical Church of West Africa, ECWA in Jos, Plateau State on Sunday urged Nigerians to reject the APC presidential candidate, Asiwaju Bola Ahmed Tinubu, saying the ticket was against the unity of the country.
Underscoring the importance of not comprising competence and character in the election of Nigeria's president, Dogara said that Tinubu had a lot of baggages that will make him a foreign asset should he become the next president to the detriment of the people.
He said: "The crucial role we can play as Christians is to examine the character of the candidates running for offices especially the highest office in the country and disavow those of them that we know are not a reflection of our moral ethos. Some may say it is bitter politics, but it is not, because,anyone putting himself in a position to lead others has wittingly or unwittingly placed his character to be called to question. This is because without character, you can not influence people and without influence, you can not lead people. Once we know the truth, failure to declare the truth we know, is not virtue, but cowardice. Thanks to the leadership of CAN for long taking a stand against the Muslim – Muslim ticket of the APC mainly because it is capable of polarizing our politics along religious line. They wanted a balanced ticket so that all of us, Muslims and Christians in Nigeria will unite behind it to build a nation that works for all of us. But in addition to this, we now have many other reasons not to back the APC ticket.
"As a Scandinavian adage instructs us, "you may dress the shepherd in silk but he will still smell of the goat". The more his handlers attempt to dress him in silk, the more he smells of the he-goat. Since he won't talk to you on his campaign tours, he won't talk to you when he is in power. Which one is easier? To talk to you when he is seeking for your votes or explain himself when he is in power? When he does talk, he pledges he is waging a jihad to Muslim leaders as amply elucidated by a serving North West Governor but when he talks to Christians he says he will be fair and just to Christians because his partner is a Christian. The perfect act of a con artist. A con succeeds only because he makes you keep your focus on what you will gain while distracting you from focussing on what you stand to lose.
"It's all a scam and nothing less or else. They only dance in their campaign because they don't have anything to say to you and when they pick the courage to talk, all we hear is that, "it is his turn to chop because he didn't chop alone". What an epic clown show! Being illogical is a master strategy every cult leader adopts because of their belief that they are immune to the norms of established society. Hitler was deliberately illogical because he knew that logic can be met with logic but it is difficult to handle illogic. Is it not a crime for anyone who claims to love Nigeria not to call this man or and his handlers out? This is not politics of hate, it's rather called gate keeping. It is securing the health of our republic and therefore every citizens task.
"In leadership, no leader leads people to a place he/she has never been. This man can only reproduce what he is, not what he wants to be. The world knows who he is and we now know too. Putting him as president would be a loud statement to the world that that is who we are or that we want to create another golden triangle in West Africa. Electing a president that has so much known baggages means the countries with records of his past crimes can use it to leverage on him. That makes him a foreign asset. Which sane people have ever elected a known foreign asset to lead them and still hope to compete with other nations.
"Unfortunately, we don't care about substance anymore, it is all tribalism. Is he in our team and are we going to get what we want? These are the questions that keep agitating our minds when electing leaders. With this inverted value system, if you have ever wondered how the bottom looks like in terms of leadership recruitment in Nigeria, this is it! But for Nigeria to rise, we must refuse to compromise on the competence and character of anyone who wants to be president of this country. I am yet to meet a farmer who sows chaff and expects a bountiful harvest."
Evaluating the three other major presidential candidates which included Atiku Abubakar of the People's Democratic Party (PDP) Peter Obi of the Labour Party (LP) and Rabiu Musa Kwankwaso of the Nigeria Nigerian People's Party (NNPP), Dogara said that Atiku was more politically experienced and will unite the country.
Dogara said he was yet to be convinced about the much mouthed accomplishments of Obi while he was governor in Anambra, stressing that he the youths yearned for him, he was not likely to win many votes in core north western states.
For Kwankwaso, the former speaker said his campaign lacked national appeal.
"The other candidate is that of the PDP. God forbid that we should imagine that he is perfect but we can not deny that he is by far the most experienced and that what he has done for the Northern Church has no known parallels in Nigerian's history. This was one of his major appeals to some of us who endorsed his candidature.
In case we have forgotten, let me remind us of Governors Boni Haruna and Jolly Nyameh who governed Adamawa and Taraba states for 8 and 10 years respectfully with the full backing of Atiku.
"In addition, Atiku has a strong partner in a Governor who is not just a Christian but a man of abiding faith in Nigeria and our people. I am convinced that together they will provide the needed leadership to unite Nigerians of all creed and lay a solid path to prosperity for all. If they have challenged the Northern church to rate the candidates on the basis of their contributions to the church and vote for whoever has done more so that he can do more. Mark my words, anyone who has not done much will not change overnight and begin to do more merely because he has been elected president. It just doesn't work that way.
"As for the NNPP candidate, I don't see any traction in his campaigns and my guess is that he may have smelled the coffee too soon.
"As for the Labour candidate, I don't have much to say about him because I don't know him and that's what scares the day light out of me. At the level I have operated in Nigerian politics, I am supposed to know a number of things about him but regrettably that is not so. I would therefore leave those marketing his candidature to tell us who he is, what he has done for us in the past and how he intends to build on it when he becomes president. I have heard so much about him and have listened to most of his talks about what he has accomplished so far but the fact that Anambra state where he held sway for 8 years is not a model in any material particular for other states is deeply disconcerting to me.
"We also looked at the possibility of Labour winning the elections so that we do not mislead the Church. The analysis we did which we subsequently adopted has been published so that no one is left in the dark regarding the tools deployed in the assessment. You don't need to be a top notch politician to understand what we did. Just divide Nigeria into North and South and ask yourself which of the two can Labour win outrightly? If that confuses you, take the 6 zones and honestly ask yourself which of the 6 geopolitical zones,can Labour win outrightly. If that is still too much work, just ask yourself whether any candidate can win the Presidency without garnering substantial votes from the North West zone based on the statistics of registered voters in Nigeria as released by INEC.
"Can Labour garner 30-40% of the votes in the North West zone and proceed to win massively in 3 other zones to coast to victory in the forthcoming election? That's the question and all of us even casual observers of politics know the answer to this question. We shouldn't be deceived by what we see happening on the Plateau and few other states. We must take into cognizance what is happening in other states before settling on a position.
"On whether a Christian is permitted to waste his vote or anything at all, I believe our Lord Jesus Christ has answered that already. When he fed multitudes on two occasions he commanded the remnants to be gathered so that there is no waste. As Christians we must see our votes as talents that God has entrusted into our hands which we can not waste without inviting the harshest rebuke of the master, " You wicked and lazy servant…"
"Judge for yourselves whether we will be operating in wisdom when we say, I know we will not win but I will nonetheless vote that way in order to make a statement", Dogara said.
He expressed gratitude to President Muhammadu Buhari for pledging to conduct free, fair and credible polls, describing him a "cleaver man".
"In conclusion, what I have said is that, our leadership when it is freely and transparently elected is a clear statement about who we truly are. President Buhari is a clever man. By insisting that he will ensure elections are free, fair and transparent, it's an open invitation to Nigerians to mirror themselves to him and the World about their true selves in the leadership they will freely put in place", he said.