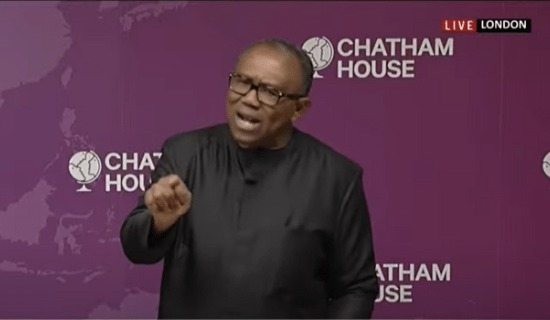 By Biodun Busari
The presidential candidate of the Labour Party, Peter Obi says successive governments in Nigeria have underinvested in health and education to the detriment of the citizens.
Obi lamented that the 2023 annual budget like other previous budgets did not prioritise health and education to boost the human development index of the country.
He made this known during his address at the Chatham House, London on Monday.
Read also:
Chatham House: I'll address sources of agitations — Peter Obi
Labour Party plans'll drive quality life of average Nigerians – Peter Obi 
Italy's most wanted mafia boss Messina Denaro arrested
The former Anambra state governor lamented that the percentage of expenditure earmarked for the six-month fuel subsidy was more than the annual percentages of health and education combined in this year's budget.
"On the issue of health, yes we have a problem with health. We have under-invested because our government have not prioritised our development agenda," Obi said.
"Everybody knows that the only measure of development acceptable globally today is the human development index. And this depends on three items –health being one of them.
"From 2015 to 2021, the Nigerian budget in health is under N2.5 trillion for 200 million people. It's unacceptable. Even this year, our budget for health is about N1.5 trillion. Our budget for education is about N2 trillion.
"Two of them combined, on annual budget is about N3.5 trillion whereas your six months' budget for subsidy which is a criminalised thing is N3.6 trillion. It is not acceptable."