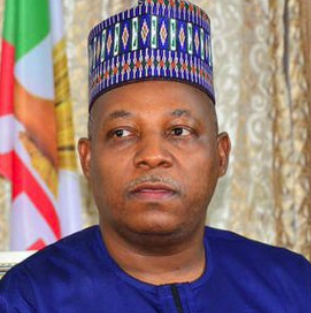 Kashim Shettima
By Omeiza Ajayi, Abuja
The Presidential Campaign Council PCC of the ruling All Progressives Congress APC has reacted to allegation of abandonment leveled against its vice presidential candidate, Senator Kashim Shettima by the North East APC Youth Stakeholders Forum.
According to the PCC, Shettima has been working with all the groups and will not favoue anyone above the other.
Minister of State, Labour and Employment and Chief Spokesperson of the APC PCC, Mr Festus Keyamo SAN disclosed this in a chat with Vanguard Thursday night.
He said; "There are many groups in the North East working for the success of our party. Our Vice-Presidential candidate appreciates all the groups, including this one, and we need all the groups. We will sort it out internally. But the H.E Kashim Shettima will not treat one of these groups as more important than others, nor would he be blackmailed by any such group.
"It is also obvious that they are exaggerating the numbers here and may be overstating their influence. Glad to read that they still love the APC and remain within the Party", said Keyamo.
The North East All Progressives Congress APC Youth Stakeholders Forum had on Thursday withdrawn its support for the vice presidential candidate of the party, Senator Kashim Shettima over what it described as the nonchalance of the former Borno state governor to issues afflicting the party in the zone.
The forum which prides itself as among those who advocated that Shettima be made the APC vice presidential candidate, lamented that his lackadaisical attitude has made it lose three out of eight million potential votes its members had galvanized for the party.
Acting Chairman of the Forum, Hon. Shaibu Baffa Tilde in a statement on Thursday in Abuja, however said they will continue to support the party's presidential candidate, Asiwaju Bola Tinubu.
"We are saddened to be in the news for what others will interpret as a negative reason at this time, but we are also obligated by our love for our great party, the All Progressive Congress APC, to make this timely intervention before our party's fortunes in the region sink", said Tilde.
He expressed "deep regret and concern" about the fortunes of the party in the Northeast, adding that APC is on the verge of collapsing "due to the obstinate, careless, and exclusive leadership style of our Vice Presidential Candidate, Hon. Kashim Shettima".
3m votes lost
"The Northeast APC Youth Forum has watched with tears as its many supporters continue to defect to the PDP. Unfortunately, the trend in the Northeast zone is worsening by the day, with Sen. Kashim seemingly turning a blind eye to these heinous developments in our party in the region.
"We the Youths in the Northeast have lost our Zonal Treasurer from his home state of Borno, Hon. Yusuf Shariff Banki, due to his failure to support youth in the region to launch massive mobilization. It is worth noting, gentlemen, that Sheriff led over 500,000 youth to the PDP. As if that wasn't enough, our Zonal Organizing Secretary, Hon. Murtala Gamji of Taraba, led over 200,000 youth to the NNPP, and our Zonal Women Leader, Hon. Amina Manga of Bauchi, led one million women to the PDP.
"Of the 8 million youth votes we have already mobilized for Asiwaju Bola Ahmed Tinubu, our Presidential Candidate for the Presidential Polls, Sen. Kashim Shettima has already plundered over 3 million through his actions with the wave of defections from our party. This is simply unacceptable!
"In light of this, we urge our party's Vice Presidential Candidate, Hon. Kashim Shettima, to immediately reverse his steps and correct his error for the sake of the party, the region, and the teeming youth.
"It is on record that this group, then led by its Current Acting Chairman, Hon. Shaibu Baffa Tilde, threw their support behind Sen. Kashim Shettima and committed massive resources, both human and financial, to ensure he emerged as the APC's Vice Presidential Candidate.
"We do not seek compensation from Sen. Shettima, but our resentment stems from Sen. Kashim's failure to recognize a formidable Youth force of the party that stood by him through thick and thin after realizing his ambition to become reality as Vice Presidential Candidate from the northeast region.
"As a result, the Northeast APC Youth Forum wishes to withdraw its unequivocal support for Sen. Shettima. Our actions should not be misinterpreted, but rather judged by our affection for our dear party.
"While we intend to take our next steps regarding his candidacy in the coming days, we would like to express our unwavering support for our Presidential Candidate, Asiwaju Bola Ahemd Tinubu, and the APC. We will continue to work for the advancement and victory of our beloved party in the upcoming general elections".
Earlier, Deputy Spokesperson for the All Progressives Congress Presidential Campaign Council, Barr. Hannatu Musawa, who said she had not been briefed on such development, however added that there was no crisis in the APC.
She said it was normal for people to make their grievances known and that in a democracy, some could even decide to switch support.
Musawa said it is not true that APC has lost millions of followers, saying the opposition Peoples Democratic Party PDP has continued to lose more members daily, unlike the APC.
"If we are talking about movement from here to there, I think the one that has been affected most by this type of movement is the PDP which has invariably lost five state governors on the eve of a major election. So I think APC has not had anything of that magnitude. So, I think, with 42 days to the election, I think we are in good stead", she stated.