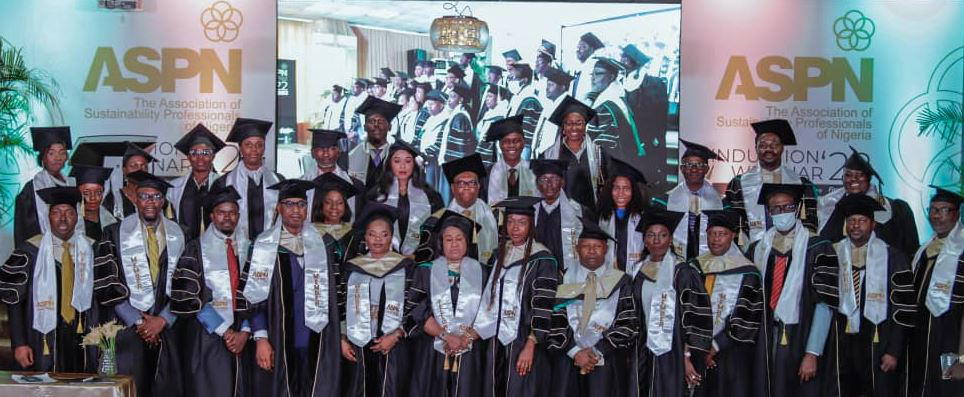 ..calls for new members
The Sustainability Professionals Institute of Nigeria (S.P.I.N) has announced that their 2023 cohort induction ceremony will be held on Thursday the 2nd of February, to mark the formal welcome of new members to the sustainability fold and also provide an opportunity for intending members to get an insight on the institution and the accompanying benefits.
The event, which is themed "Partnership for Sustainable Development, The Journey so Far", will be a hybrid event hosted physically at the Lagos Chamber of Commerce and Industry (LCCI) and live-streamed for remote audiences from 11am to 2pm via the zoom virtual platform.
In a statement by the institution's Communications Executive, Cima Sholotan: The induction ceremony is a further testament to the institution's resolve to champion the course for sustainability development in Nigeria by encouraging more professionals to incorporate sustainability practices in their everyday living, further redefining corporate, social responsibility and fostering enhanced economic, environmental, social, and governance practices in Nigeria.
She explained that this would be the institution's first induction ceremony as an institute since its transformation from an association and adopting the Sustainability Professionals Institute of Nigeria (S.P.I.N) as its new name in October, 2022. She concluded that this will also be the institution's second induction ceremony since its official launch in November, 2020.
SPIN provides its members with a platform to showcase professional contribution and impact; an opportunity to associate with other thought leaders to accelerate sustainable development in the country; access to global platforms for growth and career development; reputation enhancement; access to internal SPIN thought leadership articles; and opportunity to be a SPIN course developer and facilitator.
The membership also guarantees a professional image designation on the website and creates a clear career path for sustainability professionals in the country.
Another membership benefit of SPIN includes an automatic membership of the Institute of Corporate Responsibility and Sustainability – ICRS UK, with accompanying benefits such as access to certificate courses on core sustainability & CSR areas; unlimited access to the ICRS Mentorship Program and ICRS hub events, and an exclusive platform for S.P.I.N members only.
The S.P.I.N platform provides its alumni and members several opportunities and easy access to resources required to partner and collaborate, pioneer, and build capacity to transform businesses and the private sector through networking, certification and advocacy and deliver strategic, actionable and impactful initiatives and business solutions.
It would be recalled that the President of S.P.I.N, Prof. Kenneth Amaeshi, announced the transformation of ASPN into an institute, hence the name S.P.I.N, and also completed every proceeding to becoming a chartered institute as they continue in their very impressive bid to professionalize the sustainability practice in Nigeria.
He made the announcement during a webinar organized by the Institute last September to bring awareness to Environmental, Social, and Governance (ESG) and global sustainability reporting standards, with participants cutting across professionals from International Sustainability bodies, corporate organizations as well as regulators.
The Sustainability Professionals Institute of Nigeria (S.P.I.N); a non-profit organization, focused on improving the practice of sustainability and corporate social responsibility seeks to build capacity among sustainability professionals in the private and public sectors through setting standards for Corporate Social Responsibilities (CSR) and sustainability practice in Nigeria, building professionalism in ESG and Sustainability, increasing awareness of sustainable development and climate action best practices, alongside facilitating collaboration and partnership amongst professionals and member corporate institutions for greater reach and impact.
The institution is vision-driven and strives to educate and enlighten the globe in collaboration with other stakeholders in the field of sustainability to clamour for a sustainable earth through social partnerships that are the bedrock of quick reforms.
Visit the S.P.I.N website for information on membership registration and how to become a certified sustainability professional.