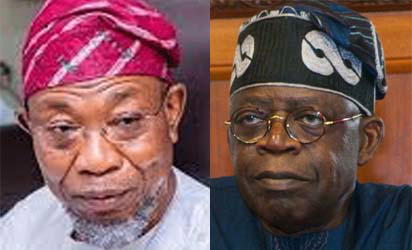 By Shina Abubakar
FOLLOWING claims by the Minister of Interior, Rauf Aregbesola, that some jittery politicians are frustrating moves to reconcile him and All Progressives Congress, APC, presidential candidate, Asiwaju Bola Tinubu, a former minister of Police Affairs, Jelili Adesiyan, yesterday, told Aregbesola to seek forgiveness for his misdeeds.
Adesiyan, in a chat with Vanguard in Osogbo, said the former Osun State governor cannot force his way into reconciliation with the APC presidential hopeful without being remorseful of his iniquities in the state.
He said: "We are all clamouring for peace and there is nothing bad in reconciling ourselves. But even God acknowledges that sinners will be forgiven after showing remorse. For me, Aregbesola is not a member of the APC with the way he behaved in the build-up to the last governorship election in Osun.
"Reconciliation is not a problem; our leaders are always ready to accept those that stray away from the party.
"Aregbesola though a Minister under the APC administration, does not show the commitment of a party member. In a sane society, he would not behave in such a manner, but the leadership is always ready to forgive, but he needs to go back to where he missed his steps, apologise, and seek redress and he will be brought back into the party mainstream.
"Aregbesola used the unique opportunity he was given by the leadership of the party, especially Asiwaju Bola Tinubu, who projected him from an unknown personality to a two-term Governor of Osun, to disrupt the party and create disharmony among party leaders in the state.
"I know Asiwaju, being a man with a big heart, is ready to forgive him, but first, Aregbesola must show remorse."