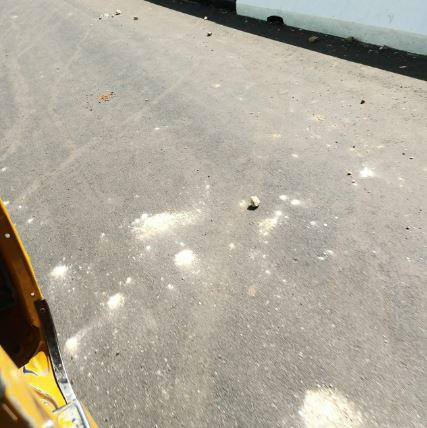 By Ogalah Ibrahim
…Hoodlums, Almajiris' throw stones at project site….
Today at Kofar Kaura in Katsina State Capital, some hoodlums together with underage children, mostly Almajiris' took to the street throwing stones shortly after President Muhammadu Buhari commissioned the underpass bridge located in the neighbourhood.
Vanguard learnt that the hoodlums littered the scene throwing stones and chanting in Hausa 'Bamuyi bamuyi', meaning 'we are not interested.'
According to an eyewitness, it took the intervention of vigilantes in conjunction with security personnels to calm the situation which lasted for over thirty minutes.
Some journalists trailing the president to cover his activities were reportedly caught in the web as police tried to disperse the hoodlums with tear gas.
A commercial 'Keke Rider' who witnessed the incident said:
"The attack started shortly after Mr President left the scene of the newly constructed bridge. The hoodlums took over the scene throwing stones and chanting 'Bamuyi bamuyi'."
When contacted on the incident, SP Gambo Isah, the spokesperson of Katsina Police Command, apparently yet to be briefed, said there was no protest at all neither was Mr President booed as reported by some media houses.
According to him, "there was only an uproar at Sabuwar Unguwa, a notorious area, for Indian hemp and drug dealers fighting among themselves.
"We went there dealt with the situation, raided the area and arrested many of the suspects and drug dealers as investigation is ongoing."
President Buhari who arrived Katsina on Wednesday is on a two-day visit to commission some projects executed by the state government.
Among the projects President Buhari is expected to commission in Katsina today includes: NIMET Institute, Darma Rice Mill, the new Revenue House as well as the multimillion naira Kofar Kaura and Kofar Kwaya underpass.