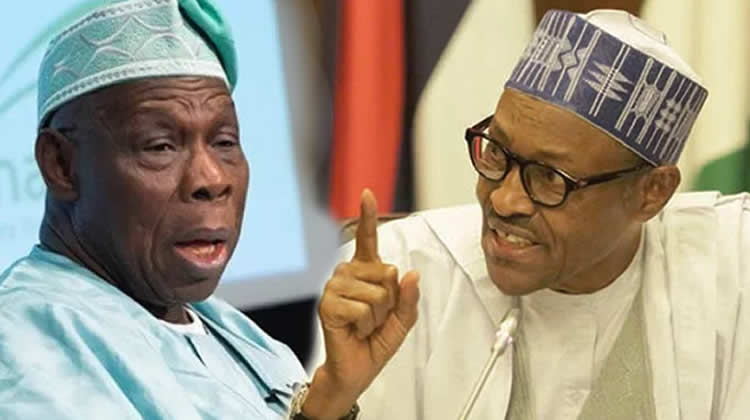 .
By Johnbosco Agbakwuru, Abuja
By Johnbosco Agbakwuru, Abuja
The Presidency on Monday reacted to the new year open letter by former President Olusegun Obasanjo where he formally endorsed the Presidential candidate of the Labour Party, LP, Mr. Peter Obi for the February 25 election.
President Obasanjo, who in the letter told Nigerian youths that the forthcoming election is their turn to take their destiny in their hands by voting for Mr. Obi, made scatting remarks against the administration of President Muhammadu Buhari.
But reacting to the former President's description of Nigerians living in hell in the Buhari's government, the Presidency described Chief Obasanjo as a frustrated person and morally dirty to criticize the present administration.
A statement issued by the Senior Special Assistant to the President on Media and Publicity, Mallam Garba Shehu, said, "As we said sometime back, Mr. Obasanjo's tenure, 1999-2007, represented the dark days of Nigeria's democracy due to a slew of assaults on the constitution."
The Presidency premised its reaction on four grounds, saying that "former President Obasanjo is so well known to all that no one needs to describe who he is.
But, four things we will like to say:
"One is that he will not stop attacking President Muhammadu Buhari because the former President won't stop being jealous of anyone who beats him to a new record in the nation's development process.
"President Buhari is ahead of Chief Obasanjo in all fields of national development and to do that is cardinal sin to Obasanjo whose hallucinations tell him that he is the best ever to lead Nigeria and there will never be another one better than him.
"President Buhari just completed the world class edifice that is the Second Niger Bridge after three decades of failed promises. It is now awaiting commissioning.
Obasanjo laid the sod for the bridge in his first term as elected President and work never started.
"When he sought re-election for his second term in office, he returned to the site to turn the sod for the bridge the second time. When the Obi of Onitsha, forthright and scholarly, reminded him that he had done this in the past, Obasanjo told the foremost Southeast traditional ruler that he was a liar, in the full presence of the Chiefs and Oracles in his palace.
"Obasanjo lied to the Southeast to get their votes. President Buhari didn't get their votes but built the bridge because he believed it is the right thing to do."
It also said that the former President was frustrated because of the global recognition and accolades President Buhari is having especially, his insistence that the nation's constitution should be respected as regards tenure of government.
"Two, President Buhari had been bagging awards and encomiums for trying to do that which the Constitution of the Federal Republic of Nigeria says a leader should do: serve one, or a maximum of two terms and go.
"President Buhari has been stating and restating that he will supervise a better election than the one that brought him to office and to leave as and when due.
"Having tried tenure elongation and failed, Obasanjo's fictitious mind must be telling him that he is the one under attack.
But he is not on President Buhari's radar because experience has shown, especially lately in West Africa where there have been at least three successful coups and many other failed attempts, that third term or tenure elongation is a recipe for political instability.
"Furthermore, the totality of African leaders appointed President Buhari the Anti-Corruption Champion of the continent.
"You can't be an anti-corruption champion if "you meddled and bent the rules," carrying the putrid responsibility of what happened to national assets in the name of privatization as documented by the Nigerian Senate in 2011.
As an insight, the Aluminum Smelter Company of Nigeria, ALSCON, which was set up with $3.2 billion, was sold to a Russian firm, Russal, for a paltry $130million. Delta Steel, which was set up in 2005, at a cost of $1.5billion, was sold to Global Infrastructure for just $30million.
"ALSCON got back $120million for the dredging of the Imo River, which was never carried out."
Continuing, it said, "Three, which is linked to the one above is the growing profile of President Buhari as the Champion of Democracy not only at home and in the West African subregion but the African continent as whole.
As President, Obasanjo destabilized internal democracy by orchestrating impeachment after impeachment of governors who were not compliant with his highly imperial administration.
"As we said sometime back, Mr. Obasanjo's tenure, 1999-2007, represented the dark days of Nigeria's democracy due to a slew of assaults on the constitution.
"The former president deployed federal machinery to remove governors Joshua Dariye, Rashidi Ladoja, Peter Obi, Chris Ngige and Ayo Fayose from office. They were the then governors of Plateau, Oyo, Anambra, Anambra and Ekiti, respectively, unjustly removed using the police and secret service under his control.
Also Read
'Emi Lokan' is wrong attitude, leadership mentality for Nigeria — Obasanjo
"Under him, a five-man legislature met at 6:00 am and "impeached" Governor Dariye in Plateau; 18 members out of 32 removed Governor Ladoja of Oyo from office; in Anambra, APGA's Governor Obi was equally impeached at 5:00 a.m. by members who did not meet the two-thirds required by the constitution.
"Under the Peoples Democratic Party (PDP), lawmaking powers of the Rivers State legislature were transferred to the federal parliament to punish Governor Amaechi for shifting his political alliance.
"Moreover, he damned the Supreme Court and unlawfully held back Lagos State revenues due from federal sources on account of his pettiness against Governor Bola Tinubu.
"On the other hand, in Washington a few weeks ago, US President Joe Biden at a meeting with African Heads of State and Government described President Buhari as a champion of democracy and a role model for the leaders of African states.
"Clearly, Obasanjo has become even more jealous by adopting a vengeful attitude."
The Presidency further said, "Four, to say that "frying pan to fire" is the situation in Nigeria at this time should be read to mean a personal experience to him and we know what that means.
"Hell" for Obasanjo is when a President, any President that comes after him refuses to be his own puppet, to do as he wishes on all matters and at all times. He then keeps attacking out of frustration.
"Obasanjo's vengeful attitude towards President Buhari is the height of selfishness and little short of moral squalor."