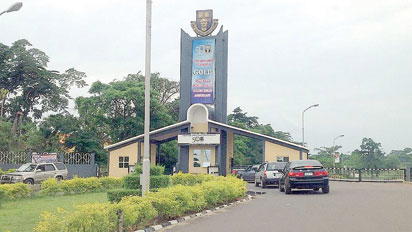 Obafemi Awolowo University, Ile-Ife , OAU
By Efe Onodjae 
The management of Obafemi Awolowo University, has celebrated a diligent scholar, Professor Abiodun Adebayo Adediran as he retired from active service in the university.  
Abiodun is a Professor of History, an iconic Nigerian historian and a seasoned university administrator.
Adediran started his academic career as a Graduate Assistant in the Department of History of the University of Ife in 1976 and he attained the professorship cadre in 1993.
His areas of academic and research competencies are African/Yoruba History, Western Yorubaland and was taught and trained at Ife by the late doyen of 'Ife School of History; Professor Isaac Adeagbo Akinjogbin.
Prior to his retirement, he served the Obafemi Awolowo University and the Nigeria University system at large in different capacities; at the Obafemi Awolowo University, Ile-Ife, he was Director of the Institute of Cultural Studies, Head of Department of History, Dean of Faculty of Art, Deputy Vice-Chancellor and Director of the University's Linkages and sponsored research office.
Outside the Obafemi Awolowo University, Adediran was associate lecturer/visiting professor at the University of Ibadan, University of Ilorin , Ekiti State University, Ado-Ekiti; University of Wisconsin-Parkside, USA and the University of Bayreuth, Germany at different times.
Adediran is a member of the Historical Society of Nigeria , Archaeological Association of West Africa, American Studies Association of Nigeria, Historical and Environmental Interest Group of Nigeria.
The Vice-Chancellor of the university, Professor Adebayo Bamire who was also present at the valedictory ceremony described him as a dedicated academician whose legacy would continue to be felt in the university premises and most especially the Department of History.