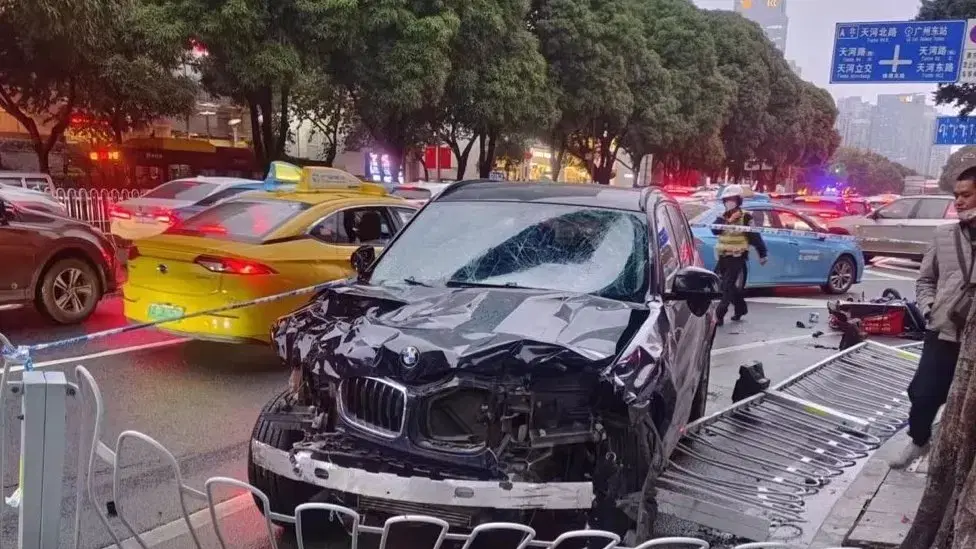 By Biodun Busari
At least five people have been confirmed dead following an accident when a man rammed a car into a crowd in Guangzhou, China on Wednesday.
According to BBC, the accident which also injured 13 others has sparked widespread outrage as people accused the man of deliberately targeting people.
The report said videos of the accident posted online showed the driver getting out of the car and throwing banknotes into the air, shortly after the crash.
Read also:
Bus plunges into Nile River's canal in Egypt, kills 21
Church of England apologises over role in slave trade
World's richest man Arnault appoints daughter to head Dior
Police have then swung into action by detaining the 22-year-old man that drove the car. An investigation has also been launched.
The crash occurred during the evening rush hour at a busy junction in the southern city of 19 million.
"He deliberately drove into the people who were waiting for the traffic light. He rammed the car into them maliciously. After that, he made a U-turn and hit people again," an eyewitness told local outlet Hongxin News.
"He wasn't driving too quickly, but some people couldn't run away in time because they wouldn't have known he was hitting people deliberately."
The man also reportedly drove into a traffic police officer and his motorcycle, but the officer managed to escape.
Another circulated clip showed a young girl lying on the ground at the scene of the incident, while a woman said to be her mother wailed by her side.
Another eyewitness described the chaos of the aftermath on Weibo, the Chinese version of Twitter. The person said that an hour after the incident, the site was still filled with ambulances and traffic police "and they had not moved all the injured and the bodies from the scene".
"The scene was too tragic and I couldn't bear seeing it. I felt so sad that I wanted to throw up whenever I heard the siren of the ambulance," the person said.
The incident has sparked public anger, with many expressing sorrow that it happened in the lead-up to Chinese New Year, a time for family reunions.
"The victims could be a girl who dressed up meticulously to go on a date… It could be a food deliveryman who earned five yuan after rushing an order. It could be a father who wanted to go home and have dinner with the children. It could be a child who was happily shopping," one Weibo user wrote.