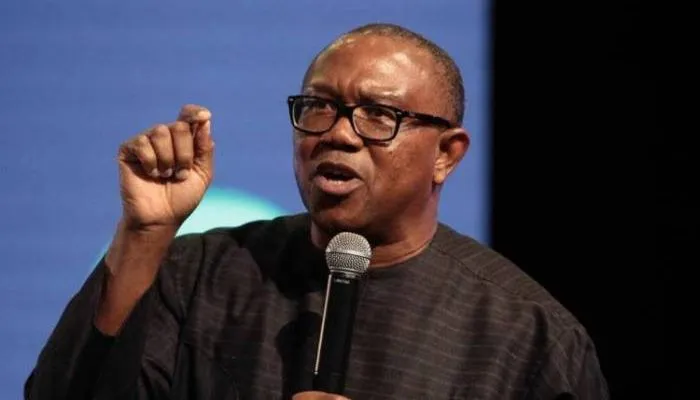 .
By Rotimi Ojomoyela,Ado-Ekiti
The Presidential Candidate of the Labour Party, (LP) Mr Peter Obi, on Thursday, assured that he would unify and secure the country if voted into power in the forthcoming election.
He also promised to banish poverty, hunger and joblessness if given the mandate to pilot the affairs of the nation.
 Obi said this during the mega rally of the party held at the Ekiti state pavilion in Ado-Ekiti.
The labour party presidential candidate, also assured the people that his administration would end insecurity, and corruption and end irrelevant political structures that put Nigerians in the bondage of hunger.
" I want to assure you that if you vote for me as the next president of Nigeria, I will unite and secure this country.
" I will end hunger, and poverty and provide good jobs for numerous unemployed graduates in Nigeria.
"My administration will move this country from consumption to production and bring the dividends of good governance to their doorsteps.
"I will not only stop corruption, but I will also eradicate poverty in every state of the federation because our youths will be properly taken care of and they will no longer be travelling out of the country for greener pastures.
" Ekiti kete please vote for the labour party in the forthcoming presidential election," he said.
The National Chairman of Labour Party, Mr Julius Abure, urged thr people to vote for Obi in the forthcoming presidential election because he is reliable, dedicated, committed and ready to fight for the survival of the youths and Nigerians.
Similarly, the State Chairman of the party, Barr. Odunayo Okunade, advised the party supporters not to sell their votes to politicians or political parties.
Okunade urged them to vote for Obi who is competent, tested and trustworthy to eradicate poverty, hunger, corruption and insecurity in Nigeria.
He assured them that the labour party presidential candidate would never disappoint them if voted for as the next president of Nigeria.
Supporters and well-wishers from all the 16 local government areas of the state came out en mass to show support for the Labour Party Presidential candidate.