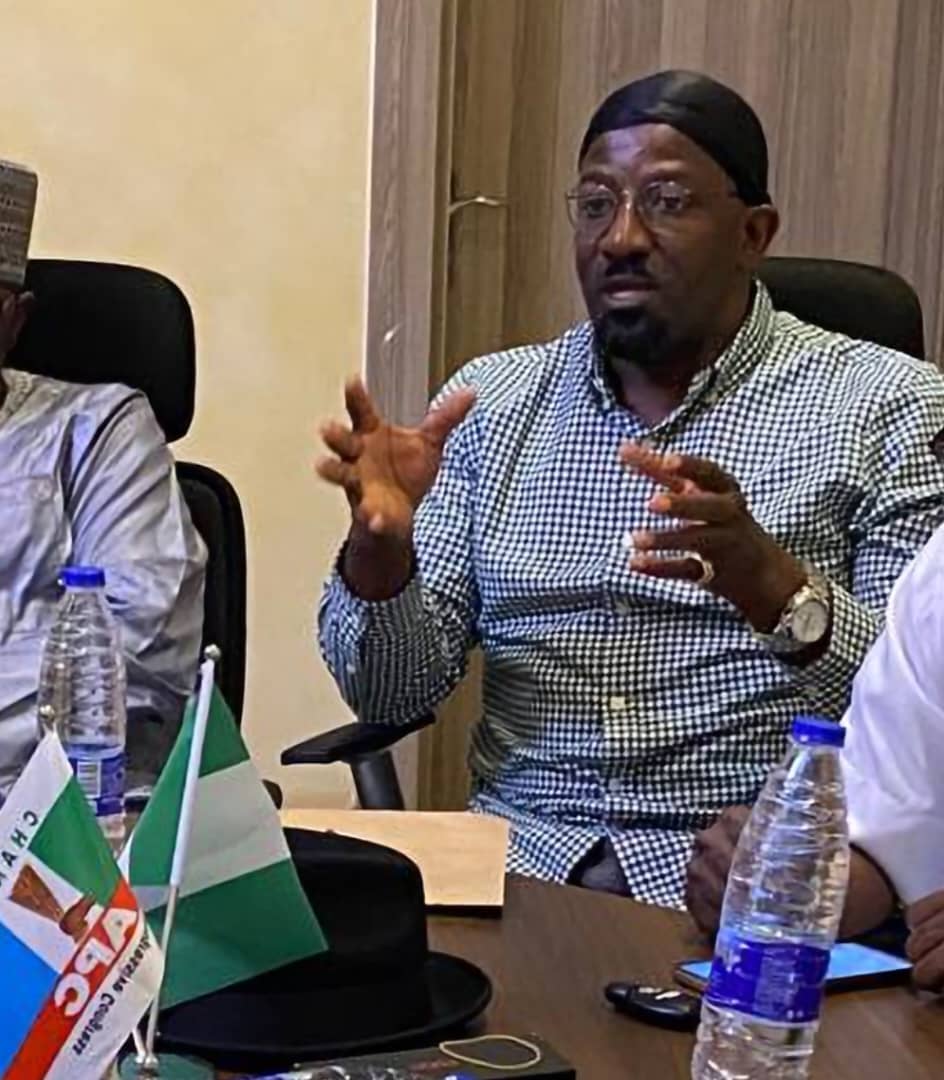 Dr. Josef Onoh is presently the southeast spokesman of the All Progressives Congress (APC) Presidential candidate, Senator Bola Ahmed Tinubu. Still a member of the Peoples Democratic Party (PDP) where he aspired for the 2023 Gubernatorial bid in Enugu state. He was in the Enugu state House of Assembly during Dr. Chimaroke Nnamani's leadership of the state and has since then remained a close friend of the former Enugu state Governor.
In this interview, Onoh speaks from his kofo Abayomi residence in Victoria Island Lagos state on the recent suspension of Senator Nnamani by the National Working Committee (NWC) of the PDP for an alleged anti-party activity, stating that it was a great injustice to have slammed Nnamani with such harsh measure without due process, worse still when the leaders of the PDP such as its Presidential candidate, Alhaji Atiku Abubakar; Governor waziri Tambuwal of Sokoto state and even the National Chairman of the party, Iyorcha Ayu have had allegedly committed worse anti-party activities than Senator Nnamani. Excerpts:-
_
What is your immediate reaction to the suspension of Senator Chimaroke Nnamani from the PDP?
The Constitution of the Federal Republic of Nigeria and that of the political parties are clear on the need to ensure sectional, ethnic, and religious balancing in the recruitment of the leaders of Nigeria. The relevant provisions are Sections 14(3)(4), 15(1)(2)(3d)(4) and 17(1) of the 1999 Constitution of Nigeria as amended and Section 7(3)(c) of the PDP Constitution coupled with Section 20(v) of the APC Constitution. Paragraph 2(d) in the preamble to the PDP's Constitution emphatically established PDP on the resolution to conform to the principles of power shift and power sharing by rotating key political offices amongst the diverse peoples of the country. The party consolidated this provision in the body of its Constitution in Section 7(3) (c) where it admonished its members that they must pursue their aims and objectives by adhering to the policy of the rotation and zoning of the party and public elective offices pursuant to the principle of equity, justice, and fairness. Alhaji Atiku Abubakar by contesting elections at every election shows that he doesn't have any regard for those provisions above. It's even more instructive when one observes that the present President in the office is a sulfide-speaking Northern Fulani Muslim like Atiku. His Excellency President Muhammadu Buhari will complete eight years of rulership of Nigeria by May 2023. Therefore, any vote for Atiku will permanently destroy every notion of our federal character, power shift, and rotation and deal a decisive blow to the unity and cohesion of our country. This is the greatest anti-party activity.
What threat does this suspension portend for Chimaroke Nnamani who already has a PDP ticket to re-contest for Enugu East Senate?
It's ridiculous that PDP is suspending, expelling, and threatening innocent members of their political party, including the G-5 Governors, who are insisting that the Constitutions of Nigeria and PDP must be obeyed, and exonerating Atiku Abubakar, Iyorcha Ayu, and Tambuwal who are the main perpetrators of anti-party activities in PDP. If PDP refuses to do the right thing by suspending Atiku and co, the Nigerian people should do the right thing by voting them out to save our country from collapse. The more vague the phrase 'anti-party activities' is in any constitution, the more its interpretation and implementation on perceived political opponents is done with impunity. In the PDP, Section 58(1) (f) simply states that: 'Subject to the provisions of this Constitution, the Party shall have the power to discipline any member who engages in anti-party activities'. The APC went further to beef up the Section a bit when it states in Article 21(A)(ii) of its Constitution that 'Offenses against the Party shall include anti-Party activities or any conduct which is likely to embarrass or have an adverse effect on the party or bring the party into hatred, contempt, ridicule or disrepute.' The Labour Party (LP) has an almost identical provision in its Constitution as stipulated in Article 19(B) (2) which states that 'Anti-Party activities by conducting self in a manner likely to embarrass the party or bring it into hatred, contempt, ridicule or disrepute in whatever manner.' It went further to include carrying out anti-party propaganda as one of the offenses in Article 19(B) (5). One general provision common to all Political Parties is that any party member who commits anti-party activity must be made to face a disciplinary committee and the Committee must ensure the observance of natural justice which guarantees a fair hearing for any accused person on the principle of audi alteram partem literally meaning listen to the other side or let the other side be heard as well.
Do you know if Nnamani will be going to court to challenge his suspension?
As I said earlier, the vaguer this provision is, the more it leads to impunity. There's nothing that can be interpreted as anti-party activity in PDP. It's no wonder why the party has been the worst example of a party with impunity. The PDP suspended Senator Chimaraoke Nnamani of Enugu State and some PDP Stalwarts in Ekiti state for anti-party activities, but Senator Chimaraoke has protested his suspension, saying that his right to fair hearing was allegedly violated. He also noted that he was never at any time notified of any petition or complaint against him or informed of the grounds that formed the decision of the PDP NWC to suspend him from the party. He was not also invited to any meeting, proceeding, or hearing of the NWC of the party where his supposed offense (s) was/were discussed. The PDP expelled Senator Chimaraoke Nnamani, who obviously was not given a fair hearing contrary to the express provisions of his Party's Constitution so it's justified in all ramifications if he proceeds to court to get justice.
Are you also not afraid that the PDP may also visit you with a suspension letter or have you officially resigned from the PDP?
Anti-party activities provision has become an instrument for intimidating members without godfathers. Yet, godfathers and their surrogates carry out the worst anti-party activities without any form of reprimand. This inequitable treatment is the root cause of the series of crises in Nigeria's political parties. Some party members are simply above the law. If anti-party activity is defined as any conduct, which is likely to embarrass or have adverse effect on the party or bring the party into hatred, contempt, ridicule or disrepute, then it's either these major political parties adhere to their party Constitution and wield the big stick on all offenders or amend their Constitution to redefine what anti-party means. Starting with the PDP presidential election which an aspirant, Hayatu-Deen, described as obscenely monetized. The winner Atiku Abubakar emerged after an aspirant from his ethnic, religious and sectional background, Aminu Tambuwal, was allowed to publicly flout the PDP presidential primary rules by speaking twice on the podium when all his co-aspirants spoke only once and his second coming was to collude with Atiku to manipulate the election to favour Atiku. He publicly declared support for Atiku and even went further to ask his voters to turn around to vote for Atiku at his rigged second coming. Using the same podium dedicated for the candidates to deliver their manifesto to the members to endorse and campaign for another fellow aspirant in order to shortchange other aspirants is the height of anti-party activity because it was a conduct that embarrassed and had an adverse effect on the party and brought the party into hatred, contempt, ridicule, and disrepute. Rather than making such an aspirant face disciplinary measures, the National Chairman of the party, Iyorcha Ayu, committed a greater anti-party activity by visiting the house of Tambuwal after the presidential primary election to confer an award on him as the hero of the presidential primary election for betraying the other candidates in favour of his Fulani Northern Muslim relative and frustrated the presidential power shifting South, which even Atiku admitted was the right thing to do. The fuss about that error of judgment is yet to settle in PDP, and our party is here suspending our candidates for not joining them in their impunity, PDP has nothing meaningful to offer me again, it's a party that will go into extinction after February and will only struggle to survive by merging with other political parties to form an opposition party, they can't suspend me because i already suspended them the moment I joined Asiwaju and fully Batified. So Who's fooling who?
Don't you think that the PDP presidential candidate stands a better chance of winning the election than his APC counterparty, Bola Tinubu?
Atiku Abubakar has continuously engaged in anti-party activities throughout his political career. When his tenure as Vice-President was coming to an end in 2007 and his party PDP found him ineligible to contest the 2007 presidential election because of his propensity for corruption for which he was tried by an administrative judicial panel set up by his PDP government. He was duly indicted for corruption with unassailable evidence; Michael Achimugu, Atiku's media aide, has in this year corroborated all the evidence of corruption leveled against Atiku by the Administrative judicial panel set up by the PDP in 2007. In the evidence publicly displayed by Achimugu, Atiku Abubakar admitted with his voice establishing companies like Marine Float, called Special Purpose Vehicles (SPV) with names of trusted party officers, with which he used to siphon the Nigerian resources and money through paying non-existent consultancy fees that they will corner for themselves and families to satisfy their insatiable appetite for corruption.
Rather than accept this verdict and retire from politics permanently, Atiku, as serving Vice-President of PDP, committed the worst anti-party activity by joining another political party, Action Congress (AC), which accepted him and even gave him the ticket to contest its Presidential election. It's not surprising that the politician accommodated Atiku when he fled his party for corruption. Tinubu who was the leader of the ACN then and can attest to his unscrupulous antecedents. The PDP government declared his seat as Vice-President vacant and sacked him from the government. Rather than accept his fate, he went to court to challenge all the actions of PDP without first exhausting all the internal mechanisms for the resolution of conflicts. This is another egregious anti-party activity. It is important to note that the courts did not exonerate him from corruption or justify his action of contesting the election in another party while he was the Vice-President of another party; indeed the court condemned it as morally wrong. However, the court ruled that it is only the National Assembly that can remove Atiku as Vice-President, not the party or the President. It also held that it's the court that has the power to convict Atiku Abubakar and stop him from contesting, not an Administrative Judicial Panel. So a serial loser cannot come today and win Bola Ahmed Tinubu who has a track record of political deliveries and successes.
Can these 'sins' of Atiku be brought forward in the present circumstance?
Of course yes. Atiku went ahead to contest the election and lost. He has contested to be President in every election since 2007. He has contested five times and the 2023 general election will be his sixth time. This is another anti-party activity. This runs contrary to the PDP Constitution which is clear that presidential power should shift between North and South after every eight years and rotate among the geopolitical Zones. There is no way it is the intention of the framers of the Nigerian constitution and the PDP Constitution that power will remain with Atiku's religious, ethnic, and sectional group forever as this will be the greatest route to political instability in Nigeria. Atiku even supported the power shift from South to North and walked out on a sitting President of PDP, Goodluck Jonathan, when he couldn't get it in 2015. He committed another anti-party activity with Tambuwal by joining APC in 2015 to defeat his former Party, PDP, after forming a faction of NPDP while still in PDP. Atiku firmly declared then that PDP was beyond redemption and has become a party of corruption, insurgency, and unemployment. So it's only natural that he repeats his normal pattern of being a serial loser by losing the presidential election come February this year. Quote me, Tinubu is miles ahead of them all.