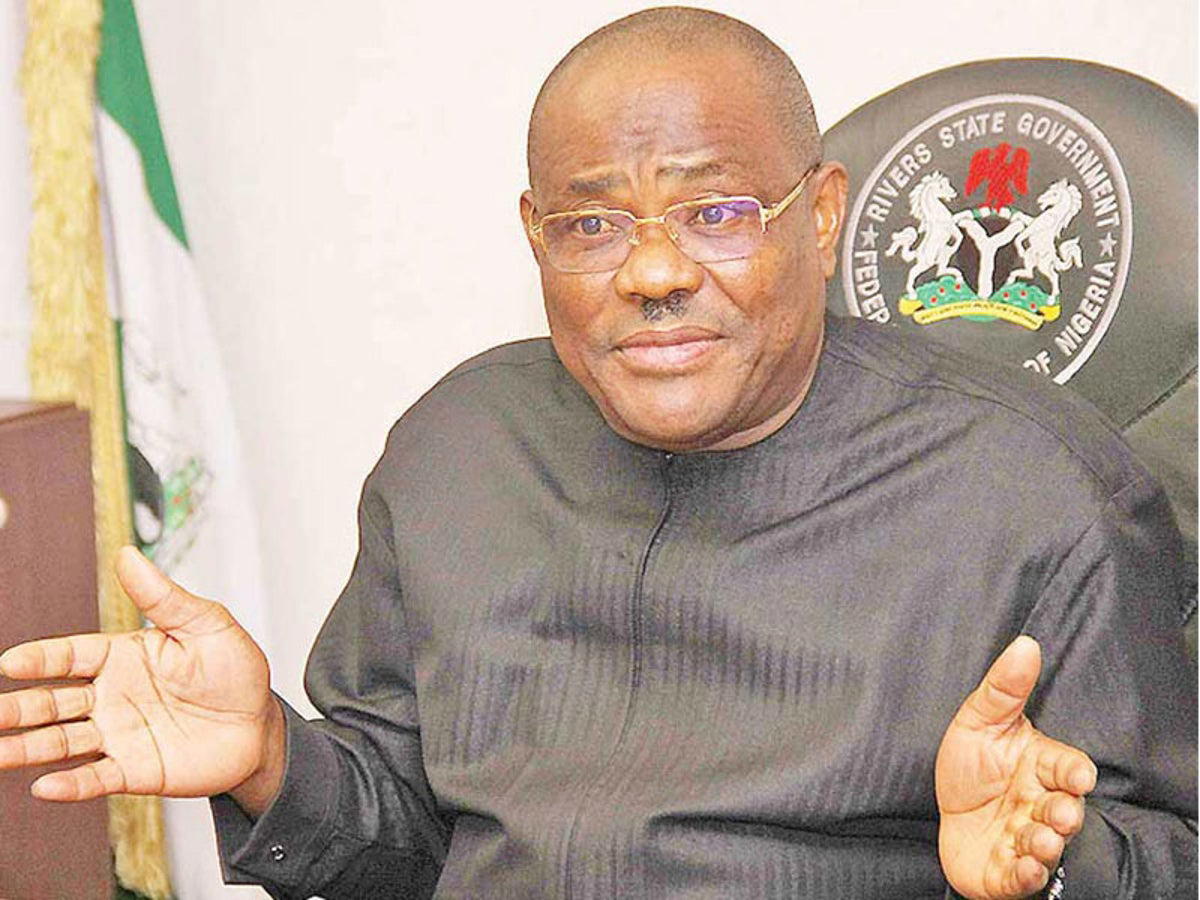 Governor Nyesom Wike of Rivers State.
.
By Olayinka Ajayi
Rivers State Governor, Nyesom Wike has insisted that the G-5 consensus governors are not the problem of the Presidential candidate of the Peoples Democratic Party, PDP, Alhaji Atiku Abubakar.
Speaking during the Flags-Off Construction of Akpabu-Odido and Ekpeda Roads in Rivers State on Monday, he said: "Nigerians know those who opposed the zoning of party chairman first. I was one of those who said that the zoning of the Party chairman should go to the North because I believed that the presidency should go to the South.
"I also attended a meeting of the Southern governors where we agreed that the presidency should come to the South and when the zoning committee was set up, this same Atiku had gone to buy form, to frustrate the recommendation of the zoning committee. That was what happened. Saying when they had bought form, will you tell people to withdraw? That was the agreement, now it's hunting them.
"All I have stood for is equity, fairness and justice. Saying that me and the governor of Benue State, Samuel Ortom frustrated efforts to microzone it to Sourth-East is not necessary. People know those who don't want the presidency to come to the South East. If you are a bad product, then you are a bad product but if you are good then you are a good product.
"You worked for somebody for eight years and he recommended another person, blame your boss for recommending another person, not me. If your principal cannot recommend you, then, there's something fundamentally wrong. Your people went to lobby for your principal to recommend you, it took your principal a long time before he wrote to all Nigerians, so I am not the one who said it. Everybody should carry their problem to wherever their problems are. Leave me alone, leave Ortom alone, leave the G5 governors alone".
Wike who urged Akpabu-Odido and Ekpeda people not to vote for the All Progressive Congress, APC, in the forthcoming election, berated the former Minister of Transport, Rotimi Amaechi for not initiating meaningful projects in the State as a minister.
He said: "I watched the former governor carrying his business partner along, saying that they should vote for him, that he's going to do well. Why will he not do well for him? When you sold our gas turbine to your governorship candidate.
"When Amaechi was governor did he remember you? So tell him to go away with his candidate. Even when you said you love Rivers state, I agree but you don't cite a school where people are not living, that your being born in Ekwere land does not make you an Ekwere man. There's no illegality Chidi Lloyd did not defend in the Assembly because of Amaechi to the point that they had to gather the State Assembly to the government House for the interest of Amaechi, yet no road was constructed where Lloyd came from. So when a man claimed to be a proper Ekwere man, what did he do for Ekwere people?
"You were a Minister of Transport and you are close to the President, tell me the project you brought to Ekwere land, tell me one project you brought to Rivers State. I can tell you all the projects I brought to the State. That is what is called interest. It is not when you think people will compete with you. You are afraid of raising people who will compete with you. No man can be an island, any man who wants to be the only big man in his community is a wicked man. What is the essence of wealth when you cannot raise other people from your area".