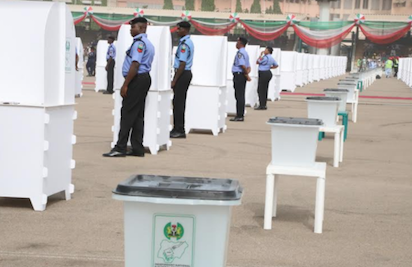 Security operatives manning the ballot boxes during the PDP 2017 National Convention at the Eagle Square, Abuja. Photo by Abayomi Adeshida
By Fortune Eromosele, ABUJA 
The Northern Elders Forum, NEF, has warned against any plan by scrupulous elements or groups to distort the conduct of a free, fair and credible 2023 elections.
In a statement signed by Director, Publicity and Advocacy, Dr Hakeem Baba-Ahmed, the Elders said that there are unhealthy murmurs which hint at the possibility that the elections may not hold, and some kind of unconstitutional contraption may be forced on Nigerians after May, this year.
NEF therefore warned those who peddle these dangerous rumours point to the near-desperate circumstances under which Nigerians live.
The statement read: "They suggest that difficulties simultaneously imposed by insecurity, crushing inflation, fuel scarcity, exchange of old for new currency notes and others which affect particularly poor Nigerians are deliberately contrived to inflame passions and trigger unrest which may poison the election environment or threaten its conduct.
"The Forum has no basis to support these conjectures. Nonetheless, it warns against any attempts to interfere with the conduct of credible elections and a peaceful transition to a new administration.
"The severe economic and social difficulties under which Nigerias live are indeed threats to peace and security. Solution must be found to improve security of the citizen and the state. Fuel shortage can and must be eliminated immediately. The currency swap programme has not worked as planned, and it is strangulating economies, communities and the patience of the citizen.
"It should be revisited, particularly around its timelines and operations of the CBN and banks. Whatever its benefits, it cannot be of value if it destroys many aspects of the economy, or alienates already hard-pressed citizens further. The Forum advises a postponement of its deadlines and a major review of the utility of the continued stay of the leadership of the CBN in place.
"The Forum warns that Nigerians will not accept to live under any arrangement that offends the constitution of the Federal Republic of Nigeria."