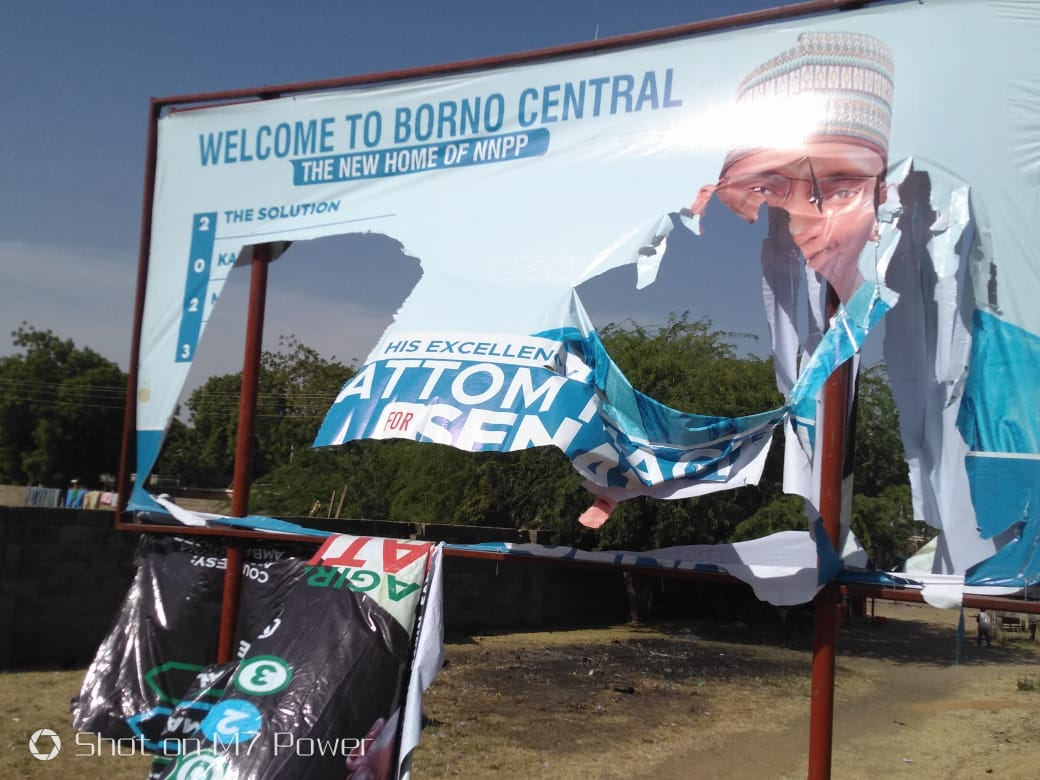 By Ndahi Marama, Maiduguri
The New Nigeria Peoples Party Senatorial Candidates for Borno Central Campaign Bill Boards and other campaign posters/flags erected on strategic places in Maiduguri, Borno state have been destroyed by people believed to be from the opposition.
The State Party Chairman, Barrister Mohammed Mustapha who disclosed this to Journalists in Maiduguri also said that his party has petitioned the Borno State Commissioner of Police, Abdu Umar over the unfortunate incident.
According to the petition which a copy was made available to the newsmen on Tuesday said, "we have strong reasons and evidence to suspect one of our opposition parties, its leaders and their thugs because a similar incident had occurred in August 2022 around Bulumkutu area when we were escorting our New Nigerian Peoples Party ( NNPP) Presidential Candidate Dr. Rabiu Musa Kwankwaso to the Airport around 5:00 pm, where our vehicles were attacked and damaged by some hired political thugs carrying dangerous weapons".
The Petition states, "Reference to the peace accord signed by all political parties in the presence of Resident Electoral Commissioner Borno State (REC), and all the representatives of Traditional Rulers and all the Security representatives in your office in December 2022. I hereby formally present our complaints to your office on the damage and violation of our rights perpetrated on our party the New Nigerian People's Party (NNPP) by a political party thugs on our campaign billboards belonging to our Borno Central Candidate Alh. Attom Mohammed Magira located on the express road.
"The billboards location started from the Airport junction, Bulumkutu Railway junction opposite Elkanemi School, opposite Police Headquarters, near Ramat Polytechnic and Polo traffic junction were all damaged and removed. A total of seven billboards containing fourteen posters were affected and the remaining posters across the state are not safe if adequate security are not put in place"
The petition further states, " we were denied placing our campaign posters and billboards on street lights and many locations within the state despite having fully paid all fees and fulfilling all conditions laid down by the Borno State Urban Development Board".
The NNPP however exercise fear that a level playing ground would not be provided for peaceful, free and fair conduct of the forthcoming elections in the state.
NNPP, therefore, assured the Commissioner of Police that its members shall continue to be law abiding and will not be deterred by this breach of the peace because members respect peaceful coexistence and rule of law.