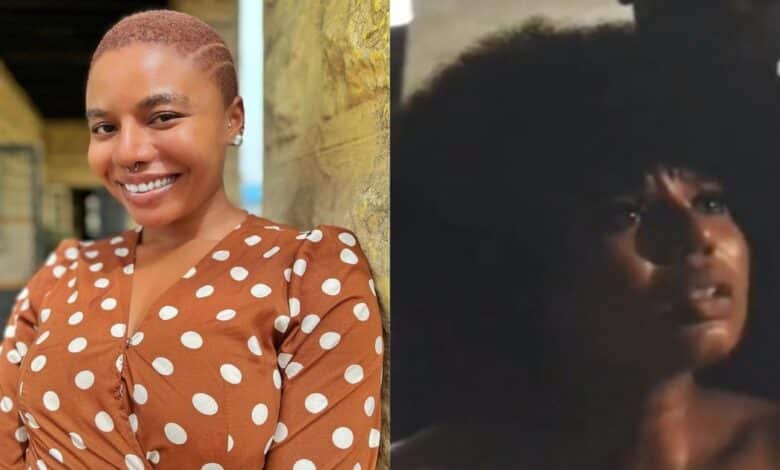 By Efosa Taiwo
Nigerian actress, Nancy Isime has recently set social media abuzz with her unclad scene from her latest film, "Shanty Town".
The video of the scene which shows Isime unclad has been widely shared on social media, sparking conversations among viewers.
However, the actress has come out to debunk claims that the scene depicted her nudes, stating that what was shown was rather a 'body double'
She wrote on her Instagram handle, "Simmer down h0rny boys and girls. I know those gorgeous body parts excites you but they sadly belong to my beautiful body double. Mine aren't that succulent.
The film tells the story of a group of courtesan plotting to break free from the clutches of a notorious criminal mastermind, but political corruption and familial connections make achieving liberty a daunting task.
Isime plays the lead role of the young girl, and her powerful performance has been widely commended by critics.
However, the controversial scene continues to cause more buzz online with some praising its raw and realistic portrayal of life in the grit and hustle mentality of Lagos, while others criticizing it as exploitative and unnecessary.
Read some reactions below:
@AjibolaAyonite2: Nancy Isime that's your real boobs we all watch in shanty town, "You can't fool us we're familiar with your game"
@Nysclegitplug: My point is that this is a normal thing in American movies so why are you guys seeing it as a big deal just because Nancy isime is the one on the scene Nigerians eeh
@PeaceRobert001: I still love Nancy Isime sooo fvckin' much.
….the trending video is a body double though, plus you need to see this movie!
@joe_octave: Whether na Nancy Isime real body or not, or na Body Double. Na the oyibo standard wey Nollywood wan the give Una now. Nudity special. Shey Ini Edo don act something like this too? Why the rukus sef? Nice film
@NiiMiiiiiiii: Y'all shouting "Nancy breast and yansh" yet you want Nollywood to be like Hollywood , if you can't comprehend, just watch the movie and enjoy But Gad,Nancy isime get yansh oooo