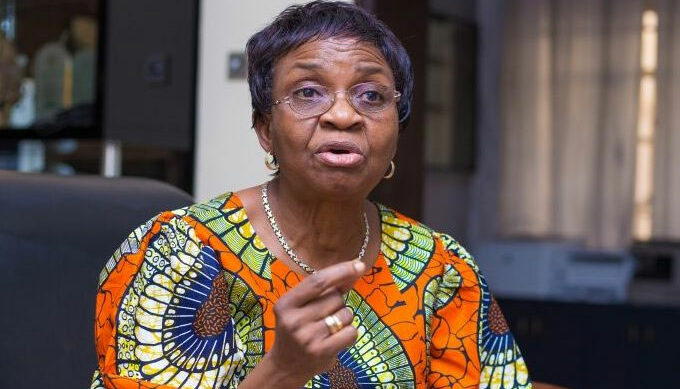 Director-General, NAFDAC, Professor Mojisola Adeyeye
… Says NAFDAC moving to WHO Maturity level 4
By Chioma Obinna
The Director General of the National Agency for Food and Drug Administration and Control, NAFDAC, Prof Christianah Adeyeye on Tuesday said the agency tripled its Internally Generated Revenue, IGR, from N700 million to N2.5 billion during her first tenure. Adeyeye who was recently reappointed for a second 5 years term, also disclosed that NAFDAC will be moving to the World Health Organisation's Maturity Level 4 as a regulatory agency to enable global trade of Nigerian-made pharmaceuticals through collaborative registration with other regulatory agencies.

Adeyeye who expressed her gratitude to President Mohammadu Buhari during a zoom press briefing to unveil her second term in office also expressed thanks to other stakeholders in the industry for the support the agency enjoyed during her first tenure, leading to the achievements it recorded.
Elated Adeyeye who recalled that NAFDAC's Internally Generated Revenue, IGR, was dismally low with N700 million and a collection of N7 billion as user fees when she was first appointed, said IGR has tripled to N2.5 billion, while user fees have more than doubled to N15 billion.
She recalled that N3.02 billion debt was inherited during her first tenure and was paid off within her first year in office.
"N3.02 billion inherited debt was paid off within my first year in office. The sum of about N180 million was discovered to be fictitious. The agency is enjoying better financial management. The IGR has tripled to N2.5 billion. User fees have more than doubled to N15 billion."
Recalling some of her achievements which include the attainment of WHO Maturity Level 3 in the WHO Global Benchmarking Tools, she said the achievement placed NAFDAC among the recognised regulatory Agencies in the world.
According to her, NAFDAC attained the status in the first quarter of last year, precisely in March 2022.
On her Strategic Goals For 2023-2028, she said she would focus on governance, financial management, and publicity, noting, we would continue "meaningful deployment use of human capital; Sustain strong governance – expansion of directorates for greater and impactful management and obtain approval of hazard and regulatory allowance (To be funded from NAFDAC Generated User Fees)."
"We have maturity level 3 now and that has allowed us to be given the opportunity to manufacture vaccine now, but we are going to maturity level 4, MLA 4, and what is called World Listed Authority (WLA) Status. She further added that the attainment will enable:
Global trade of Nigerian-made pharmaceuticals through collaborative registration with other regulatory agencies, adding that manufacturers will register with NAFDAC using their international standards.
Adeyeye said: "Local Pharmaceutical manufacturers will become more competitive in AFCTA as without having quality, your product is not going to sell."
"Attaining Vaccine Lot Release ML4 to position Nigeria strategically for vaccine manufacturing
We are benchmarked on seven because we were not manufacturing then. It will ensure Good Manufacturing Practices of Nigeria Vaccine Company and assures quality, safety and efficacy of vaccines manufactured in Nigeria or imported.
She said NAFDAC will be establishing Vaccine Clinical Trial Research and Service Pipeline for the local manufacturer.
"We are going to create an office of women's health to understudy drugs, cosmetics, and food products that affect childbearing women, the unborn and the child. It will also emphasise misuse or abuse of drugs among women and its impact on the child. More focus on maternal and child mortality and morbidity rate.
"On newer initiatives, she said the agency will focus on supply chain monitoring, continual sanitization of the Supply Chain Units to mitigate counterfeits and SFs, and scale up Track and Trace of Imported and locally manufactured pharmaceuticals among others.
She also added that the agency would also have more proactive interaction with different sectors of MSMEs at the State Level, regretting that 95 per cent of rejected products outside Nigeria did not pass through NAFDAC.