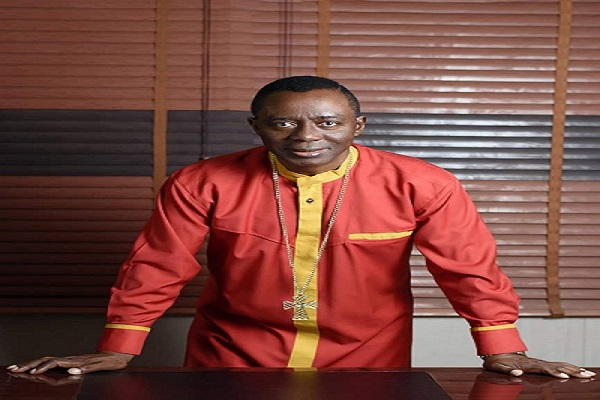 • ON IPoB CRISIS: Let's free Nnamdi Kanu, send him back to UK
• Says greatest threat to polls is from South-East
• Asks govt to make law empowering CAN, PFN to license churches
By Dickson Omobola
Let's look at the state of the nation. Elections are coming, just in a few weeks' time. Ahead of the elections, we have issues of insecurity such as kidnapping, and banditry across the country.
To those who are close to me, I have always said that these things will take place. I have always said we will come to a state like this. When the first set of kidnappings took place, especially the kidnapping of white oil workers in those days in the Niger Delta, I said this thing would turn into an industry.
I said we had seen nothing yet. I said this thing will happen and young people will form their own government. So, I am not surprised at all.
 I expected it because when you have six children and you don't give them any values, morals, education, or parenting, you provide nothing for them and then they grow up in the street, what happens to them? They become vagabonds, isn't it? I see the President of a nation, governors and local government chairmen as the parents of a nation who should treat every child like their own children and provide them with the kind of quality things that they would give to their children.
When these things are not provided, then what is happening will certainly happen. If changes don't take place, I tell you the worst is yet to come. So, I am not surprised.
It's like pastors are now being targeted by kidnappers. We saw what happened in Niger where a pastor was burnt and many pastors have been victims of kidnapping. What do you think?
Generally, let me speak for the whole nation. I don't see it as Christian leaders being targeted by kidnappers. Some of them, like the Methodist Prelate who was kidnapped many months ago, were not specifically targeted, they were travelling and then kidnapped like others.
There are other cases of pastors or men of God being kidnapped before the kidnappers find out their true identity. But there is a particular case in Kaduna State which is unique and different. It is like there are two types of bandits there.
Those who kidnap and harass everybody and those who harass the Christian community, pastors and people like that. The type that operates in Katsina State also operates in Kaduna.
But I don't want us to bring religious colour into this. It is an ethnoreligious problem that has been in Kaduna since. So, kidnapping came, and they converted the ethnoreligious problems into kidnapping. We also see some pockets of people being kidnapped perhaps in some parts of the Northeast because they are men of God and their churches can bring money.
These things happening so close to the elections have given rise to worries that it may affect elections scheduled to hold next month. Do you share that fear?
The problem in the Northeast, particularly Borno, has always been there. The problem in Kaduna has always been there, but what really disturbs me most is that of the South-East. For me, the greatest threat to the elections is from that part of the country because of the agitation for independence and the breakdown of law and order all over the country, not only South-East. Whichever way it is, if the crisis will affect 5% of the population, the remaining 95% should go ahead and vote. So, it is a problem.
But for me, a government that thinks will know what to do about it. There are some places where elections won't be held, like in Sambisa Forest. They are already excluded permanently. So, in the coming elections, there are areas within the six geopolitical zones that are like Sambisa, those areas, whatever happens, there should not affect the whole elections. What I mean is that if 5% of the people do not vote because of one thing or the other, the remaining 95% should not be stopped from casting their votes. For me, that is still a democracy. But, if a huge number of the population will be affected, then it becomes an issue, but I know it won't get to that.
The trial of Nnamdi Kanu is one of the issues generating tension in the South East. Last week, Governor Soludo asked for the release of the IPoB leader, saying it will bring peace to the region. But some people say he is playing politics…
For me, that was wise of Soludo. He has suffered a lot of tragedies visited on his government. Imagine an Assembly member being beheaded and the husband of Dora Akunyili being murdered before he came into office. All these things, he has seen the reality and the reality is that whether you like it or not, Kanu has supporters. So, Soludo wants a political solution to this problem. Personally, that is what I want.
During the Niger Delta uprising, the Obasanjo regime came up with a political solution. First of all, they used the stick on Asari Dokubo, and later, the carrot. A combination of stick and carrot worked there. If not, the Niger Delta would have boiled. If the spirit that is in the Independent People of Biafra, IPoB, boys were in those Niger Delta boys at that time, this country would have gone nowhere. Let this government use the stick and carrot.
They have used sticks enough, let them use carrots. That carrot is negotiation because they cannot kill an idea that has turned into a pregnancy in many people. They are ready to die. For me, negotiate to get him freed. Tensions will go down and he will go back to the United Kingdom where he was based. Whether he continues from there or not will be another matter. Let the tension be doused. When I saw him brought back in chains from Kenya, I asked how an Igbo man would feel about it. Won't he feel like he is the one being chained? People's feelings should be brought into consideration. He can be freed and asked not to step back in the country for a number of years.
Even if a political settlement is brought into place, there will still be problems. Some other groups will want to come up and turn it into an industry. Apart from that, there is still the general unemployment of the typical Nigerian youth, which is still also very prevalent in the South-East.
That is also another problem of its own. So, the South-East insecurity problem is not only as a result of the Kanu people who are angry due to the lack of non-hearty inclusion of Igbo people at the highest level of governance. There are also other groups who want to be prominent like Kanu, but I tell you, in this country, it is sad. In Nigeria, people who are prone to violence, want to use violence to achieve their means, for them, there is an unwritten knowledge that violence pays.
It's like you see merit in Igbo presidency.
When Obasanjo was President, and he was about to end his second term, some people said he should not hand over to a northerner, saying the South should retain power. At that time, Chief Tony Anenih was still alive. I went to his house and dropped a letter for him that stated that the presidency had to go back to the North. I said it had to go back to the North and let there be a rotational presidency.
It will bring peace and a sense of ownership that would hold this nation together. Look at how Switzerland is governed, you will say it is not democratic, but what is democracy if it doesn't bring peace? I am not saying that Peter Obi should be President, but all I am saying is let there be a rotational presidency in the Constitution and then it goes around the six geopolitical zones in the country. Whoever comes in as President of this country, if that person brings such a proposal, I think he will earn the support of a huge section of the country.
Muslim-Muslim ticket is a very hot issue. People are taking sides, even religious groups…
Ordinarily, if we had developed politically since 1960, we should not be talking about such issues now. But we have not developed politically. The primordial ties are there because we have not grown, we are not sensitive to other people's feelings.
A mature person is someone who is sensitive to the feelings of another person. We have leaders who are not mature. Muslim-Muslim ticket, we ought to have outgrown it, but we have not.
I feel that whether you are Muslim or not, you can bring development to a nation. Whether you are a Christian or not, you can. It depends on your agenda for the nation. Look at the Emir of Dubai, he is a Muslim who opened his country for development. So, I don't really care, I am interested in who will bring development to this nation.
Where do you stand on the position of the Pentecostal Fellowship of Nigeria, PFN, and Christian Association of Nigeria, CAN, on the Muslim-Muslim ticket?
I belong to CAN and PFN. If you have been taking notes, you will see that PFN is trying as much as possible not to cause a religious problem by making too much of a fight on the Muslim-Muslim ticket. You see that there is tension over the ticket and the situation is being managed in a manner that won't add to the tension. Initially, everybody was angry, but as of now, no one wants to do that out of anger, they want to see how things can go on well.
In my case, those are the groups to which I belong and where we ask what we can do to bring about peace in Nigeria.
 So, if it works and it repeats itself again, then at that time, we might do something about it. Let us assume that in the course of our political development, Muslim-Muslim tickets took place in Abiola's time and Tinubu's time, so we will say "let this possibly be the last". I think even in Ghana, they try to balance the ticket; despite how few Muslims are, they take them into consideration. Let us mature the way Ghana has matured politically.
What is your advice for Christians as we approach the elections?
My advice is like what the bishop at Ibadan said: "Let your children have the character of whom you vote". The character of who we vote for would determine the character of the nation. We should vote out of conviction. By the way, why are political parties formed? They are formed by a group who believe that this particular idea should be used for the development of a nation.
They have this idea of how this institution can be developed, they now team up with you and say: "No, I have a better idea", which could be a communist idea, social welfarist idea or fascist idea. They now meet and form a party. Then ask for votes. When they get into power, they use that idea to develop the nation.
But in Nigeria, parties have not formed that way, which is why this institution can never be developed. They are formed with the mind of how do we get power, what is in this for me? As they are going to fight to support a person in the election, they are going to fight for interest, the juice waiting for them. Any nation where parties are formed this way doesn't develop because they go there with different ideas.
If you read 'Why Nations Fail,' written by two Havard-trained people, you will know that Nigeria can never develop if we continue this way. There is another: 'From Third World to First World' where one of the ministers Lee Kuan Yew says "when I became a minister, and I went on the road, I saw schoolchildren which made my heart skip, asking myself a question: 'How shall we provide jobs for these ones'".
But look at our leaders. All over the streets, there are millions of people. We as a church are not political parties, but we are trying to see how we can use the church as an instrument for development.
The current leadership of the PFN came in just about a year ago. What vision do you envisage for them?
Bishop Wale Oke, I knew him before he became the PFN President. I see him as somebody who wants to see how the Body of Christ can contribute more to the growth of the nation – politically, economically, and educationally.
There is this school of thought that believes that bodies like PFN, and CAN should be self-regulatory. What is your perspective?
I am one of those who belong to that school of thought, that you can't just wake up, rent a place, put up a building, put up a sign board and start a church. The spiritual health of a nation is very important. The mental aspect is important. You see the state regulating education on how to set up schools and how to get things done. So, for me, the spiritual aspect should not be left to anybody to run.
I am of this view and it has been my heart cry from the beginning. There are five groups that make up CAN, PFN is one. African churches like Celestial make up another group, Catholic is one group. My suggestion has been that let any group that wants to practice their Christianity the way Aladuras do or the way that PFN does, before you put up a church, you have to get a license from PFN to do so; it's just like medical doctors who get license to practice.
To practise as a journalist you have to be under the Nigerian Union of Journalists, NUJ; to practice as a medical doctor, you have to be under the Nigerian Medical Association, NMA. The body gives you a license to operate which is backed up by the government.
If you want to set up a church, then PFN has to give you the license. They have to ascertain your background and all before giving you the license to operate. When you misuse it, it can be withdrawn. This is in case of any misbehaviour, the people can report you to the disciplinary committee in each of the groups and CAN generally.
We the church can tell the government to make a law that would enable CAN regulate itself, not government to regulate us.
Just like there is a law that enables the NMA to regulate itself. I have been advocating and propagating this because it will give us a sense of credibility. The spiritual health of religion is too important to be allowed to be a free-for-all.
Bishop Charles Ighele, a top member of the Pentecostal Fellowship of Nigeria (PFN), is the General
 Superintendent of the Holy Spirit Mission (aka Happy Family Center) located in Shasha, Akowonjo area of Lagos. In this interview, Ighele speaks on the state of the nation including issues surrounding the controversial Muslim-Muslim presidential ticket of the All Progressives Congress (APC) and the tension in the trial of Nnamdi Kanu, leader of the Indigenous People of Biafra (IPoB), is generating in the South-East.