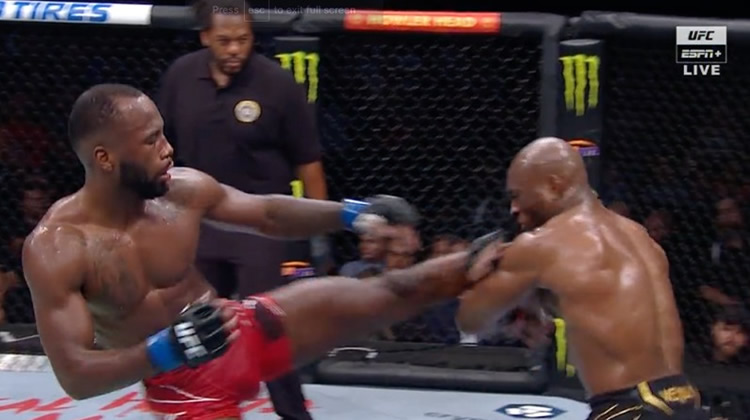 Brazilian MMA star, Gilbert Burns has tipped Leon Edwards to beat Kamaru Usman as the duo prepare to meet in the Octagon in the United Kingdom in March.
Recall that Usman beat Edwards via unanimous decision in December 2015 but lost their rematch via fifth-round KO in August 2022.
Burns has competed for the UFC welterweight title once, facing former teammate Usman in February 2021 and losing via third-round TKO.
According to him, the 2022 fight occurred at a high elevation in Salt Lake City, Utah, and Usman generally trains at a similar high elevation in Colorado.
The elevation adversely affected Edwards' cardio and gave Usman the edge, almost costing the former a rematch.
Burns insinuated that since the trilogy will transpire in Edwards' native UK, it will give the Briton the advantage in the fight.
He said, "I think it's going to be very tough for Kamaru to go all the way to London. And I try to see the small things, the details. The details here are — Okay, fight night, put yourself in London… Okay, main event time, Kamaru walks first.
"He goes there, his music, dancing, everything that he does. He goes out there, and he waits for Leon. The whole arena is booing on him. Then, Leon comes, the whole arena goes crazy."
"I think a little bit more edge for (Edwards). Close fight, 50-50, but a little bit more edge to Leon," he added.
Burns pointed out that since Usman is now the challenger and Edwards is the champion, Usman will walk out first and be booed in Edwards' home country.
The MMA star pointed out that Usman isn't used to all that, noting that these things could trick a fighter, adding that the Nigerian Nightmare could also fall victim to these factors if he isn't at his best mentally.
He stressed that Leon Edwards has a slight edge due to mental factors, as he will be fighting at home and confident owing to his KO win over Usman in their most recent clash.