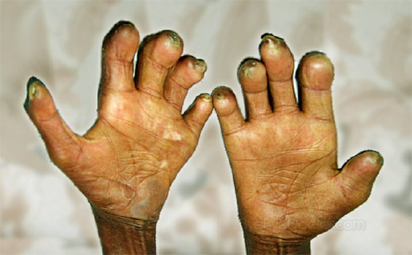 A leper
…Advocates against stigma, lack of proper diagnosis & treatment
By Gabriel Olawale
THE Voice of Humanitarian Aid Foundation, VOHAF, has called for more awareness on the early signs and symptoms of leprosy, saying that early detection helps to prevent deformity and also achieves a complete cure.
Speaking during the commemoration of World Leprosy Day 2023 and a community awareness programme at Oko-Baba in Ebute Meta area of Lagos State, the National Coordinator of VOHAF, Evangelist Franca Emekobum said that the major challenge in the society was the lack of appropriate information about leprosy.
"Many people are not aware that leprosy is a curable disease if detected and treated early. There is nothing to fear about leprosy, society needs to show people affected by leprosy love rather than stigmatisation."
She explained that one of the major reasons some people affected by leprosy come down with deformity is largely due to lack of proper diagnosis and treatment. "Poor medical systems in the country also contributed to the reason why some people come down with deformity," she said.
"When they presented at the hospital, they were being treated for something else until the situation got worse and started damaging their system before they were eventually referred to an appropriate center." People need to be aware that treatment for leprosy is free across all the local government areas of Lagos State.
Franca who has been championing awareness for more than 25 years, emphasized the need to show love and care to people affected by leprosy and their families, saying that "some of the people affected are suffering mental health issues while some have committed suicide due to stigmatization."
She disclosed that 'The Destitute Home' visited at Okobaba in Ebute Metta area of Lagos State, has the largest number of people affected by leprosy in the state, and the programme aimed to celebrate their lives and those of their family members.
Corroborating her views, the representative of the Lagos State Ministry of Health, Assistant DRTB Vocal Person, Oseni Taofik said that the diagnosis of leprosy is done clinically. Laboratory-based services may be required in cases that are difficult to diagnose.
"The disease manifests commonly through skin lesion and peripheral nerve involvement." Leprosy is diagnosed by finding at least one of the following cardinal signs: definite loss of sensation in a pale (hypopigmented) or reddish skin patch; thickened or enlarged peripheral nerve, with loss of sensation and/or weakness of the muscles supplied by that nerve; microscopic detection of bacilli in a slit-skin smear.
"Leprosy is a curable disease. The currently recommended treatment regimen consists of three drugs: dapsone, rifampicin and clofazimine. The combination is referred to as multi-drug therapy (MDT). The duration of treatment is six months for PB and 12 months for MB cases.
"Case detection and treatment with MDT alone have proven insufficient to interrupt transmission. To boost the prevention of leprosy, with the consent of the index case, WHO recommends tracing household contacts along with neighbourhood and social contacts of each patient accompanied by the administration of a single dose of rifampicin as preventive chemotherapy."
The community leader of The Destitute Home, Okobaba in Ebute Metta area of Lagos State, Amadu Abubakar appreciated the entire team of VOHAF and the Lagos State Ministry of Health representative for their intervention and constant support.
He pledged that they would comply with all the recommendations and ensure that people in the community continued to live a healthy life.