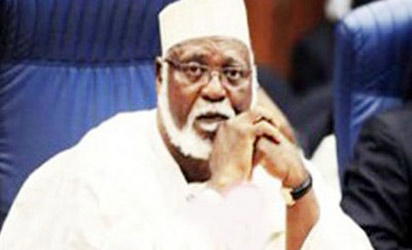 Abdusalami
.
A former Head of State, General Abdulsalami Abubakar (RTD) has lamented the spread of insurgency from North East to other parts of the country.
The ex-Military Head of State said this at a public presentation of a book titled "Preventing Crimes, Insurgencies and Desperate Migrations in Nations of the World," a compendium of three books, written by Iliyasu Maijega, at the Shehu Musa Yar'Adua Centre, in Abuja.
General Abdulsalami noted that the book throws light into the causes of the insurgency, and would help security agencies battle the menace of crimes in the country
He said, "As the author has put his thoughts on paper, may I pray that peace comes down to our country and our region.
"I want to commend the author for tackling and putting his thoughts on our current situation.
"For the last 10 years or so, we have been battling with the insurgency in the northeastern states, which has gradually spread all over the country."
"I believe his book, has thrown light into the causes of this insurgency. I believe these books will go a long way in helping our security agencies and the government, in tackling these problems."