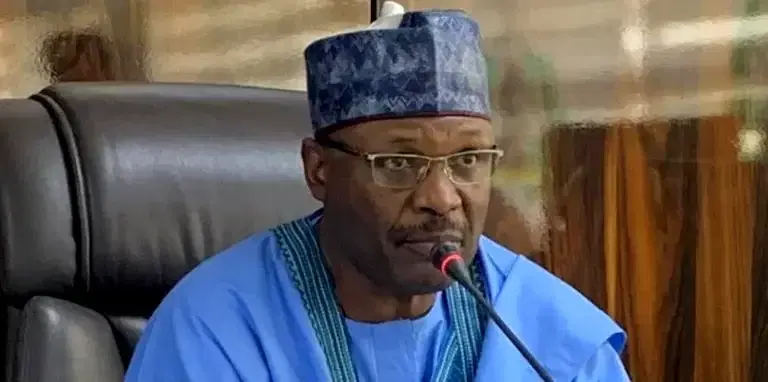 .
•Tells multiple registrants: Don't bother coming, we didn't print your cards
• Tension over destruction of PVCs in Nasarawa
•Lagos market to adopt no PVC no entry
By Clifford Ndujihe, Wahab Adesina, Omeiza Ajayi, Ebunoluwa Sessou, Gabriel Ewepu, Olayinka Ajayi & David Odama
FOLLOWING widespread complaints from stakeholders and registrants, who are yet to collect their Permanent Voters Cards, PVCs, the Independent National Electoral Commission, INEC, has further extended the deadline for collection of the cards by one week.
Accordingly, the exercise will no longer end today. The new deadline is February 5. And the collection period has also been extended by an additional two hours and will start at 9 am and end at 5 pm daily including Saturdays and Sundays.
This was as the commission told those who engaged in multiple registrations not to bother visiting its local government offices to collect their cards because their PVCs were not printed.
The INEC warned that this extension would be the final concession it would be granted to those who are yet to collect their PVCs.
The Commission had on Friday met with its Resident Electoral Commissioners, RECs, to deliberate on several issues including the ongoing collection of PVCs.
At the meeting, INEC chairman, Professor Mahmood Yakubu, said the commission would not hesitate to consider additional measures to ensure that all registrants have ample opportunity to collect their PVCs ahead of the polls.
ALSO READ
The INEC recently mandated its field officials to report cases of unlocated PVCs to their various RECs for necessary action.
The commission in a statement by Festus Okoye, yesterday, hailed the enthusiasm shown by Nigerians in the collection of their PVCs, and said it took the decision to extend the PVC collection deadline at its meeting on Saturday in Abuja.
The statement read in part: "Having reviewed reports from all the states of the Federation, the Commission is encouraged by the progress made so far as more Nigerians troop out daily to collect their PVCs.
"Arising from reports from the various states and discussions with Resident Electoral Commissioners, the Commission has decided to further extend PVC collection in all its Local Government Offices nationwide by an additional one week.
"The ongoing collection of PVCs nationwide will therefore continue and end on 5th February 2023.
"This is the second time the Commission is extending PVC collection nationwide and this will be the last extension of the exercise.
"Collection period has further been extended by an additional two hours and will start at 9 am and end at 5pm daily including Saturdays and Sundays.
"Those that engaged in double and multiple registrations should not bother visiting any of the Commission's Offices as the Commission did not print their PVCs.
"The Commission will continue to act on all reported cases of sharp practices during the ongoing PVC collection and will ensure that no Nigerian is disadvantaged and all those that carried out valid registration have an opportunity of collecting their PVCs.
Anxiety at collection centres
Before the extension of the deadline, there was anxiety in the polity, yesterday. A large chunk of the 93.469 million registered voters are yet to collect the cards. Registrants stormed many local councils, yesterday, to pick the highly prized cards. While some succeeded, many did not, leading to calls on the INEC to extend the January 29 deadline or device means of ensuring the distribution of the PVC to ensure that millions of voters are not disenfranchised in the 2023 general polls.
'No PVC, no entry'
Meanwhile, some markets at Lagos International Trade Fair may embark on 'no PVC, no entry' for traders and customers as a measure to ensure that people obtain the cards.
In a WhatsApp message by Mr Great Stanley Chidum, APT Office PRO, the markets, which did not open yesterday "so that people that have not collected their PVCs will go and collect theirs," added: "Next week from Tuesday, we may adopt No PVC, No entry for both members and customers."  
Deadline indirect disenfranchisement of voters — CSOs
No fewer than 10 Civil Society Organisations, CSOs, said it would be indirect disenfranchisement of voters if the INEC did not extend the deadline
Addressing a media conference on the issue, the Executive Director, Eonough s Enough, EiE, Yemi Ademolekun, and Director of Programmes, Yiaga Africa, Cynthia Mbamalu, respectively read from a joint statement signed by Centre for Journalism Innovation and Development (CJID); ConnectHub; Dataphyte; Enough is Enough Nigeria; #FixPolitics; Kimpact Development Initiative (KDI); Reclaim Naija; The Electoral College Nigeria; Women Advocates and Research Development Centre; and Yiaga Africa, pointing out that INEC allegedly breaches the Electoral Act 2022, which "mandates INEC in Section 16(1) to design, print and issue voter's cards to voters whose names appear in the register of voters."
They said: "Reports from voters in different collection centres across the country revealed that some validly registered voters were informed by the INEC officials that their PVCs were not available; while some others were asked to return on a later day beyond the deadline or after the election to collect their PVCs. This is a breach of the Electoral Act 2022 which mandates INEC in Section 16(1) to design, print and issue voter's cards to voters whose names appear in the register of voters. INEC also had further committed to and promised
that everyone registered and, in their database, will have their PVC provided and available for collection.
"The emphasis on a deadline for collection is an indirect disenfranchisement of validly registered voters whose PVCs are not available due to INEC's administrative lapses. Denying these voters their right to vote due to a failure on the part of INEC is unacceptable. And to be clear, this is not only a problem in Lagos.
According to the statement, "citizens have provided reports from Abuja, Rivers, Delta, Anambra, Imo, Ondo, Nasarawa, Akwa Ibom, Kaduna, Borno, Sokoto, Ogun, Kano, and Kwara."
Also, the CSOs pointed out that university students are not to be disenfranchised by the deadline INEC has set as, "We also note the concern of the students who registered at home while tertiary institutions were shut down for over eight months.
"According to INEC, 40 per cent of the 9, 518,188 newly registered voters are students. If they registered at home and are now at school, INEC must ensure they can pick up their cards in the least expensive way possible."
My card not found, my case incidented – Registrant
Madam Ayo Ebun, a registrant in Oshodi/Isolo, who had visited the centre four times and yet could not collect her PVC, decried the attitudes of INEC officers, who she alleged "are frustrating the efforts of people in ensuring they collect their PVCs."
She said: "During my visits to Oshodi/Isolo local government, Lagos, the situation there was pathetic as people were waiting endlessly to collect their PVCs.
"Residents within the local government area comprising Okota, Isolo, Oshodi, Ejigbo, Mafoluku, and Ajao Estate were stranded as INEC officials were not making the system easy for people, who come to collect their PVCs. People who arrived at the local government after 7am were unable to collect their PVCs.
"After many attempts, I was told my PVC was not there. My case was incidental. What is the meaning of an incident? Does it mean my card has not been printed? If it has been printed will I get it before the election?''
Another registrant, Jadesola Akinsanya, lamented that it has been a terrible experience. This is my third attempt. Nobody is communicating any information to anyone. We have always been at the local government to collect our PVCs, we will sit there for hours and at the end of the day, the INEC officers will come and say, go home and come back tomorrow.
"Even when it was taken to the Ward level, it was another battle entirely. Now, we are back to the local government.
There is no proper communication. I think the best thing to have been done was to ask for volunteers who would make the job easier. INEC would have employed a better way of addressing this problem and making the collection seamless for people. Imagine Nigerians are willing to collect their PVCs but the discouragement from INEC officers is pathetic. I need to collect my card today."
For Mrs Eunice Ekene, about 58 years, the challenge of getting the PVC was pathetic. "My challenge is that I have been refused my PVCs since 2015. I do not know what the issue is. Nobody is communicating to me what the problem is. I was told by an officer of INEC that I cannot vote until another eight years. 
"Another officer at the local government told me that my card is here. But, until now, I have not been able to collect my PVC. I want to know if I am wasting my time and wasting my money to come to the local government every day."
An elderly man, Paul Gabriel, a 71 years old man, shared his experience with Sunday Vanguard.
"I have been coming to the local government since January 6. I was taken to various places including the Ward yet there is nothing to show for it. If I do not get the PVC today, I will forget it. This is my sixth time coming to check for the PVC.  I have been spending at least six hours each time I come to get the PVC.  I was given a name to call, Mr Agbaje, I do not know who the person is.  I called Mr Agbaje, and he directed me to Ejigbo. There is no INEC officer who is ready to talk to anybody. You just have to manoeuvre your way. I have registered since 2018. I was asked to come on Tuesday, January 24, I was here, but nobody attended to me. I am just tired. At my age, I was trying to struggle with young people, I almost collapsed. I had to sit down and look at how everything was going."
Sweet and sour tales at Alimosho
The collection of the PVCs at Ikotun, the headquarters of Alimosho Local Government Area of Lagos State, has continued to be a story of the sweet and the sour for some prospective voters.
Yesterday, the crowd was a bit large but the decentralisation of the process allowed for rancour-free exercise.
The cards were put in different places according to the local council development areas, LCDAs, and wards.
After two visits to the ward to get his card yielded no fruit, a resident, Sina, who resides in Agbado/Oke Odo LCDA, eventually got his card.
"I thank God that I was able to get my PVC this morning. That was after I was unable to do so when the cards were brought to the wards for distribution," he said.
An engineer, who gave his name as Banji, also got his PVC and exuded happiness at doing so.
"If not for determination, I would have forgotten about it entirely. I came all the way from Meiran to Ikotun to get it, but it was worth the effort," he stated.
However, some people were unable to get theirs and were asked to fill out a form.
Tension over destruction of PVCs in Nasarawa
In Nasarawa, the opposition Peoples Democratic Party has demanded the arrest of an INEC official attached to the Awe local government area office for allegedly destroying more than 100 PVCs belonging to PDP supporters.
The PDP, who accused the ruling All Progressives Congress, APC, of conspiring with a staff of the INEC to burn and destroy PVCs of its supporters, claimed that the unfortunate act was not the first time the electoral officer in Awe LGA was collaborating with APC members to sabotage the effort of the electoral body in the area.
Addressing Journalists in Lafia, the PDP Public Relations Officer, Ibrahim Hamza, said:  "The attention of our party has been drawn to the unfortunate and illegal act of the electoral officer of INEC in Awe LGA on his collaboration with some members of the APC to destroy and burn a large number of Permanent Voter Cards belonging to members and supporters of our party, the PDP.
"The affected eligible voters in the area reported the matter to the police and the suspects who are members of the APC were arrested and taken to the state Criminal Investigation Department where they agreed to have committed the crime.
"We are calling for the immediate sack of the Electoral Officer. We also want his collaborators to be arrested and prosecuted to serve as a deterrent to others. We are urging INEC to ensure that All PVCs illegally given to APC members in the area are withdrawn immediately and handed over to the original owners, and in the case of the destroyed PVCs, INEC should do everything possible to ensure that they are replaced before next month's elections."
Reacting to the allegation via telephone, the Spokesperson of the ruling APC, Chief Douglas Otaru, denied the involvement of APC in the alleged destruction of PVCs anywhere in Nasarawa State.
Describing the PDP as a wounded lion and markers of falsehood who are bent on winning elections at all costs, Chief Otaru challenged the opposition PDP to come up with substantial proof to substantiate their claims.
 "I do not think INEC, as a responsible umpire ready to deliver credible elections, will collaborate with any political party to destroy election materials or to disfranchise electorates," Otaru stated.