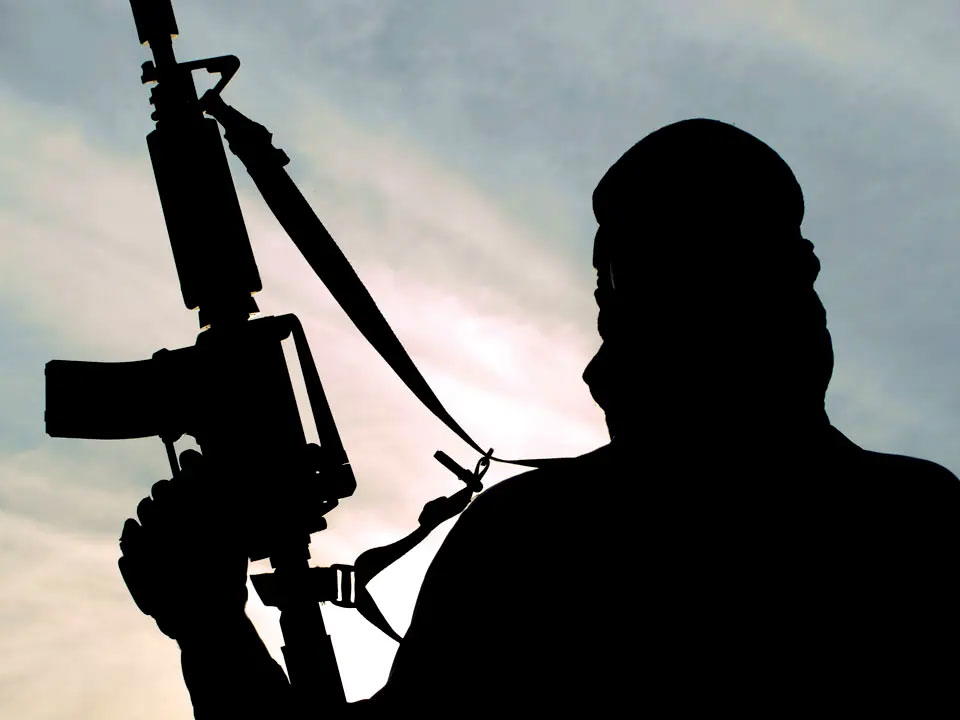 .
By Demola Akinyemi, Ilorin
A renowned Islamic Cleric and victim of kidnappers, Alfa Tunde Buhari, has narrated his ordeal in the hands of kidnappers who invaded his house in the Oko-Olowo area of Ilorin, Kwara state capital recently.
In a chat with journalists at the state police command headquarters in Ilorin, the victim revealed that six armed kidnappers stormed his residence at about 12.45 a.m on a fateful day, forcefully broke the door of his house and abducted him after a gruelling resistance by him.
Alfa Tunde Buhari, who identified one of the alleged suspected kidnappers who were paraded on Monday by the state police Commissioner, Paul Odama, disclosed that they were allegedly masked and in Fulani attire.
"I gave them a serious fight before I was eventually overpowered and abducted by the armed kidnappers.
"They shot at me but I fought them and dealt with one of them who managed to escape but came back later to hit me with a big stick in the face which forced me to surrender," he stated.
He said his Arabic and Islamic students under his tutelage ran away while the encounter lasted, leaving him alone to fight the armed kidnappers for about one hour.
Alfa Tunde Buhari, said he was thereafter tied with a rope used for cows and made to walk for about three hours in the bush following his abduction from his residence at Oko-Olowo axis of Ilorin to a bush at Adafila axis in Oyo state.
"They abducted one Rilwanullah, before attacking me in my house, we live very close to each other in the same area.
"When we got to their hideout, I untied my own rope and asked my partner to let's escape but he was afraid and refused, only to be recaptured by the abductors in the process and tortured.
"We were there for two days in captivity, on the third day, the armed kidnappers slept off after having their meals and I started to lose the rope on my hands at about 1a.m and completed it at about 4a.m when the early morning Muslim prayer was being called.
"They tried to cover our tracks with dry leafs Incase we tried to escape, but God did not wake them up till we escaped from the hideout which was lined with landmines to prevent our escape bid," he narrated.
"I am from Ilorin, my family house is at Alore area in Ilorin metropolis of the state. When we escaped, I first of all headed to a village called Dongari Iju, instead of heading home where I was abducted earlier after running for two hours.
"I left the kidnapper's den at about 4 a.m. and arrived at the Dongari Village at about 6 a.m. while they were offering the early morning Muslim prayer."
Alfa Tunde Buhari, said "I see them as satanic elements because they never prayed or worshipped in the Islamic or Muslim tradition and disallowed us from offering our prayers while in their captivity.
He said the kidnappers demanded N30m ransom from him which he could not afford, while his partner paid N1.5m ransom for his freedom.
Asked how one of the suspects was arrested, the victim revealed that the members of the Oluwalose Community in Oko-Olowo area launched an attack in the bush in collaboration with the police and vigilante and discovered one of the suspected kidnappers.
"He first took to his heels but was later captured by the Vigilante who handed him over to the police," the victim disclosed.
Alfa Tunde Buhari, lamented that they were tortured and starved while in the abductor's captivity, just as he called on the government to treat kidnap cases with dispatch in view of their ruthless mode of operations.