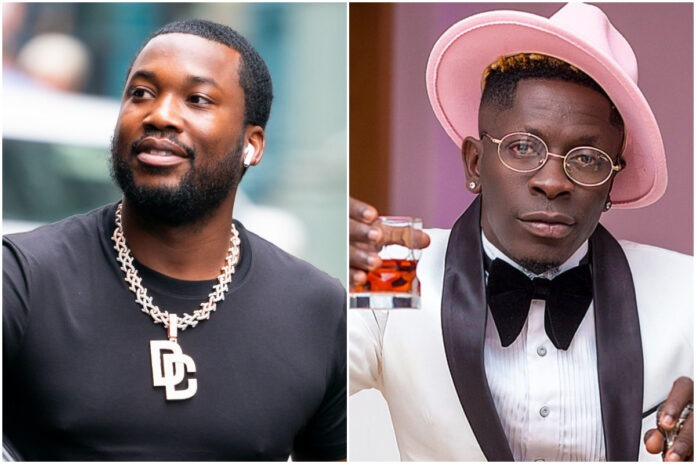 By Ada Osadebe
Ghanaian singer, Shatta Wale has taken swipe at Ghanaians for dragging American singer, Meek Mill, for shooting a music video at the Jubilee House on Wednesday.
Recall that Meek Mill was dragged on Tuesday, by some enraged Ghanaian when he released a music video that was filmed at the Jubilee House.
Read also: Why I had two abortions — Phyna
The Jubilee House is the presidential palace located in Accra, which serves as a residence as well as the office of the President of Ghana.
Shatta Wale, in a series of tweet on Tuesday, stated that visitors in the White House in the United States of America are permitted to capture pictures and take videos.
However, Shatta Wale noted that he does not understand the agitation of many Ghanaians since President Akufo-Addo is the mastermind of the 'Year of Return' initiative, that seeks to encourage diasporans to visit Ghana.
He called the trolls "villagers" for attacking Meek Mill and referred to Meek Mill as a brother to Ghanaians.
He wrote, "I say Ghana is a village. This be the reason we can't even show what we have.
"Imagine me shoot video for Parliament House like by now blasting left and right from media, I swear most of you don't know what you are into.
"Grow up, cause this poverty mindset will make u talk like you dont have sense.
"Meek Mill Infact thank you for making the world see how beautiful and welcoming our country is .
"We love you including our president, we are all your fans. Forget everybody and do your thing."
He further added saying, "The meek shall inherit the earth. Dream chasers, do your thing. Just remember Ghana is a village.
"Same people that showed you love, now are complaining about a video you did to project Ghana for us .
"They still have slaves in their minds. You can go to America to take pictures in the White House.
"And your black brother came to shoot video as he return home. You are a villager trust me !!!."
"The apology you want meek mill has done .Now leave your phone and go work your rent catch," he said.