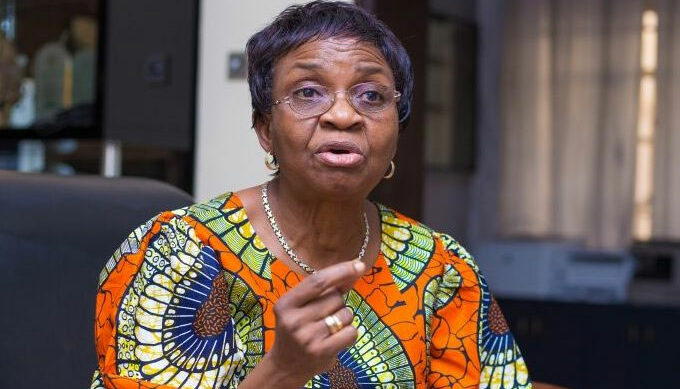 Director-General, NAFDAC, Professor Mojisola Adeyeye
.
*Plans construction of befitting nat'l headquarters in Abuja
By Joseph Erunke, ABUJA
REAPPOINTED Director General of the National Agency for Food and Drug Administration and Control, NAFDAC, Prof. Mojisola Adeyeye on Wednesday, said the agency has so far injected over $2.4 million on purchasing scanning machines to test the standard and quantity of drugs either produced locally or imported into Nigeria.
This was as she revealed that her new administration would construct a befitting national headquarters for the agency in the nation's federal capital city.
Addressing the press following her recent reappointment by President Muhammadu Buhari to steer the ship of the agency for another term of five years, Adeyeye said the
Truscan scanning machines which were 43 altogether, were purchased at the cost of $57,000 each.
She also promised that her new administration would steer NAFDAC not only to attain the World Health Organization, WHO Maturity Level 4 but also World Listed Authority,WLA Status latest by first quarter of 2024.
This,she explained,was her new initiative to enable global trade of Nigeria-manufactured pharmaceuticals through collaborative registration with other regulatory agencies.
The new initiative, Adeyeye further explained, would also enable the agency to attain Vaccine Lot Release ML4 to position Nigeria strategically for vaccine manufacturing.
 "It will ensure good manufacturing practice of Nigeria vaccine company and assures quality, safety and efficacy of vaccines manufactured in Nigeria or imported, established vaccine clinical trial research and service pipeline for the local manufacturer, create Women's Health Office and understudy drug, cosmetics, and food products that affect women, the unborn and the child", she said.
Reflecting on her first tenure in office, she said her administration undertook a number of far-reaching reforms, one of which she said was the transformation of NAFDAC from distress to revenue generating agency.
According to the NAFDAC boss, her administration which inherited N3.02 billion paid off the debt.
She, however,said the sum of about .N180 million was found out to be fake.
She said for a better financial management, the agency's internally generated revenue multiplied to N2.5 billion.
"From 2019 to date,international partners funding (Cash and Technical Support) received amounted to $3,927,186.00. These funds are currently being utilized for specified purposes".
Adeyeye also said NAFDAC was reorganized and more directorates created from 13 to 27 for effective management
The agency,she said, has:"Established a continuous training culture in customer-centric Quality Management System,QMS for all NAFDAC mandates.
She said:"The better financial management enabled improvement of infrastructures and building of state offices and laboratories in Sokoto, Kebbi, Yobe, Ogun, Kwara, Osun and Ebonyi; plus, Ports Inspection Directorate Airport NAHCO Office and Yaba Drug Laboratory are completed or near completion respectively to meet WHO specifications".
"Over 140 new Sports Utility Vehicles were procured for inspection and other activities with over N5 billion worth of laboratory equipment.
"Scheme and Condition of Service were instituted for the first time in the history of the agency – currently awaiting approval by the Head of Service".
"Lopsidedness in hiring of new staff was remedied with the FCC Compliance Certificate on File. Established palpable and sustained collaborations with sister agencies such as PCN, NHREC, NCDC, NPHCDA, FCCPC, SON, etc.), with some supported with Memorandum of Understanding".
"Aligning NAFDAC with international standards in food, drugs and other regulated products regulation. The re-accreditation (ISO 17025-2017) of four laboratories since 2018, and accreditation and continual re-accreditation (ISO 17025-2017) of Biologics/Vaccines laboratories in 2019. All the above are part of WHO Requirements for Maturity Level 3 that were met".
Track and Trace of Foods
STRATEGIC GOALS FOR 2023-2028
A. Governance, Financial Management and Publicity
 Governance
o Continuation of meaningful deployment use of human capital
o Sustain Strong Governance – Expansion of Directorates for greater and impactful management
o Obtain approval of Hazard and Regulatory Allowance (To be funded from NAFDAC Generated User Fees)
o Secure approval of Scheme and Condition of Service
 Sustain Strong Financial Management – Continuity and Consolidation
o Ensure well-trained staff on SAP Account Software
o Increase IGR and User Fees by 20% from the current levels based on availability of more infrastructure and tools stated
o More accountability
 Publicity
o Use additional media outlets to disseminate noteworthy NAFDAC's activities
 Initiated in October 2022 by deploying Social Media Staff to DG's Office
 Use of Twitter, Facebook, Linkedin, etc.
 Use of drama and comedy artists to convey importance of quality, safe, efficacious, and wholesome regulated products
 Make the Media parley more structured
B. New Initiatives
 Attain WHO ML4 and World Listed Authority (WLA) Status – Attainment will enable:
o Global trade of Nigerian-made pharmaceuticals through collaborative registration with other regulatory agencies
o Local Pharma manufacturers to be more competitive in AFCTA
 Attain Vaccine Lot Release ML4 to position Nigeria strategically for vaccine manufacturing
o Ensures Good Manufacturing Practice of Nigeria Vaccine Company
o Assures quality, safety and efficacy of vaccines manufactured in Nigeria or imported
o Establishes Vaccine Clinical Trial Research and Service Pipeline for the Local Manufacturer
 Create Office of Women's Health Office
o Understudy drug, cosmetics, and food products that affect women, the unborn and the child
o Emphasize misuse or abuse of drug among women and impact on the child
o More focus on maternal and child mortality and morbidity rate
C. Newer Initiatives
 Supply Chain Monitoring
o Continual sanitization of the Supply Chain Units to mitigate counterfeits and SFs
 Scale up Track and Trace of Imported and locally Manufactured Pharmaceuticals
• Establish Structured and Active Tracking and Tracing through Solution Providers
• Initiate Track and Trace of Foods
o Continual vigilance to Reduce SFs, Counterfeit Medicines, and Narcotics
 Enhancing Local Manufacturing (including Vaccines) Quality and Trade
 Training on Active Pharmaceutical Ingredients (API) Regulation
 Develop NAFDAC-Industry API Manufacturing Regulation
 Enhance Research and Development Training Platforms with the Pharmaceutical Industry
 Expand Post Marketing Surveillance (PMS)
 Recruit more staff and provide more tools
 Provide capacity building
 Make Enforcement nimbler for sustained response
 Increase collaboration with Academia
o Regulatory science training
o Drug, food, and herbal medicines regulation-oriented research
D. Continuous Strengthening Regulatory Activities
 Creative Engagement of Micro, Small and Medium Enterprises (MSMEs)
 More proactive interaction with different sectors of MSMEs at the State Level
 Better Engagement on Exportation of Regulated Products
 Establish evidenced-based facilitation of export of quality NAFDAC regulated products
 Expand the role of the NAFDAC Office of Trade and International Relations
 Investigation and Enforcement and work collaboratively with NDLEA in mitigating substances or drugs of abuse
 Increase vigilance on cosmetic products
 Maintain Food Safety
 Ensure Chemicals and Agrochemicals Safety
 Establish well-structured Pharmacovigilance Inspection
 Continuation of improvement in ICT Functions
o Enhance Digitalization of More Regulatory Processes for better management and transparency
o Improve the website for better navigation
 Continuation of Infrastructural Development
 Build NAFDAC Headquarters in Abuja
 Continuation of Nation-wide Improvement of working environment – Adding more Laboratories, Zonal and State Office Infrastructures
CONCLUDING REMARKS:
To the glory of God Almighty, and through the relentless efforts of a hard-working staff, the Agency has achieved much success under my leadership in the last five years. We look forward to building on these achievements while working even harder to record more achievements and successes in the coming years.
Thank you and God bless.