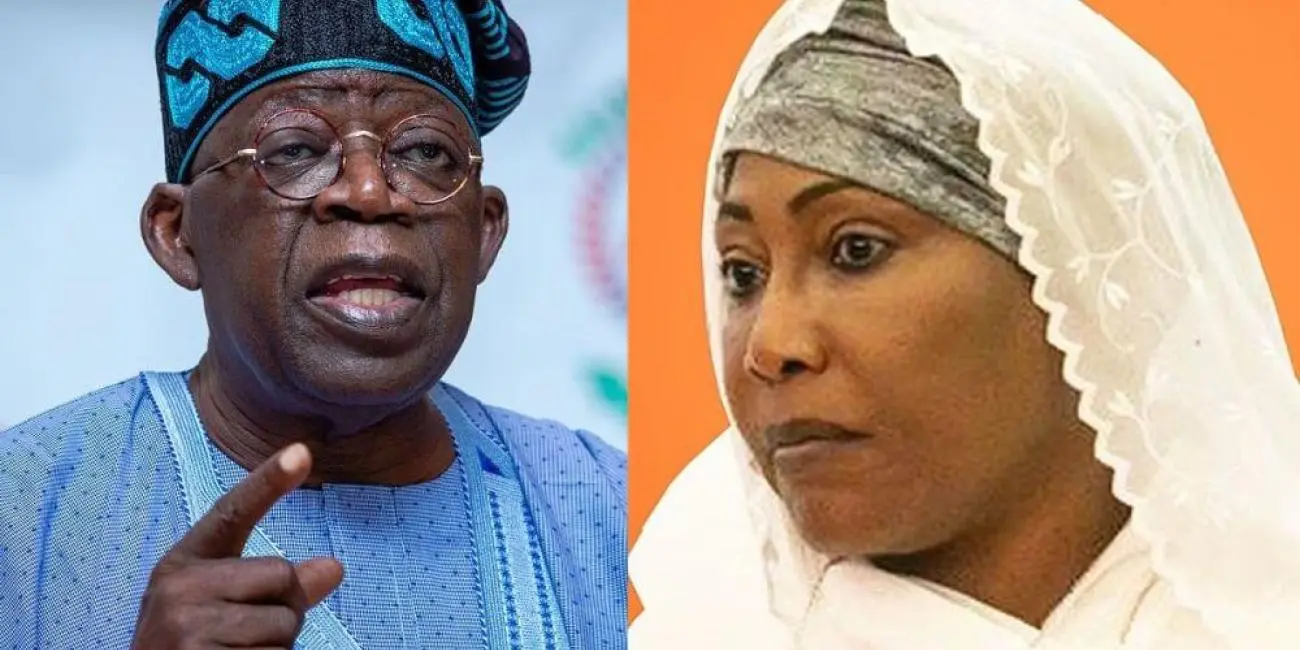 By Miftaudeen Raji
A former Director in the Presidential Campaign Council PCC of the ruling All Progressives Congress, APC, Hajia Naja'atu Mohammed said everything about the presidential candidate of the party, Asiwaji Bola Tinubu is motivated by money.
Mohammed made this assertion in an interview on Arise Television's The Morning Show on Thursday. 
Read also: Naja'atu sacked for incompetence, a mole — APC reacts to director's joining Atiku
She said, "This is the first time that I know that governors do not even sponsor the presidential campaign. Normally the governor sponsors the presidential campaign in his state, but this time around, it is Asiwaju that is doing it. 
"Everything about Asiwaju is about money, there's nothing like honour. For God's sake what do we want? Can we continue to wallow in this, can we continue to deceive ourselves, who are we lying to? We are only lying to ourselves. We see these things. The truth has been written on the horizon. Why are we now turning the other eye?"
On her resignation from the APC PCC, Mohammed said, "Not just that, as far as my expulsion from the APC is concerned, what took them so long? They should have told the public before I resigned, but they kicked me out unfortunately because they are so silly, they are saying after my resignation, they actually kicked me out.
"They have no respect for the psyche of Nigerians. They think we are all a bunch of idiots. We are not, we can think. I took my time because they pleaded with me. I am a Muslim. He said in the name of Allah…In the name of Allah please accept this appointment. I respect your stance. I said he should give me a blueprint, but he said he doesn't have a blueprint," she said.
Recall that the APC PCC, in its response to the resignation of its former director, had said, Mohammed was sacked for incompetence and being a mole in its cold.
It said it received with amusement Mohammed's hasty "resignation" from her position as Director of Civil Society Organizations "just before she was sacked for incompetence, quarrelsomeness and after being uncovered to be a mole planted in our winning campaign in order to leak sensitive information to our desperate opponents".
Mohammed resigned last Saturday, saying her conscience would not allow her to continue in the APC PCC. She had also said the party's standard bearer, Asiwaju Bola Tinubu was too sick and possibly suffering from Alzheimer's disease as he could not hold a teacup when she visited him in London some time ago.
Special Adviser on Public Affairs at the Tinubu Media Office, Mahmud Jega in a statement issued Monday night in Abuja said although Mohammed deceived the gullible public by claiming that she resigned, "her sack letter with ignominy from the campaign and the party had just arrived at her desk".
Jega stated, "Her desperate, fact-free, machination-filled and imaginary utterances since her sack from the campaign has proved beyond doubt that she was unfit to serve in the first place, until it was discovered that she was actually a mole.
"Not being a medical doctor but whose profession in the last three decades was as a political jobber and expert name-dropper, she nevertheless issued a pseudo-medical report on our presidential candidate, Asiwaju Bola Ahmed Tinubu, after a brief meeting in London.
"Even the association of native doctors would sack her for quackery and for reaching a medical conclusion without any test", he stated.
He said despite his position as the clear front-runner in the 2023 presidential race, Tinubu has been running the most punishing campaign schedule of any of the presidential candidates and has already visited many parts of the country with an almost non-stop schedule of rallies, town hall meetings and meetings with professional, community, business, and religious groups and associations.
"Naja'atu claimed that when she asked Asiwaju what plans he had for the North, he answered that he had none. This is strange and questions the integrity of the woman and her story."
"Asíwájú has unfolded an Action plan for the whole country, in which problems bedeviling the North got very comprehensive attention. Asiwaju also attended the Arewa Summit last year, at which he unfolded and elaborated on these programs.
"As conclusive proof of her unstable and unreliable character, Naja'atu said in her pre-emptive "resignation letter" that she was quitting party politics as the political parties have no ideological differences and her values and beliefs no longer align with party politics.
"Within a day, pictures surfaced in the media showing her meeting with the PDP presidential candidate and declaring her support for him.
"All Nigerians must be wondering what kind of "values and beliefs" she has apart from opportunism, selfishness and greed.
"We were least surprised about her dramatic exit, coming after she went on TV to disparage our party and President Muhammadu Buhari. Only a mole could behave in such a manner.
"We urge our supporters all over the country to ignore the antics of this political soldier of fortune and concentrate on the job of delivering the Tinubu/Shettima ticket at the polls in barely a month from now", Jega added.