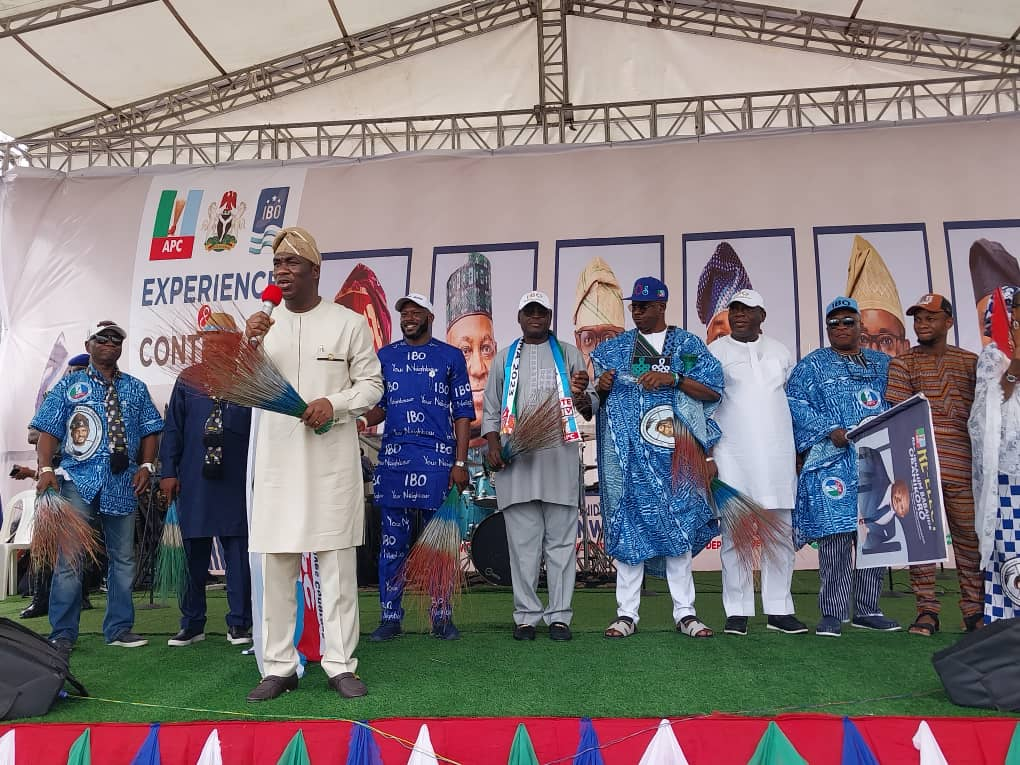 .As Hamzat, Obanikoro seek massive votes for APC candidates
By Olasunkanmi Akoni
Residents and All Progressives Congress, APC, supporters in Eti-Osa East Local Council Development Area, LCDA,, have expressed support for the party's Presidential candidate, Bola Tinubu in the February 25, 2023 poll.
They also expressed support for the re-election of the incumbent Lagos State Governor, Bababjide Sanwo-Olu and the re-election of Ibrahim Obanikoro, House of Representatives, Eti-Osa Federal Constituency in the forthcoming general polls.
The residents who turned up in large numbers unanimously endorsed and attested to the credibility of Tinubu, Sanwo-Olu and Obanikoro's achievements with a pledge to mobilise their friends, families, and neighbours to vote for APC candidates in Lagos.
Residents and APC supporters made the pledge on Tuesday, at the official campaign flag-off for Obanikoro's re-election for the House of Representatives, held at Landmark ground, Oniru Iru Victoria Island Local Council Development Area,
Among the dignitaries who attended the event were: Former deputy governor in the state, Femi Pedro, Senator Ganiu Olarenwaju Solomon, GOS, APC leader and a chieftain, Tajudeen Olusi, among others.
Speaking on the occasion, Lagos State Deputy Governor, Obafemi Hamzat said, "If you recall, we had a president who said the election is a do-or-die affair but in the APC, we believe it is a do and love affair.
"I want to admonish our children who are on social media not to listen to those who are always lying with fake statistics.
"The question we should ask them is what they did when they were governor. I can tell you that our presidential candidate is above his peers and he will win the election.
"We are seeking your support again. We are proud to come back to you because you are all witnesses to the activities of our government.
"You have seen the commitment and priority of Sanwo-Olu led administration places on your welfare. Our focus is towards creating better lives for you and your children.
"The Greater Lagos administration promised is gradually being delivered, but we are not at the destination yet. The task before us is beyond winning Lagos. We must also come out en mass to vote Asiwaju Tinubu as president for us to deliver more dividends."
Hamzat urged the people to engage their neighbours, telling them to resist the provocative moves of the opposition parties.
He said Lagos APC would not employ violence against anyone, stressing that the opposition was in desperation to use violence for cheap political gains.
"I urge everyone to vote for all our candidates from Tinubu to Sanwo-Olu as well as Babajide Obanikoro as he seeks re-election into the House of Representatives. He has performed well and he deserves our support. And also our candidates vying for elective posts.
"Get your Permanent Voter Card, PVC, and let us use it well to usher in the new beginning of good life in Nigeria. Asiwaju has done it before, he will do it better again," he said.
Also, former Minister of Defence, Musliu Obanikoro, who is the father of the APC House of Representatives, Eti-, Osa, said: "I am not here because Jide is my son but I am here supporting him because he is a performer, he has performed.
"I am not given to massaging anyone's ego, I am only saying this because he has done well. He has moved motions and sponsored bills. By returning him to the House of Representatives, we are ensuring we get value for our votes because he will perform even better.
"It is not wise for us to elect someone who is new and who doesn't know the rudiments of the legislature. Eti Osa needs the experience of Jide and we are confident that he will perform well," he said.
He described Tinubu as the best candidate for the presidency, saying he knows where the shoe pitches for Nigerians, "and he wil fix it. He will hit the ground running.
"Among his peers as governors in 1999, he remains the only man standing, still relevant in the political firmament of Nigeria due to his capacity, and capability as a true leader of leaders.
"This is an election that we must work hard to succeed. It's about Nigeria's progress."
Meanwhile, speaking to newsmen, APC House of Representatives candidate, Obanikoro, on why he should be reelected said,"I urge Eti Osa constituents to elect me for continuity and for the experience that I am bringing to bear.
"I had the opportunity to represent them in the last three years and six months today and what I have done speaks for itself.
"I have presented three bills and have moved eight motions that have to do with the progress of Eti Osa and Nigeria as a people.
"I've facilitated about eight roads, four schools, two clinics, and over 300 street lights across Eti Osa. We have empowered our people by giving them cash grants, equipment, and tools for artisans to make them better.
"My priority is to make sure the bills I have presented will pass through all the stages and become Acts and also for the motions I moved to be acted upon.
"I have opened doors for our fintech companies to come to me so I will know how to help them.
"As we go into the elections, I urge everyone to shun violence during politics. The election will come and go but we will remain. Vote fur APC for more progress."
The leadership of APC in Eti-Osa Constituency later received some members of the Peoples Democratic Party, PDP, who decamped into the ruling party in the state with a promise not to let them down.