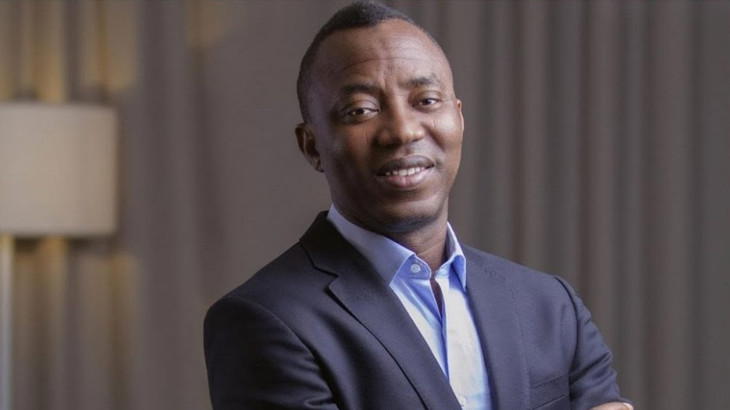 Presidential candidate of the African Action Congress, AAC, Omoyele Sowore, has described the endorsement of the presidential candidate of the Labour Party, Peter Obi, by former President Olusegun Obasanjo as an "endorsement of failure."
Sowore stated this in a statement via his Facebook page on Monday.
Recall that Obasanjo endorsed Obi for the 2023 presidential elections, in his New Year message on Sunday. 
Read also: Presidency to Obasanjo: Your tenure represented dark days of democracy
The endorsement sparked reactions across rival political camps, as the ruling All Progressives Congress, APC described it as a 'worthless' political move.
The rulling party added that it would not affect the ambition of its presidential candidate, Asiwaju Bola Tinubu.
Sowore described Obasanjo as an overrated Nigerian ruler who "fetsihised the rumination of Nigeria."
He said rather than an Obasanjo's endorsement, he would rather be satisfied by 'the 'people's endorsement.'
"Obasanjo's repeated endorsement of @Peter Obi shows once again that the overrated three-time Nigerian ruler fetishises the ruination of Nigeria.
"Failure endorsing Failure. For us, we crave and are satisfied with the endorsements of the people," the AAC standard bearer said.
In his New Year message, Obasanjo had described Obi as his mentee and noted the former Anambra State governor had an edge in the 2023 elections.
Obasanjo said, "None of the contestants is a saint but when one compares their character, antecedent, their understanding, knowledge, discipline, and vitality that they can bring to bear and the great efforts required to stay focused on the job, particularly looking at where the country is today and with the experience on the job that I had, Peter Obi as a mentee has an edge.
"Others like all of us have what they can collectively contribute to the new dispensation to liberation, restoration and salvaging of Nigeria.
"One other important point to make about Peter is that he is a needle with thread attached to it from North and South and he may not get lost.
"In other words, he has people who can pull his ears, if and when necessary. He has a young and able running mate with a clean track record of achievement both in public and private life."