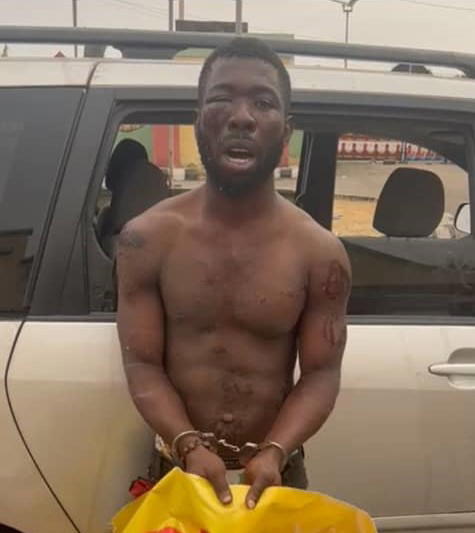 .
…Suspect was arrested while destroying banners belonging to APC candidates – Ebubeagu Commander
…we want IGP to order investigation into attacks on Umahi's political opponents by Ebubeagu – Spokesperson, APGA Governorship candidate
By Peter Okutu, Abakaliki
An All Progressives Grand Alliance supporter in Ebonyi State, Amobi Ujar was on Saturday, allegedly framed up and beaten to a pulp by members of the Ebubeagu Security Outfit, in the state.
The victim, Ujar, allegedly got a call from a supposedly Ebubeagu informant and lured to an area in Amaehara village, in the Afikpo North Local Government Area of the state.
He was allegedly beaten to coma by operatives of the outfit, who hunged the campaign banner of Governor David Umahi on his neck and coerced him to make 'confessional statement' against himself and his party (APGA).
A source in the area, who spoke on condition of anonymity, said the victim, being an auto-technician felt he was called to the to fix a faulty vehicle for some holiday makers.
The source, who equally alleged the All Progressives Congress' agents that make up the Ebubeagu Outfit, had been destroying campaign materials of opposition politicians in the area, wondered why they framed-up the victim and had him beaten mercilessly.
"Amobi, is just a child of circumstance. He was in his house when someone, who works for the APC, called him and asked him to come to Why Worry. All of a sudden, the Ebebeagu people bounced on him and started beating him.
"If not for the presence of passersby, who knows what they planned to do to him? May be they could have even killed him! He was beaten and forced to say he was working for the APGA to pull down all the campaign materials of APC candidates, in the area. But we know it's all lies. He didn't do anything. The APC agents are the ones pulling down campaign materials of other opposition politicians in the area and the entire state," the source said.
Meanwhile, rumours made the rounds on Saturday, that the powers that be in the state have ordered the Ebubeagu operatives to either beat up the APGA senatorial candidate for Ebonyi South, Sir Ifeanyi Eleje and get him hospitalised or run out of the state until the February 25 , 2023 National Assembly election, was over.
In the same vein, Iheukwumere Okogwu- Otu, a strong supporter of the APGA senatorial candidate for Ebonyi South Zone, in the 2023 general elections, Sir Ifeanyi Eleje, has alleged that members of the Ebebuagu Security Outfit, invaded his house in the Afikpo North council and carted away valuable items.
This was as he alleged that his life and those of his family members were under threat, adding, "As we speak now, I am not in my house, for fear of being attacked or possibly killed."
He said, "I don't know why they went to my house. I went out early this morning for an exercise and all of a sudden, my mother called me and announced that Ebubeagu people were in my house.
"As some of them were talking to my mother outside, some of them had broken into the apartment through the ground floor. They took one bike from my house, took some important or valuable items. They also fired and punctured the tyres the APGA campaign Sienna bus parked in my compound.
"This is getting out of hand. My life and those of my family's are no longer safe. I call on the security agencies to swing into action and to find out what the Ebebeagu people are up to."
Reacting, the Ebubeagu Commander, in Ebonyi State, Mr Friday Nnana-Ujor, confirmed the incident, adding that Ujar was not framed-up, but was arrested while destroying banners belonging to APC candidates in the area.
He said, "Don't call it attack, because attack is war-like. But the truth of the matter was that the suspect, who is an APGA supporter in Afikpo North was caught tearing billboards of APC candidates and so, my men arrested him.
"Nobody is framing anybody up as far as the issue of campaign billboards are concerned, in Ebonyi State. People will destroy campaign materials in the state and tag it that APC members are responsible.
"Even in meetings, Governor Umahi has severally said that nobody should touch any campaign materials of any candidate despite party affiliations; and so we strictly keep to that instruction. And even in this state, we have severally caught PDP members tearing billboards of PDP candidates. This is just to let you know that we are non-partisan and that we do our job without being biased. So, the boy was arrested for committing a crime. He was not frame-up. He was not forced to confess. He was not attacked."
Meanwhile, APGA had condemned Ebubeagu's renewed attacks on its supporters in Afikpo North LGA of the State.
Disclosing this in a statement, Mr. Charles Otu, the Director, Media and Publicity, Odohzia Ebonyi Campaign council for the APGA Governorship candidate in Ebonyi State, Professor Benard Odoh, alleged that there were fresh plots to destabilize the campaign of the Party's Senatorial candidate in Ebonyi South, Sir Ifeanyi Eleje by the agents of the Umahi-led APC government masquerading as Ebubeagu officials in the council area.
The statement read in part: "APGA and indeed the Odohzhia Ebonyi campaign council wishes to alert members of the public about this latest schemings and to deposit as follows:
"That the campaign train of our dear Party- APGA has been the most orderly and peaceful in the State. It is to the point that even when virtually all our candidates billboards and posters have been destroyed and defaced, we have since chosen to engage and speak directly to the voters, leaving the agents of government to be destroying inanimate objects like our billboards.
"That contrary to perhaps the expectations of the ruling APC and their army of destructive occupation, our campaign messages have already deeply penetrated the entire nooks and crannies of Afikpo North and indeed the entire Ebonyi South. This, we are aware greatly miffs the ruling APC who instead of engaging the electorates directly have been deceiving the Ebonyi public with it's style of exporting it's scanty supporters from one Local Government Area to another just to form a 'rented crowd' to impress the Governor and then deceive particularly non-residents of the State and those who may not be aware that they are not on ground and have since been rejected by the majority of Ebonyi electorates.
"That we call on the Police authorities in Ebonyi, particularly the Commissioner of Police, Aliyu Garba to immediately and unconditionally release the said Amobi Ujah, investigate the entries and petitions already made by our supporters in the area and beyond, arrest and to also arrest and prosecute all the illegally-armed and government-sponsored Ebubeagu operatives trying to cause tension and crises in the area.
"The Police should invite the council Chairman for proper interrogations on his roles and those of his boys before the once-peaceful LGA turns into a theatre of war like it's neighbouring Afikpo South, Onicha and Ohaozara LGAs where Governor Umahi's armed para-military Ebubeagu militia has successfully caused to be engulfed in serious crises.
"That nothing, we repeat, NOTHING should happen to the said Mr. Okogwu, our Senatorial candidate, any members of the families or any of our stakeholders and supporters in Afikpo North LGA. The threats against them and the alarms raised in this Press statement should be thoroughly investigated by the various security agencies as we cannot afford to lose a soul's hair in the 2023 elections through the desperate and dastardly activities of an illegal and outlawed outfit like Ebubeagu.
"We call on the Inspector General of Police, Baba Usman to immediately order an investigation into the wanton killings and unprovoked attacks on Umahi's political opponents in Ebonyi State by this illegal para-military Ebubeagu Security outfit which he had already personally barred from participating in the activities leading to the 2023 general elections.
"Again, we join other Ebonyians and Nigerians including Civil Society groups to beckon on him to immediately disband the illegal Ebubeagu militia outfit and retrieve all the dangerous weapons they have stockpiled to terrorize innocent citizens before, during and even after 2023 general elections.
"We also appeal to Afikpo leaders of thought, the Ekpuke Essa ruling council and indeed, well-meaning sons and daughters of Ehugbo (Afikpo) to call the council Chairman and his boys to order to avert total breakdown of law and order. Afikpo is a traditionally-governed society and it cannot afford to lose any soul because of mere politics. In our known tradition as a people, the offence of ever lifting a mere cutlass to threaten a fellow citizen in Ehugbo is still a punishable offense frowned seriously by elders who can place a fine or a ban on anybody found to have done so.
"We call on leaders of the free world – the USA , UK , EU and others to independently investigate the assertions here and where there is merit impose far-reaching sanctions, including visa restrictions on the governor and his foot-soldiers to serve as a deterrent to others who may be inclined to anti democratic conducts before, during and even after Nigeria's 2023 general elections.
"May wisdom reign supreme and peace prevail in Ehugbo, the rest of Afikpo North and indeed, the entire Ebonyi State and Nigeria before, during and after the 2023 general elections."