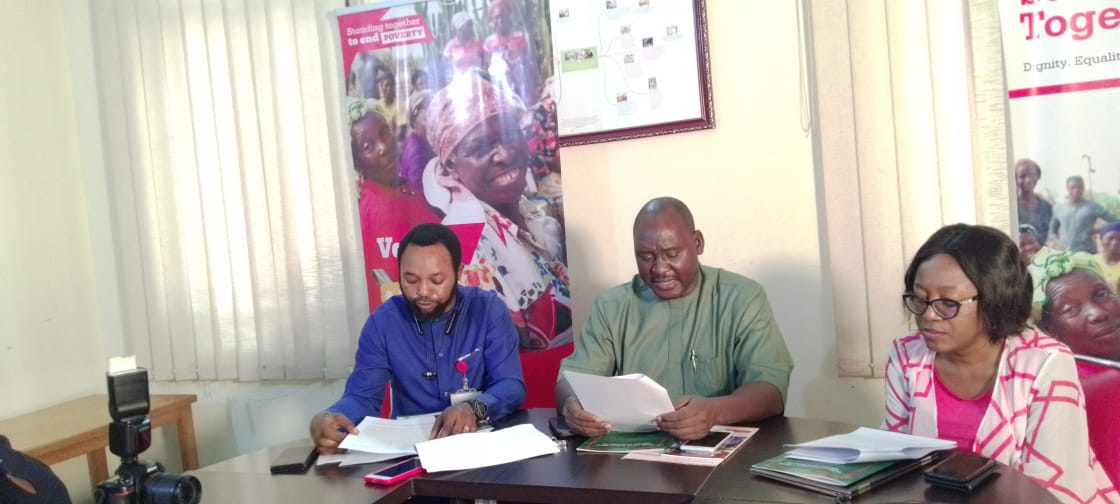 …laments the lack of transparency in loan negotiations
…launches report on the role of private creditors in Nigeria's debt crisis
By Gabriel Ewepu, ABUJA
AS Nigeria remains in the quagmire of N42.84 trillion of total public debt stock as of June 30, 2022, the Civil Society Legislative Advocacy Centre, CISLAC, Monday, raised the alarm over Nigeria's debt crisis pushing Nigerians towards a fiscal cliff as the situation is now precarious.
Speaking during a press conference on the dangerous situation Nigeria and Nigerians find themselves in, the Executive Director, CISLAC, Auwal Ibrahim Rafsanjani, in a statement read during the briefing recalled that "barely two decades after the buyback deal by the then President Olusegun Obasanjo, from the Paris Club debt relief agreement, Nigeria is already in another debt crisis, with an inevitable human cost."
Rafsanjani when presenting the report titled 'The Role of Private Creditors in Nigeria's Debt Crisis, and the Human Cost; A Reflection on the Policy Options for Addressing the Nigeria Debt Crisis', said the way things are now, the country is bleeding and lying prostrate in need of resuscitation. The report was supported by ChristianAid.
He also stated that unfortunately, all presidential candidates have failed to tell Nigerians how they will end Nigeria's debt crisis, rather are engaged in insulting themselves under the cover of the campaign.
He also argued that Nigeria can survive and solve her problems with the endowments God has blessed her with, hence no need to go abroad to private creditors for loans that do not impact the lives of Nigerians, which he referred to the late Head of State, General Sani Abacha, whose government at no time went abroad to take loan and Nigeria survived without borrowing, and that a well-meaning Nigerian leader can also do same and the country will make progress instead of being gag by huge indebtedness.
The report highlighted policy options for addressing Nigeria's debt crisis, there is an urgent need to; Promote effective management; The need for increased tax effort, the need for public debt auditing; Need for realistic debt management model; A need for progressive tax reform, and Improved public debt management.
He said: "With limited access to further financing on concessional terms, and with a growing presence and influence of private creditors in its debt profile, Nigeria's national debt is growing and increasingly putting the country in a precarious situation, with significant implications for human rights, including education, health, climate change mitigation and adaptation.
"A growing proportion of external debt owed to private creditors under opaque terms and often subject to high-interest rates are contributing to spiralling debt servicing costs, increasing the risks to Nigeria's economy.
"We are deeply concerned with the lack of vigorous scrutiny and attention by the lawmakers in granting requests for loans without reflecting the provisions of the Fiscal Responsibility Act, and the greater implication for the nation's economic state.
"Oftentimes, it is not always to the interest of the people borrowing from private creditors at a very exorbitant interest rate.
"The Nigerian legislators have the constitutional and legislative mandate to approve loan requests only on the basis of public interest and should put this clause as a prerequisite to any approvals they might want to give to the president's requests for further borrowings.
"We have launched a research product that centres on revealing and challenging the role of private creditors in hindering people's recoveries to enhance the urgency with which the international community must address sovereign debt crises.
"This research was commissioned with support from Christian Aid, to fully highlight the Nigerian context and dimensions of the indebtedness to private creditors for policy options and deliberate efforts to end it.
"It aims to contribute to an international financial architecture and macroeconomic environment that enables the fulfilment of human rights and the undertaking of climate action in economies that centre on care.
"We believe that the timing is auspicious to intensify the urgency for adequate responses by relevant actors within the debt financing ecosystem that will contribute to cushioning this worsening economic crisis.
"We call on all state and non-state actors to heed this call and mobilize collective actions to nip this issue in the bud as we head towards a fiscal cliff, in the interests of the increasing population of poor Nigerians whose lives are affected by the crisis."
He also pointed out that there is a lack of transparency in lending more generally, which is a barrier to holding governments accountable for debts they incur alongside the deep economic impacts of the Covid-19 pandemic and the associated fiscal constraints.
He also lamented that "A major contributor to this increased public debt levels has been the unprecedented influx of private lenders flooding developing economies, as they look for higher returns outside advanced economies following the global financial crisis of 2008.
"According to the Debt Management Office (DMO), Nigeria's Total Public Debt Stock as of June 30, 2022, was N42.84trillion ($103.31billion). It is instructive to recall that Nigeria's debt service cost presently outweighs its revenue with clear signs of economic dangers ahead.
"There are implications for this rising debt stock in Nigeria with total external debts amounting to about $ 40 billion and a private credit composition of $ 15.9 billion which represents 39.8 per cent of total external debt stock. Eurobonds take the bulk of the commercial loans with a total portfolio of $15.62 billion."