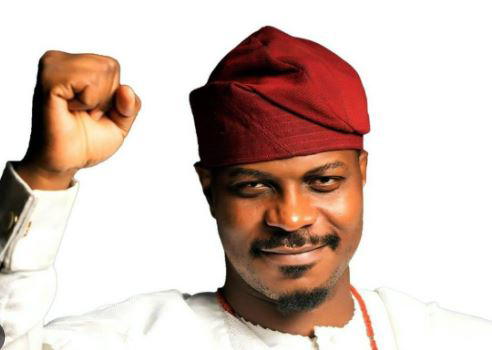 I'll construct four rail lines of 160km in four years
Ex-governors' pension bill to be reviewed
To probe but not witch-hunt past govts
By Clifford Ndujihe, Politics Editor
Labour Party, LP, Lagos State Governorship Candidate, Mr. Gbadebo Rhodes-Vivour, 39, in this interview speaks on his chances and plans for Nigeria's economic capital, if elected.
What are you going to do about the difficulty in moving from one place to the other in Lagos, if elected?
The first thing we are going to do is to open up a Lagos account in terms of procurement, contract allocation, how much we spend on doing things so that we know that we are getting value for money. That money is going to be spent in my first year on solving traffic. We are going to deliver four rail lines in four years. It is taking about 20 years for Lagos State to do 16 kilometres with $1.2 billion.
Apart from delivering four rail lines in four years, we are going to dredge all our waterways and run ferry services at the best fares possible. We are going to solve our drainage problem. We are also going to allow for industrial movement on water, using ferries. We will connect the Ikorodu axis to Lagos Island and to Badagry Division.
To improve on the infrastructure that we currently have, we are going to build as many bridges as possible that would connect Amuwo-Odofin to Alimosho; parts of Badagry to Ojo, etc. There is going to be a lot more interconnection of Lagos State so that every part of Lagos will feel that it is part of Lagos. Apart from Lagos Central, many parts of Ikorodu, and Badagry do not feel that they are part of Lagos. In fact, when you are talking to them, they would say they are going to Lagos. We need to change that.
We are going to open up the BRT to the public. People are not supposed to be waiting for buses for a long time before they come. Buses are supposed to be coming every five to 10 minutes. If you are a private individual and you have the buses and can meet with the requirements of the state, you can ply the BRT
To crown it all, we are going to ensure that we have a strong local government autonomous system so that the inner roads can be done effectively. We are not going to suffocate local governments. It is not a governor's work to be doing inner roads. That is the work of local government chairmen. We are going to make sure they have the funds to make that happen. We are going to make sure we set a benchmark for the quality of materials that should be used, quality and life expectancy of roads.
To address the traffic problem, we are going to engage with the private sector to do a lot of our infrastructure development. There is going to be an open system. I want the best things for the people of Lagos and will ensure that we get the best deals for the people of Lagos.

You said you would do four rail lines in four years…
We can do it simultaneously but the idea is we are taking four years to deliver 160 kilometres of rail network.
Where will the rails be?
I have thought about Badagry. We will extend the rail from Mile Two to Badagry. We are also looking at the Alimosho axis to Marina. There is a plan already. The effectiveness of delivering on that plan, at the rate they are going, it will take 200 years to finish with that plan.
What about the 4th mainland bridge, how are you going to do it?
We are going to engage the private sector. They have been doing the bridge for years. I have been hearing about the Fourth mainland bridge for some years. When you have political will to make something happen, it will happen. I have the political will to do that and that is the reason I am in this race in the first place. So, it is not going to be a situation where I have to own shares in your company for you to do a project. I want you to deliver the project in record time, at the best possible price for the most number of people. That's my sole concern. Alhaji Lateef Jakande did everything in four and half years. Look at what he did in the education system in less than a year, in one term.
So, we are going to address the loopholes in terms of money, open up the system so that every naira we get will count.
In every way you need us to make things easier for you we are going to make things easier because we need the project to get done. Also, by the time we block those loopholes, we will see how much Lagos State actually generates, It's when a new government enters that you will know what has been going on.
I am focused on building a Lagos State that is extremely connected, more connected than it has ever been; Lagos State that from anywhere that you are trying to get to, you will not spend up to 35 minutes; Lagos State that when you wake up at 7:30 am you will get to work at 8:15 am.
Do you intend to probe Governor Sanwo-Olu and past governors?
We are going to look into specific projects. I'm not going to come into government witch-hunting. I don't have time. I have only four years, and by God grace, I will put in again for another four years after doing very well but I am looking at those four years as all the time that I have because I am trying to break Alhaji Lateef Jakande's record. So, I don't have time to be witch-hunting but we will look into specific projects because we must understand why it has taken so long to complete the Marina-Mile Two rail line, etc. We must also learn not to make the same mistakes and pick faults again. I will also identify the actors in the system limiting the growth of Lagos State and efficiency of how we deliver projects.
We are also going to talk to them because there are a lot of people who have been dispossessed of their land, especially indigenous Lagosians. From Badagry division, coming to Ojo, Epe, Ikorodu, there are a lot of people who have had ancestral lands for so long and have been dispossessed of tem. We must investigate these things and make sure that land title goes back to these people.
Are you going to review the former governor's pension bill?
Yes, and that would happen when I review it. We are going to cut all the excesses. You know a man cannot live in two houses at the same time.
I am also going to review civil servants salaries upward because when you pay peanuts, you get monkeys as workers. If you want to get quality service and ensure that people are not corruptible, make sure that there is a certain level that they will operate at.
We will also ensure that whatever it is that you are going to get afterwards should be motivating enough for you to know that you don't need to steal.
How will your party respond to the Peoples Democratic Party, PDP, and All Progressives Congress, APC, given their structure in Lagos?

My structure is the people. We have a huge number of registered voters in Lagos State. If one million extra people come out to vote, you cannot rig it. Whatever structure you think you have, you cannot rig it. You can only rig where there is voter apathy or where you are very popular. Lagos will witness an unprecedented outpouring of human beings coming out to vote. Secondly, APC has won only two elections ever and if you know any APC person that can talk to you honestly, he will tell you the same: Tinubu's first election and Fashola's second term election.
Now, with the Bimodal Voter Accreditation System, BVAS, people are going to start to see real elections in Lagos State. They obviously rely on intimidation, voter's oppression and suppression, violence and all of that. I am encouraging everybody to understand that we are on the verge of making history, of creating a Lagos State that works for everybody. A Lagos State where one agbero isn't coming to collect different taxes from you because you are a market woman, etc

How will you secure your votes with LP not having enough people to serve as agents?
Good news for you, as at today (last Thursday), I spoke to my state chairman before I came in here, we have registered 11,000 plus agents on Independent National Electoral Commission, INEC, website. We are short of about1,300 and INEC has extended the time by a week. So, we are certain to have all our polling unit agents for Lagos State election.
What about the Okada menace?
For me, the okada menace is something that has to be managed properly at the local government level. By virtue of the size of our roads in different local governments you cannot get a Bus Rapid Transit, BRT, to these places so we need to solve that problem and the okada has a part to play in that.
Data must be collected on them. And a surveillance system with a network of cameras must monitor them. Regulation must be heavy and seamless. It must be one where it is easy to register and it can be monitored to see if there is any criminal activity.
Specifically, what is your agenda?
I have a Five-point agenda-Connectivity, Openness and Transparency, Education and Security. We are trying to create a very practical applicable education.
Our education system currently has a lot of cramming. There is no knowledge application. So, we are going to start all over.
There are 2.5 million out-of-school children in Lagos. We will start from the local governments and give the people support. I mean social welfare net, social welfare system that is domiciled in the local government level.
Also, we are going to create an alternative means of livelihood for all these young men that are currently doing agbero to earn a living.
We will train them and create programmes they would be interested in. We want to give them an alternative means to earn a living and incentivize companies by tax reduction because in the government, we will have zero tolerance for agbero. But we must first give them an alternative in the first two and half years.
After that, the law will come down hard. It is these same young men that are causing havoc in Lagos State.
An idle hand is the devil's workshop. We have a lot of young children who see their older brothers doing agbero every morning, coming back with money, and want to be like them. This needs to change. There are thousands of young men, who are just carrying plastic pipes, if a car hits them, they are gone. There is no health insurance, there is nothing, yet this generates about N120 billion every year. The money are unaccounted for. It is more expensive to move containers from Apapa port to business places in Lagos than shipping it in from China to Apapa.
The problem is spreading. The number of agbero you had in 2019 isn't the same today. The way they were daring and intimidating people is much more today than in 2019. And the issue is we have a lot of young men, young children in primary school that are looking up to them. Finally, they are going to reduce the number of children that go to school and finish school. So, there are long term and short term impacts of this culture. And this culture exists because the ruling party backs them, and faces the other way on anything they do so that during elections, they get their support.
There are a lot of things in action that we cannot just belittle. It must be looked into deeply. Again, we are going to work with them, they are stakeholders in Lagos State, they are our sons, we are going to work with them, domicile it in the local government, let them know the plans that we have and ask them which are they interested in…make credits available for them to start business or to get further training. After two years, if they think that they can continue to break the law, then we will have to face them.

On his agenda for healthcare
Healthcare insurance is really important. In some of my campaigns, I have given out health insurance cards that I deal in partnership with pharmacies, which is really good. We are bringing innovation to healthcare. We are also going to do significant training for our doctors, we are going to invest heavily in equipment and infrastructure and we are also going to hire a lot of support staff so that we don't overwork the doctors. Give them the training and skill that they need to have a viable healthcare system.
For me, it is about micro-health insurance. I am creating a situation where everybody has a level of insurance. I have been able to insure over 50,000 Lagosians. I go out, sometimes, I say if you are over 50, I will give you the card. That card allows you to call the doctor and to talk if you are not feeling well. That card allows you to get drugs for not up to N5,000. The card also allows you to test. The problem that we have is that you are not feeling well, you go and drink agbo, then later on you now have complications in your kidney or liver, and it now becomes a secondary problem.
We are trying to avoid that. We want to normalise diagnosis, we want to normalise data driven healthcare and this is the way to normalise it at the grassroots because they now have access to micro-health insurance.
Getting people to vote is another thing. The last time I checked, many people couldn't get their Permanent Voters Cards, PVCs…
There is also a lot of suppression in some local governments. People are going and they are complaining that they are non-indigenes, they are not Yoruba; they are saying their cards have not been printed. We are looking into all of these. We are going to see the Independent National Electoral Commission, INEC, officials. We have gone on tours. We have been to Surulere, Oshodi-Isolo. We are still going round to places where we identify as problematic areas.

What did you observe?
Fortunately, because complaints had been made, the INEC officials in Surulere had been replaced. I haven't been to Okota, but we will go. We go to places where issues are because we also have people on the ground. So, if they cannot handle the problem there, they escalate it. We are not happy with what is going on. I believe that people are determined to come out. In opinion polls that have been conducted eight out of 10 people that were asked whether they will vote in the election, said they will vote. So, we are going to have an unprecedented turnout and that is why the ruling party is really focusing on intimidating and suppressing people and making people really afraid so that they don't come out because they know that any increase in voter turnout is not a direct shot against them.

There is this fear that this election may not hold because of insecurity
I have read that a lot of times. If the 2015 election were held, I believe that these elections would be held. I have heard that but we can only pray. A lot of people are keeping their peace because they are hoping that this election is going to happen and bring them something new, something better. You know when the Greeks created this four years system, you know they started with eight years, six years and saw that four years was the perfect thing so that whatever anger it is, people will just say let's wait and remove him after four years. So, if you mess that up, there will be a lot of ugliness that will come out of that and we don't want that.

Are you from Lagos West, East or Central?
My family is from Lagos Central. Our family house was on Igbosere road. So, ancestrally, I am from Lagos Island, Lagos Central. I grew up in Ikeja, Lagos West and I contested for Lagos West Senatorial seat.

Don't you think zoning will affect your chances?
Which zoning? The person who has been in charge is from Iragbiji, Osun State. So, who is zoning what? I am a son of the soil, I can contest from anywhere.

What is your advice to Nigerians ahead of the polls?
We have a very big opportunity to bring in several leaders that can change the fortunes of our country at the national and state levels. Please, as hard as it may be, as challenging as it may be, make sure you get your voter's card. For those that never registered, find 10 people that you know have voter's cards – your uncles, aunties, vulcaniser, driver, etc., and ensure that they come out to vote. For that one PVC you didn't get, deliver 10 votes. Let's make sure we come out against all odds because this is our struggle and Nigeria will be better for it. When Nigeria is better, you are better for it, and your children are better for it. You don't want a Nigeria where we are in our 50s, and 60s, all our children have run away because Nigeria is bad.
I am 39 years old but I already know the time in Nigeria was better. My father always says Nigeria was better in their days. I can tell my child that Nigeria was better in my days. We cannot continue like this, we need a rapid departure from this path that we are on. And Peter Obi is better, Gbadebo will deliver.