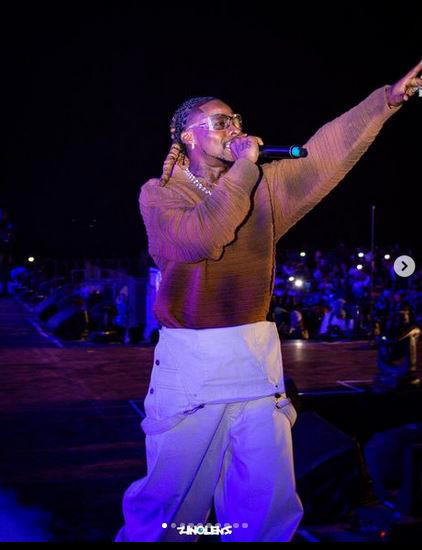 By Ayo Onikoyi
On Friday January 6, 2023 Nigerian music star Asake alongside Ghanaian breakout stars, Black Sherrif' and Seyi Vibez thrilled over 10,000 music and beer lovers at the debut edition of the Beer With Us Festival (BWUFEST) at the Landmark Leisure beach in Oniru, Lagos.
Championed by leading showbiz company, Achievas Entertainment Limited; the event was a party mix of beer and music which manifested into a raving party with Afrobeats sounds.
Asake, who has been the rave of the moment since early 2022, did not disappoint his fans as he came with his bangers giving an incredible back-to-back performance with hit songs including Palazzo, Sungba, Mr Money with the vibe, Terminator, Peace be unto you and Joha, amongst others.
Black Sherif also came with his style; the 21-year-old Ghanaian star who gained recognition for 'First Sermon' and 'Second Sermon' went with the mystical story of "Kwaku the Traveler ". He got the crowd to scream out their lungs on the refrain, "of course I fucked up, who never fuck up hands in the air," and performed a host of songs electrifying the 'Beer With Us' stage.
Maintaining the tempo, Seyi Vibez came in with his Yoruba and street lingua music.
Daniel Chiori Cole, a lead executive of Achievas entertainment encapsulated the show in a few words, "We have always been committed to our watchword which is providing world class quality entertainment and that we did at the debut edition of BWUFEST; you never can tell what we have up sleeve for the next edition'.
Reiterating further, Aishat Anaekwe, one of the producers of the show noted that the debut edition of the festival sure gave premium value to attendees and as such all hands are currently on deck toward proper planning of the second edition.