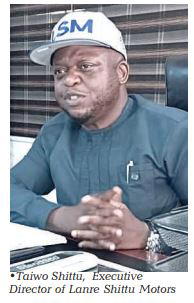 By Theodore Opara
THE Group Executive Director of Lanre Shittu Motors, LSM, Mr. Taiwo Shittu, has attributed the company's steady growth and progress to adequate planning.
Mr. Shittu, who made this disclosure in an interview with motoring journalists in Lagos, said: "What we did differently was adequate planning. You have to plan for the rainy day and build international reputation to obtain credit."
He noted that while others were retrenching workers due to the economic downturn orchestrated by the Russia-Ukraine war and COVID 19, Lanre Shittu Motors has continued to wax stronger.
Read Also: High fuel price: Demand for small, fuel efficient cars rises
"For us, we did not lay off our workers; we even had to employ more people and increase salaries by 20 to 40 per cent based on performance and productivity."
The other factor, he said, that propelled their growth was the fact that they stuck to their bank, which gave them tremendous support and the right platform for growth.
He said, "The other strategy is sticking to a good bank. A lot of banks will look in your direction when they know you to be a good, stable, and reliable customer. Many companies like to spread their funds across banks.
"You may be doing big business, making a lot of profit, but when you need their support (when resources are limited) and your case is brought before the bank executives, you may seem small because you have spread your resources among many banks, and that is the error many companies make.
"However, when about 70 to 90 per cent of your funds are handled by a particular bank, that bank would be willing to support you when the need arises. This is because you are loyal and we would likewise place priority on you, especially when resources are limited."
The executive director, who noted that their plant along the Oshodi-Apapa expressway has always been busy, churning out heavy duty trucks and one-ton pickups, disclosed that their second plant in Ogun State would soon start assembling vehicles.
"Like I said earlier, a lot of firms want to bank with Bank A,B, C and D. and when there are issues like the forex, the banks will give priority to those that have stayed loyal to them. The idea is to look for a good bank and put a chunk of your funds there. And when you have issues, they will be there for you.
"The truth is that all these banks can now see everything you are doing. The system has been connected in such a way that they know what you have with others compared with them. They can see how many LCs (Letters of Credit) you have opened with other banks and how many you have with them. Once a good bank gets about 70–90% of your business, they must stay loyal to you when you need help, like with forex facilitation. "It is a give-and-take thing."
The automobile company, which represents popular Chinese brands including JAC, (heavy duty) XC MG, and Huanghai, boasted that it controls the very best of Chinese brands in Nigeria. 
Shittu said: "Right now, we have JAC, XCMG and Huanghai LSM. We have dealership with some other brands but not as sole distributors. This year, we are already discussing with another franchise because we still have room for light trucks – two, three, five and seven tons. Doing business with Chinese can be very technical.
"But that is where experience comes to play. A Chinese company can be fair to you when they know you are diligent. We have been lucky to have a very good brand that we are representing and they respect the MOU we signed."